Your Weekly Horoscope for October 15 to 22: Go Deep. No, Deeper.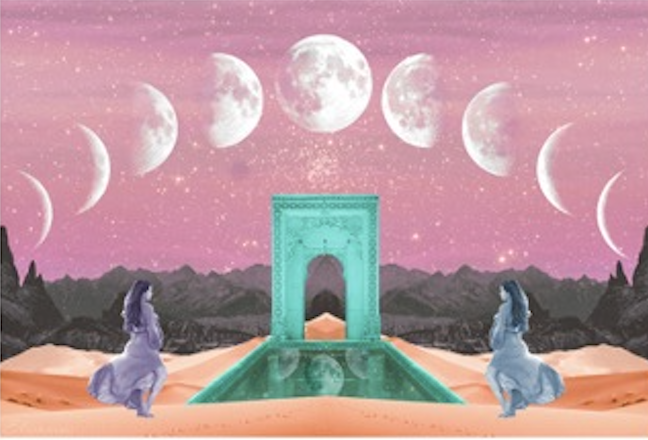 The stars bring huge changes in the month ahead. Get the full scoop with your premium October horoscope!
Ready to go deep? This is the week to do it.The stars are asking you to turn inward, do some introspection, and sort out what you want. Next week, the sun moves into moody, intense Scorpio, signifying a deeper, richer, more passionate phase in your life. You're likely to feel rumblings of this change in the week ahead, and don't be surprised if encounters are more passionate than usual. This isn't a bad thing. Passion drives change. The stars are asking you this week to tune in and honor your emotions—the more you feel, the more you manifest change. Here, what else to look forward to (and watch out for) this week!
Aries Weekly Horoscope 
Expansive Jupiter is in your sector of transformation, and change not only seems possible, it seems inspiring. This is a great week to consider a physical shift—whether it's a new haircut or trying a new look, you'll be surprised by how the new look cranks up your confidence. But you're also thinking longterm change—and Rams are always ready to take a leap, but the stars say that you've got time. Hold your horses, and now that if the move is right, it'll still be right a week, a month, or even a year from now. Jupiter stays in this sector until next November, so you've got time. Baby steps will still get you where you want to be—promise. 
Taurus Weekly Horoscope    
An aspect in your relationship sector has love, like and everything in between on your radar this week, Bulls. Here's the thing: In order to get what you want (and you know what that is) you've got to simultaneously be honest and tactful. It's all about walking in the other person's shoes. What do they want? And how can you partner with each other's desires so everyone is happy? Meanwhile, expanding your social circle could be a smart move this week—you've been pretty driven on one goal in the past few weeks, but taking a bigger picture focus on your life (and balance within it) will pay off. 
Gemini Weekly Horoscope    
With frisky Venus in your leisure zone, romance is everywhere, and it is hot, hot, hot. In the next few days, the universe is giving you the gift of the moment—truly everything is where it should be. The only thing getting in the way is yourself. Stop thinking about the past and the future, and as much as possible, pay attention to the moment. Put your phone down or keep it home for the day. It's all about connection, baby! And on that note, how deeply connected are you to you? With Mercury, your guide planet, about to enter Scorpio, it's the ideal time to focus on a long dormant goal or plan. You got this! 
Cancer Weekly Horoscope
With sociable Venus in your home and family sector, Crabs are all about connecting this week. It's a great week for turning inward and having long conversations about the meaning of life and love with BFFs. But any long and meandering conversation must be followed by a plan of action. Don't get too caught up in talk. And on that note, get out of your shell a little more this week. Yes, Netflix and takeout are divine, but even more fun with a friend! Extending invites is key this week. 
Leo Weekly Horoscope
Optimistic Jupiter and chatty Mercury are in your home zone, and you're all about shaking things up at the casa. Maybe it's finding a new place, moving in with a new roomie or partner, or even considering buying a pad. But while lions are all about taking action, the cosmos say that examining all options are key. You may overlook an issue in your haste to make something happen. You're also in the prime place to network. The word sounds daunting, but really, it's just about striking up conversations—talk to that stranger! You won't know where the connection will lead until you take that first step.
Virgo Weekly Horoscope 
Finances, fun? Maybe not, but this week, you're finding all sorts of inspiration in your financial sector. Maybe you're exploring a promotion, cranking up your side hustle, or making steps for obtaining a more secure financial future. Whatever it is, you're feeling buoyed by possibility and are actually finding the more you know about your money, the more confident you feel in your power to make it. Virgo, you can sometimes be idealistic when it comes to cash flow, believing "everything will work out." And for you, it usually does. But this week, you're realizing that taking a detailed look at what you've got and what you want will only make you feel more flush. 
Libra Weekly Horoscope 
Lovely Venus (your planet) is in your sign, and you're pretty unstoppable, Libra! Ride that wave. You're naturally charming everyone who crosses your path, and are finding tasks to be more effortless than they've felt in a really long time. Don't take this period for granted. Yes, go with the flow and enjoy (you've earned it!) but also know this is the prime time to make the moves you want to get the life you want. Set up that meeting. Make the first move to arrange a date. Bring up that hard conversation. The more you work this week, the more the week will give back to you. 
Scorpio Weekly Horoscope 
With lucky Jupiter in your sign, you're feeling pretty unstoppable in the week gearing up to your birthday month, Scorpio! You've had a pessimistic streak these past few months, but now, you're feeling some internal optimism. Overall, this attitude shift is helping you manifest latent desires and get things done. But here's the thing: You can't ignore your past, and issues will come back to haunt you. Addressing some past issues, insecurities, or concerns will only make you more unstoppable. (Unsure of how to start? Read How a Life Coach Can Help You Find Your Purpose!)
Tired of being alone? See what's in the cards with a free tarot Love Reading.  
Sagittarius Weekly Horoscope 
Sweet dreams, Sags! With Jupiter in a secluded sector of your chart, your subconscious is working overtime, giving you some pretty intense dreams that provide clues into what's going on (and what you need to do) in your real life. Pay attention to those clues—they can give you a powerful and accurate road map for next steps you need to take. But don't go 100% hermit. With the new moon in your social sector, make sure to go out, meet new people, and say yes to events you may not have in the past. As your dreams most likely have told you, you need a shakeup, and you're going to get it by connecting to others. 
Capricorn Weekly Horoscope 
You are charming AF, Caps, thanks to lovely Venus. Work it! You tend to be serious and introspective, but this is a great week to give in to whimsy. Try something new. Say yes to a lunch away from your desk. Forget about your evening routine. The more you follow your gut and do what you want—not what your schedule dictates—the more doors will open up for you. The new moon on Thursday opens up a pretty key door, either for a new relationship, business opportunity, or social plan, but you've got to be open to it for it to manifest. If you seem like you're too caught up in your daily to-do list, it just won't happen.
Aquarius Weekly Horoscope 
The universe is asking you to roll up your sleeves and get to work. Are you ready? Optimistic Jupiter is driving your ambition, but you have to be realistic and know you may have a few overbooked days in your future. The good news: They won't feel like a sacrifice. For now, this week is a prime time to make sure your personal care is on point—the healthier you feel, the better you'll handle the challenges Jupiter will throw your way. It's a great week to commit to trying the gym, eating healthier, or going to bed on time. (Need inspiration? Read The Perfect Workout for Your Zodiac Sign.)
Pisces Weekly Horoscope 
You've got major wanderlust, Pisces. Book that ticket! But before you go, ask yourself the key question: Are you running toward something you want or away from something you don't? That key question will determine next steps and moves. Meanwhile, even if a ticket to a far-flung location isn't in the cards, the universe is making it clear that it wants you to expand your horizons. Whether it's taking a class, reading a book, or otherwise engaging with the world in a new way, doing so is essential for feeding your soul this week. Fish may be especially drawn to crystals this week, which can help manifest the goals and dreams you already have brewing. 
Read last week's horoscope here!
Read your October horoscope here! 
Feature illustration by Ruben Ireland.
For more spirituality, mysticism, and advice for bringing your spirit to the next level, Follow us on Instagram.
 
Want To Dive Deeper Into Your Best Self? Try: 
Your October Love Horoscope: Get Ready for Some Breakups, Shakeups, and Makeups!
The Real Reason Friday the 13th is Such a Scary Date 
Seeking Answers? An Oracle Deck May be the Key 
When Jupiter Moves Into Scorpio, Everyone Wins. Here's Why! 
These 5 Crystals Will Get You Through Fall