The Perfect Workout for Your Zodiac Sign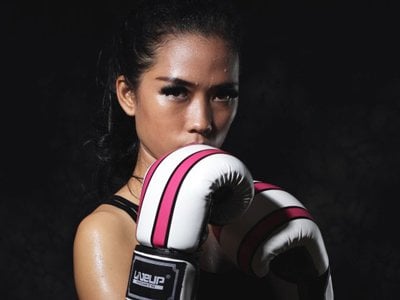 You know how you can go to a gym class your friend raves about, come out, and think, Eh? Part of the reason we're not all cycle-obsessed or passionate about Piyo is because workouts are as unique as our personalities, and what makes one person excited to break a sweat can make another person want to sprint from the gym. And when it comes to workouts you love? Turns out, your star sign may have a lot to do with what inspires you. Whether you're looking for a new workout routine, feel like your current one is eh, or just want to try something new at the gym, consider this guide when planning your next sweat session. —Deanna Margado 
Aries 
Your Workout Hangup: Why doesn't the person next to you on the treadmill realize you're running a race against them? Why are they watching TV? Every workout is your personal Olympics, and anything less feels like failure.

The Best Aries Workout: Cycling classes, especially where you can watch your progress against everyone else, can fire up your motivation. And consider training for a marathon or triathlon with a team. You'll love the bragging rights, and some friendly competition can help you perform at your peak.
Taurus
Your Workout Hangup: Grounded, practical Taurus just can't get past the fact that you're literally running nowhere on the treadmill. Not only that, but you aren't crazy about sweating—and are also kinda squeamish about other people's sweat on your machines.

The Best Taurus Workout: Getting out in nature is always a treat, so you gravitate toward hiking and biking—especially if it gets you where you want to go. Barre class may also be a good option; the tiny movements appeal to your detail-oriented nature.
Gemini
Your Workout Hangup: The same workout again? You can't stand the same-old routine, and even a quick twenty-minute gym workout is long enough to bore you to tears.

The Best Gemini Workout: AcroYoga. Google it immediately, Gemini, because once you're up in the air, perfecting your poses, you're going to feel amazing. Plus, the acroyoga vibe can feel pretty clubby, so you'll still get that social stimulation you need.
Cancer 
Your Workout Hangup: Being yelled at in a crowded class only makes you want to retreat.You love the chance to work up a sweat, but prefer to do so in private.

The Best Cancer Workout: Yoga. Whether it's in a classroom or a private practice, the poses are a key way to connect with your emotional and intuitive nature.
Leo 
Your Workout Hangup: Life is a catwalk and you hate when people think that "gym" and "glam" don't go together.

The Best Leo Workout: Zumba. Don't knock it until you've tried it, you can infuse the dance routine with personal flare while scorching serious calories.
Virgo 
Your Workout Hangup: You sorta hate sweat. Is that a crime?

The Best Virgo Workout: One in which you don't realize just how hard you're working. The slow and decisive movements of a Pilates class work the whole body without drenching it. Plus, you dig the total attention to detail and ability to home in on tiny improvements—and love the long, lean, and lithe look the workout gives your bod.
Libra
Your Workout Hangup: You don't dig competition, and may have some serious emotional scars from dodgeball games gone awry as a kid.

The Best Libra Workout: Physical activities with a social aspect, like tennis or volleyball, are great ways to connect and get your fitness on. You'd also perform well with a personal trainer; you thrive on one-on-one connection.
Scorpio
Your Workout Hangup: Strong and powerful, you like seeing results, and a leisurely walk on the treadmill with a magazine won't cut it.

The Best Scorpio Workout: Boxing. Whether it's getting in the ring or just taking classes, you thrive on breaking a sweat and, bonus, can simultaneously get rid of frustrations that are plaguing you.
Sagittarius 
Your Workout Hangup: A consummate multitasker, you sometimes see a traditional gym session as a waste of time and get bored doing the same-old.

The Best Sagittarius Workout: Fusion classes, like Piyo or Spin and Sculpt. Classes that combine skills keep you interested, and you love pushing your mental and physical limits.
Capricorn
Your Workout Hangup: You can be too rigid, and may not enjoy workouts so much as enjoy crossing them off your to-do list.

The Best Capricorn Workout: SLT classes. A combination of cardio and Pilates, SLT keeps your heart pumping, your mind engaged, and the mental stamina it takes can make it feel more like meditation—which is just what you need.
Aquarius 
Your Workout Hangup: Your all-or-nothing nature means you either hit the gym on the regular or don't go for months. You thrive on camaraderie, and will often skip exercise if a more fun plan comes up.
The Best Aquarius Workout: Group training. Whether it's training for a marathon or a triathlon, the social element will keep you coming back—and getting stronger.
Pisces 
Your Workout Hangup: While you adore the water and are a natural in the pool, you aren't into strenuous activity and certainly don't love working to your max—when you feel shaky, you're done.

The Best Pisces Workout: Aqua Zumba. Not only is this dance class in your second home, the pool, but the water takes down some of the heat of the workout and makes it fun. Not only that, but you'll dig the camaraderie and find plenty of workout buddies on the same page as you.   
For more ideas on how to live a more adventurous, spirit-filled life, visit these stories and more in Sun:
The Perfect Recipe For Your Zodiac Sign 
What You Need to Know About Sensory Deprivation Tanks
The Best Spiritual Hotspots To Visit In 2017
Your Star Sign Can Lead You to a Dream Vacation