Your October Love Horoscope: Get Ready for Some Shakeups, Breakups, and Makeups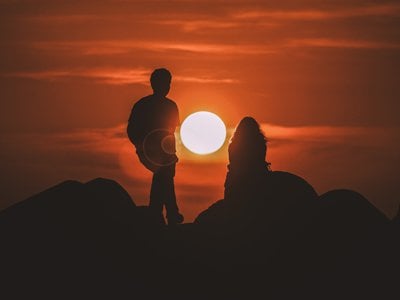 The stars bring huge changes in the month ahead. Get the full scoop ordering your premium October horoscope!
October's not messing around! Venus and Mars perfectly conjunct on October 5. Passions run high, allowing for incredible sex, but this powerful romantic aspect is challenged by Neptune, Chiron, Uranus, Saturn, and the harvest full moon! Something in your love life has got to go. Relationships may end, or at least parts of them will die off. But only the parts that aren't aligned with your life trajectory. If the full moon isn't enough to make you purge what isn't serving you, then the four major sacred alignments on the tenth sure will! They're directing you toward the sun and new moon in Libra on October 19. This is about your karmic journey, and the transformation that takes place in your love life right now is very much fated and leading you to a greater place of balance and harmony. Venus and Mars both move into Libra, further helping to restore this balance in your love life, and by the end of the month, Mercury, Jupiter, and the sun will all be in Scorpio, connecting you to the darkest, deepest parts of yourself for what's to come next.
Find out how the planets' positions at your precise birth day, time, and place influence your personality and life circumstances.
Aries October Love Horoscope
The harvest full moon kicks off the month in Aries. This energy causes a disruption in your sense of self and in your romantic relationships. Mars' sexual, assertive energy meets Venus' nurturing affection. How can you find the balance and cohesion between these energies in a way that honors your emotional engine and desire for independence? You're likely to experience clarity around this on the eighth and even more so on the October 19 new moon. Mars moves into Libra on October 22 as the sun moves into Scorpio, and I wish I could tell you that things are going to lighten up around then, but they're not. You're still wading through it, working your way toward contentment. Even as Venus and Mars part ways, you'll still be processing the events of this month in the months to come.
Love Lesson: Have patience with yourself and life.

Passion Prediction:

 
Taurus October Love Horoscope
The harvest full moon causes you to get so caught up in material, practical things that you forget there's more to life and partnership. By the eighth, the moon moves into Taurus, bringing a brief reprieve and necessary healing energy. Romantic woes calm down, but now you're left fighting with your own unmet expectations for yourself and your life. As the moon crosses Venus for the new moon of October 19, you're forced to look at the real source of your dissatisfaction. It's something in you—some old pain from earlier in your life or maybe even another lifetime—that keeps you from easily connecting with your spiritual side. Something happens toward the end of the month that helps connect you with your long term romantic path, but you may not realize it's happening unless you stay alert.
Love Lesson: Love isn't meant to serve your material wants.
Passion Prediction: 


Gemini October Love Horoscope
October fifth is an ideal time to express what you want in love. Say it to yourself or your partner or the universe, but put it out there. Your romantic views are being challenged and forced to change, so be intentional. On the tenth, a grand sacred aspect is formed between a Gemini moon, Chiron, Saturn, Mars, and Venus, and you're likely to feel trapped in your personal history and how it affects your love life. You're being taught a profound life lesson that will ultimately work to heal your destructive relationship patterns. By October 19, you'll feel increasingly connected to the water element, which helps to break down barriers between yourself and other people, and on Halloween, as the moon conjuncts Chiron and trines Mercury, you will feel true forgiveness. Maybe for an ex-lover, but mainly for yourself.
Love Lesson: Your past only has as much power over you as you give it.
Passion Prediction:

  
Cancer October Love Horoscope
The moon cycle puts incredible pressure on your love life and your sense of self through the tenth. You're likely to feel unfulfilled by most things and be particularly moody. This comes to a head on the tenth, when you're poised for an emotional breakdown. Be careful not to project your uncomfortable feelings onto your current relationship. Be honest with yourself about why you're upset. Things might feel so uncomfortable right now that you won't be thinking clearly, but the Cancer moon on October 11 helps you feel better. You realize that this meltdown wasn't totally about your love life. It was about you. You're facing your deepest insecurities. They're being dug up so you can throw them out, and by the end of the month, you'll be feeling stronger, and your love life is in part to thank for this. And if you have a rock of a partner in your life, don't forget to thank them.
Love Lesson: Don't let your moods control your choices.
Passion Prediction: 


Leo October Love Horoscope
Change is happening in your life and everyone's, but despite all this intensity, you're feeling good. You have a considerable amount of big picture awareness that allows you to see how these changes are serving your long term goals. Rather than getting caught up in momentary pleasure and pain, you feel grounded in yourself and where you're going. This is because the north node is in Leo, trining Uranus, Saturn, and sextiling Jupiter. For most of the month, these planets are part of a sacred aspect emphasizing your growth and self expression. This emphasis will be particularly emphasized on the new moon of October 19, leading toward new developments in your love life on September 24 as Venus sextiles the north node. If you're not in a relationship, this may be a time when a new one begins.
Love Lesson: The puzzle pieces come together slowly but surely.
Passion Prediction:

  
Virgo October Love Horoscope
Mars and Venus align perfectly in Virgo at the exact moment of the harvest full moon on October 5. This strong romantic alignment increases the likelihood for major relationship developments. Mars and Venus continue moving together through Virgo until the thirteenth, when Venus shifts into Libra. Until that time, you're weighed down by relationship concerns. You want the real deal, and you have so much passion moving through you that it's like you're on fire. Any sexual encounters are incredible, but frustration and irritability are also likely. You try to solve the conflict, but you can't think your way through it. By the end of the month, Mercury's move into Scorpio will help you connect more with your feelings instead of your thoughts, and you'll likely need alone time to rest and process all of October's relationship lessons.
Love Lesson: When dealing with acute, intense situations, trust yourself and just keep going.
Passion Prediction:

   
Libra October Love Horoscope
The personal planets are all moving through Libra this month! Expect some major resetting of various parts of your life. What needs to change in order to fully manifest the love you want in your life? Multiple planets are helping you answer this. Jupiter moves out of Libra by October 11. It's been with you for a long time, aiding growth and abundance in your life, and you've received its rewards. As a final gift, Venus moves into Libra shortly after Jupiter's departure. Love continues to be a major focus in your life, and if it didn't come to you during the Jupiter cycle, then there's a high likelihood that it'll happen now. On October 22, the sun moves out of Libra, but Mars moves in—again emphasizing love. Don't let your fears hold you back from making the most of this alignment. Put yourself in a position to have the relationship you want.
Love Lesson: Create harmony in your love life by nourishing all the parts of yourself.
Passion Prediction:   


Scorpio October Love Horoscope
Your ruler Pluto trines your other rulers, Mars and Venus. You'll be enjoying the passionate, sexy side of Mars more than its aggressive, conflict-ridden shadow side. This uplifting energy carries you through the month as Jupiter moves into Scorpio on the tenth, Mercury moves in on the sixteenth, and the sun moves in on October 22. This is a time of incredible abundance in your life. You may feel like you're in a bit of a funk before these planets fully transition into Scorpio, but you're sure to feel the excitement of their pending arrival. The incredible confidence they lend you will make you magnetic to others. During a time when most people are struggling in romantic areas, your positivity becomes a beacon of hope. October 17 and October 26 are likely to be especially powerful days for you. Harness your truest witchy self and don't be afraid to show up.
Love Lesson: Sometimes, you've just got it going on.
Passion Prediction: 


Sagittarius October Love Horoscope
Saturn in Sagittarius and your ruler Jupiter are both working with the karmic north node to help you remember why you're here. Your romantic choices have distracted you and made you forget. You're being pushed to learn new ways of being in love. In the past, you've compromised in your relationships—sacrificing your freedom for your partner's. You'll receive extra clarity about this around the seventeenth, but be careful not to disassociate this message from your sexual expression. There's pain that needs to be worked through to figure out how to move past old habits. This is likely going to be a pretty rough month for you for any relationship, but Jupiter's move into Scorpio on the tenth bodes well for bringing you the sexual healing you need, especially on Halloween.
Love Lesson: True love doesn't ask you to compromise on the things that really matter.
Passion Prediction:

 
Capricorn October Love Horoscope 
This month is placing a lot of pressure around your romantic life as your ruler Saturn squares Venus and Mars. You're having a hard time allowing yourself to accomplish the personal growth necessary to allow love to flow freely. The new moon on october 19 will show you something about yourself that helps bring down your defenses and open you up to love in a more authentic way. It's easy to become scared that you'll lose your independence in a partnership, but the right partner won't ask this of you. Also, be mindful of your sexual insecurities. October 22 and October 31 are bringing deep healing in this area, leading to a shift in your perspective that allows you to connect more deeply with yourself and any partner.
Love Lesson: Make sure your boundaries are built from love not fear.
Passion Prediction:

 
Aquarius October Love Horoscope 
Just like last month, this month starts with an Aquarius moon challenging Venus and Mars! Déjà vu much? Apparently there's more to learn about love. How are you repeating old patterns? Find what you want to move past, write it on a piece of paper, and throw it away on the harvest full moon on the fifth. Now that that's over with, give yourself time to practice what you preach and integrate any changes you want in your life. October 12 through October 22 is an especially good period for making this happen and connecting with a lover. When the sun moves into Scorpio on October 22, you may feel thrown off by unexpected intense feelings; just let them in to ease the tension and enjoy the ride.
Love Lesson: It's one thing to know to be unconditionally loving. It's another to be unconditionally loving. Love is a practice.
Passion Prediction:

 
Pisces  October Love Horoscope 
You're still working through it. The old wound September dug up has started to heal, but now it's like an itchy, nagging scab, drawing your attention for the entire month of October. Neptune and Chiron in Pisces remain at odds with Venus and Mars…and the sun…and Jupiter…and Mercury…and Saturn…and the karmic north node. Sorry. But it gets better. A Pisces moon before the full moon on October 5, the Gemini moon on the tenth, the Libra new moon on the nineteenth, and the Pisces moon on Halloween are bringing you full circle to kick this thing out of your life. It's a cycle from Pisces moon to Pisces moon, working with all of the planets mentioned above to bring major healing to your love life and yourself—because these things are of course connected. It's time to drop the illusions and fantasies you have about love. It's time to stop letting your fears affect your choices. Break free, Pisces baby. Break free.
Love Lesson: Forgiveness starts with accepting that things couldn't have been any different than they were.
Passion Prediction: 

Virginia is a Brooklyn-based Reiki Master and psychic healer dedicated to expanding people's understanding of what's possible. She offers private readings, coaching, healing, and more through her company, FleetingConnections.com.
Read last month's love horoscope here!
Got more questions for the Universe? These amazing astrologers are here for you. 
Want more spirituality, mysticism, and advice for bringing your life to the next level? Follow us on Instagram.
Make October count with these amazing tips to bring your life and spirit to the next level:
5 Ways Libra Season Could Make You Better Than Ever 
Find Your Sexual Flow, and Watch Everything in Your Life Get Better
How I Manifested Unbreakable Love (and How You Can Too)