Stuck Reaching Your Goals? Try a Power Circle.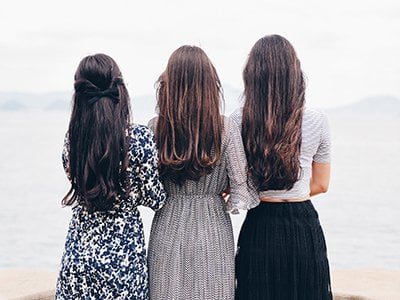 I've coached so many women with different goals who all share one thing in common: They crave a support system. They're hungry for people to listen and relate as they build a life that challenges the status quo. And their instincts to find a support system are spot on—it's a crucial component to success. Whether you're dipping your toes into your "passion pool" and figuring out what excites you, or you're ready to embark on a new career, surrounding yourself with like-minded people can help you feel less alone and more inspired. In fact, having a power circle is a gal's best friend when it comes to facing the wild and wonderful world of work.
One of my biggest passions as a master life coach and author is filling that void by building a community of like-minded, success-driven women who genuinely want to support one another. Last year, I started the Slay Baby Collective, a female power-focused group where women can meet online in a private Facebook group, find local women, and then branch out to meet up in person to form real, lasting friendships and connections.
In fact, at the time of writing this, I'm in London visiting one of those. I hosted a "champagne and sisterhood"–themed afternoon at a local pub where more than 40 women who had only ever met online instantly bonded over bubby, girl talk, and the fact that they all had one common goal: to help one another other thrive.
And you can do the same thing! Let's say you're always tapped at work to design promotional materials. Why not take a graphic design course or continuing ed class? You're not only doing it to enhance your skills, you're also setting yourself up to meet people who share your passions and may be able to help you advance your goals. And while it's nice to find people who share your same interests, you don't have to keep your group focused to those who have the exact same skill set. In fact, it can be great to expand your network and open your mind by spending time with those who you may not have much in common with at first.
We are fortunate to live in an age where technology is at our fingertips, and things like MeetUp.com, Facebook, and other social media channels help us to find our tribe. And you'd be surprised at how many groups are out there. For example, there's a bookstore in my neighborhood in Brooklyn that hosts weekly knitting circles. The group was started by one woman who loved to knit and wanted to share her love for knitting with others. The group—filled with both beginners, experienced knitters, and some women who just wanted to try something new—soon expanded and has now been hosting weekly meet-ups where members knit and then go out for a glass of wine afterward. They not only share a passion, but they've become great friends as well.
While the Internet is a great tool for finding others, the point of this is to connect in real life! Coffee, lunch, or a glass of champagne with another woman can do wonders for your self-esteem and sanity. Let's face it—you just can't beat the connection you build in person. When you're communicating with someone online, you miss out on all those human things like smiles, tone of voice, and body language. All of those cues help us communicate more effectively and create stronger relationships.
And don't be shy! I can guarantee if you're looking for someone to meet up with and share your experiences, there's another woman out there looking for the exact same thing.
This week, I invite you to find at least one person to reach out to and connect with in person in regards to pursuing your passions. And if you're feeling adventurous, maybe host your own event. Get out there! Your future besties will thank you for it.


Want more spirituality, mysticism, and advice for bringing your spirit to the next level of awesome? Follow us on Instagram.
For more tips on how to maximize your success, try:
With This A-List Trick, You'll Rule Your Mornings
First Comes Self Care. Then Comes Success
When You Do Your Own Weird Thing, You Grow Wings
It's Time To Tune Out The Doubters And Trust Your Intuition