Your Weekend Lovescope: Can Your Sign Keep Up With Jupiter's Demands?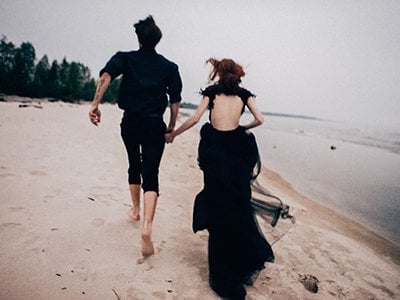 Are you feeling spring fever? Not so fast. The weekend starts with a Capricorn moon, which may make all signs feel the pressure to cross off any last minute to-do lists. You may experience a Friday evening dilemma where you have to weigh the pros and cons of burning the midnight oil at the office or giving some TLC to your romance. It's your call.
A parallel between the sun and Jupiter can cause all signs to question their place in the world, and romance may feel shaky—especially if you haven't had "the talk" about where either of you stand. Tomorrow, a quincunx between Mercury and Jupiter may make all signs feel a little unsettled. Talk it through! Finally, Sunday can be complicated, with a semi-square between the sun and Chiron, as well as a sextile between the sun and Neptune, causing all signs to wonder WTF they're doing, both in love and in life. Sunday is all about lightness. Keep the big questions for later in the week. For today, keep things focused on #weekendvibes. Getting together in a larger group may be exactly what you need on Sunday evening. Here, what else to expect for all signs.
See the future. Know the future. Download your premium astrology report today.
Your weekend win: Mercury and Pluto crank up your confidence on Saturday night. But remember: Confidence isn't cockiness. Make sure to keep the other person's opinion in mind.
Your weekend watch: You have a lot on your plate this weekend, and sober Saturn can put some work stuff on your plate, which pulls you away from romance. Be honest with your partner. It's so much better to devote two solid hours to work than check your phone all night during dinner.
Your weekend win: Friday night can be unexpectedly delightful — you're craving some TLC. Ask, and you shall receive.
Your weekend watch: Don't be duplicitous. Sober Saturn encourages you to tell the truth — including if you're dating other people — because you will be found out.
Your weekend win: Everything feels easy, especially with the sun and Neptune linking on Friday. You need to be honest with your partner; as you may find you're more on the same page on a key issue than you may have thought.
Your weekend watch: On Sunday, a square between Mercury and Pluto may make you jump to conclusions. Remember: You can't read your partner's mind. Wash, rinse, repeat.
Your weekend win: Coulda, woulda, shoulda? Uranus sends an unexpected opportunity your way, and it may have been one you had dismissed in the past. Connect randomly for a second time with someone on Tinder you've been having second thoughts about? You know what to do!
Your weekend watch: Mercury and Pluto may escalate a fight faster than you would expect on Sunday. It's important to smooth things over sooner rather than later, as this might end up casting a shadow over the week if you're not careful.
Your weekend win: An aspect between the sun and Neptune inspire you to think out of the box on Saturday. It's okay to throw your original plans to the wind and follow up on where your heart leads you.
Your weekend watch: Friday may feel like a bit of a confidence crash, with some unexpected encounter making you question everything. Shake it off. Spending time with friends can help you get back on top.
Your weekend win: A trine between Uranus and Venus can make you feel eh on Sunday, and your initial impulse may be to hide and close in on yourself. Don't! Speaking up and being honest, even with a newish date, can make you so much closer.
Your weekend watch: You may feel pulled in several directions on Friday. Your heart knows more than you give it credit for. Canceling a date that doesn't feel right could be the best move you could make. Prioritize family or friends early in the weekend.
Your weekend win: The sun and Neptune form an aspect that gives you some much needed insight on a relationship on Saturday. If everything has seemed cloudy, this is the day the clouds lift, giving you a clear path forward.
Your weekend watch: You're on edge on Sunday, and may feel tempted to lash out at those closest to you. Try to do plenty of self-care. Remember: Your partner can't read your mind!
Your weekend win: On Friday, you may find you and your partner or date bonding over a work issue. You tend to compartmentalize, but the more you let your SO into all aspects of your life, the closer you'll become.
Your weekend watch: On Saturday, you may find yourself letting someone close to you down. You may feel like you have to make the choice to be nice or be honest. There is a way to do both and emerge with the outcome you want.
Your weekend win: The practical Capricorn moon in your resources sector makes you feel on top of your life, which translates into confidence dating. Pick up the check! It's a positive move that will cement your confidence.
Your weekend watch: Watch out for drama on Sunday, as a square between Mercury and Pluto is in effect. Keep things off text and IRL, and avoid gossip. Chances are, it will reach the person you're talking about. Unless that's your goal, stay mum!
Your weekend win: The nurturing moon in your sign on Friday and Saturday makes it a great day to ask for what you need. You're more in touch with your emotional, vulnerable side, and your partner is happy to see it. Be okay taking a step into uncertainty. You don't need to know all the steps.
Your weekend watch: On Saturday, a Mercury and Jupiter influence makes you jumpy. Try to distract yourself with fun, sexy activities. And yes, the ones between the sheets count.
Your weekend win: An aspect between Venus and Uranus on Sunday can be a great one for finding someone, if you're single. Fire up a dating app (or download one) and go with the flow. Chatting up sexy strangers can also be a prime move on Sunday.
Your weekend watch: You are tired, Aquarius, as the moon transits in your sector of emotional resources. Avoid pushing yourself on Friday and Saturday night. It's okay to go to bed early, and it may be a lot more beneficial to cancel plans if you're not feeling it.
Your weekend win: Friends can give your romance the jolt of energy it needs. Single? Ask friends for a setup. Attached? Forget the same-old date night in favor of more of a party atmosphere on Friday evening.
Your weekend watch: On Saturday, an influence between Mercury and Jupiter could create crossed wires. Be very clear on what you want to do, and don't leave people hanging. To others, a "maybe" is a yes. "No" is the far kinder option.
See the future. Know the future. Download your premium astrology report today.
Read the latest:
Is Your World Getting Rocked by Chiron in Aries? Here's How to Find Out
Did the Scorpio Full Moon Eff Up Your Life?
Your Sign's Summer Sex Fantasy
This Sign Will Make You Powerful AF
Need a Second Chance? Try This Move!