This Move Will Give You the Second Chance Your Life Needs
Jessica Wiggan, an astrologer, tarot card reader, and owner of Behati Life apothecary  knows the planets, and knows how to make them work for you. Here, she shares how to harness Pluto's energy during its retrograde period to survive, thrive, and ride this magickal energy wave to your best self. Find more of her wisdom on Instagram @BehatiLife. — Horoscope.com editors 
Pluto rules death, transformation, and transition and is easily one of the most feared planets in astrology — especially when retrograde — simply because he is so misunderstood.
Pluto's job in the cosmos is to clean out and remove things, people, and circumstances from our lives that are weak or rancid. He has the ability to see what we can't and is fearless in this cleansing process!
This month, Pluto mirrors Saturn by turning retrograde until September 30th. Both of these two planets are working to quietly and powerfully restructure your life so that you are operating on a frequency of higher love, trust, and vibration…. meaning you are far more open to growth and abundance than ever before! That sounds awesome, right?
Because Pluto is now retrograde he is notorious for bringing back old situations, challenges, and even opportunities so you can revisit them and (maybe!) give them a second chance at life, if you choose. You will know deep within your core what is right or wrong for you by the way you feel when it appears to you. Does what Pluto presents to you make you feel weak and helpless? Or are you challenged and strengthened? If you feel challenged in a positive way then you can walk through the door of the opportunity. If something strips you of your power and makes you feel worthless, sick, or toxic it is time for you to turn the opposite way and give it no more of your time or energy. This is the greatest act of self-love and requires you to fearlessly face anxieties, insecurities, and even the inner wounded child. Every step- even small changes- make an impact and Pluto notices it all and rewards your strive for better… and your refusal to trust and learn.
He rules our shadow selves — meaning the darker sides of our nature that we tend to keep hidden from the world including our fears and darkest desires. We are most vulnerable where Pluto transits or touches because he is connecting to our truth which can be a hard pill for some to swallow. This explains why Pluto also rules manipulation and deception because some people are so uncomfortable with the reality of who they are that they choose to wear a 'mask' instead. Again, your intuition will signal to you what is real from the fake and in the fvent that something misses your radar Pluto works to protect you and will show the snake lying in the grass, if there is one!
The best way to work your own personal magic during this transit and retrograde period is to step back and give Pluto the space he needs to sort and arrange the Rubik's Cube that is your life. It is best that you not stand in his way because to fight what he is working to cleanse your energy field of will only increase any pain or discomfort. Watch as he shows you old lessons that may trigger and challenge you now in an effort to actually show you how far you have come and to cement that growth even further so that healthy habits and mindsets become an effortless choice and lifestyle!
Watch as he brings in karmic fated relationships that have bonds more beautiful and stronger than you have ever known that have been waiting to come into your life now- the union of soulmates and twin flames!
Watch as he reminds you of your personal power and strengthens your backbone… especially as Saturn is also retrograde and reminding you to set boundaries for your own highest and greatest good!
Give him space to work his magic and to help you evolve and you will move through this retrograde and transit not only like a pro but will also step out feeling more vibrant, connected, and powerful than ever before!" —By Jessica Wiggan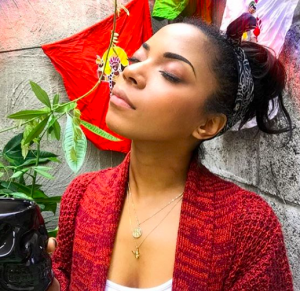 Jessica Wiggan is the creator of BehatiLife, an online apothecary selling custom, hand crafted magical blends. Jessica is available for tarot and astrology readings, and also runs an online Tarot school. Find her on Instagram. 
Feature image by Ruben Ireland.
See the future. Know the future. Download your premium astrology report today. 
Have a Magical Week With These Articles! 
8 Simple Steps to Feel Amazing, Wherever You Are In Life
Before You Buy a Tarot Deck, Read This
How Seeing a Psychic Helped Me Figure Out My Life
Exactly Where and How to Find Love In Your Astrological Chart
Editor's Note: How to Find (and Keep) Good Vibes