Ben Affleck and Jennifer Lopez: How Compatible Are Their Charts?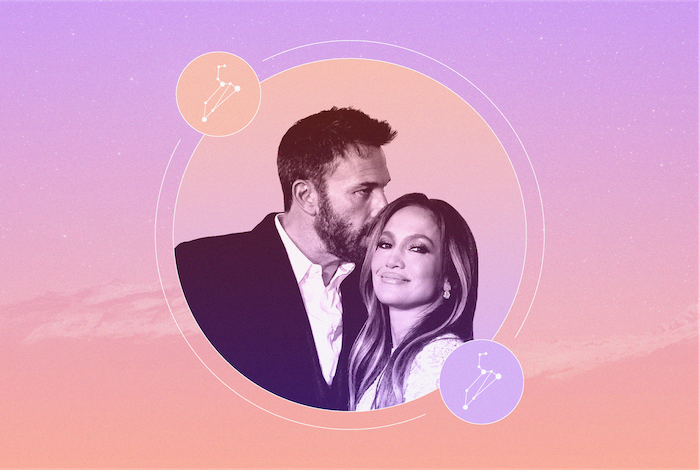 Hollywood's hottest A-list couple is married! And talk about big fire-sign energy.
Fellow Leos Jennifer Lopez (now Jennifer Affleck!) and Ben Affleck—born on July 24, 1969 and August 15, 1972, respectively—tied the knot in an intimate ceremony on Friday, July 17. On Instagram, Jennifer announced their secret nuptials in a sweet post Sunday morning flaunting her wedding band.
Though we might think of Leo as one of the hottest signs around, romance for the couple hasn't always been scorching.
The couple was first linked in the early '00s, when they met on the set of Gigli, and were previously engaged in November 2002, before eventually splitting in 2004, just before their wedding. Seventeen years later, they began rekindling their romance in early 2021, according to media reports, with Page Six finally confirming the renewed relationship when the pair was photographed kissing on June 13, 2021.
What do their charts say about their relationship this time around? Astrologer Maisy Bristol takes a quick look at their birth charts to determine how compatible Bennifer really is.
Ben Affleck
Zodiac Sign: Leo
As a Lion, Ben is drawn to the spotlight, and this makes sense considering he made his acting debut at just seven years old in 1981 and has been starring in and directing films since.
Leos are the natural cheerleaders of the zodiac signs, and Ben is no stranger to supporting Jen in her ever-evolving career. Like others who share his sun, he is confident, spontaneous and seeks mental pursuits (looking at you, Good Will Hunting).
READ MORE: The Difference Between a July Leo and an August Leo
Birth Chart
Jennifer Lopez
Zodiac Sign: Leo
Jennifer is a quintessential Leo sun. With her ruling planet also the sun—the brightest celestial body in our solar system, she possesses natural star power. Name another Leo sun who can sing, dance, act and co-headlined a Superbowl Halftime show (I'll wait).
She checks off our Leo list of qualities: artistic, entertaining, luxurious and not to mention also has a heart of gold—coincidentally one of Leo's aesthetic colors.
Birth Chart
Sun = Leo
Moon = Scorpio
Rising = Leo
Venus = Gemini
Natal Birth Chart Compatibility
Leo Suns & Scorpio Moons
Jennifer and Ben's chemistry is literally written in the stars (and their birth charts!).
Because both celebs have Leo suns and Scorpio moons, Jennifer and Ben are cosmically and spiritually connected. "The fact that they have the same sun and moon signs should tell you something right there," Maisy says.
"This means that they have a smooth cadence with one another. They approach life with the same magnitude and charisma (Leo), but they approach relationships with similar depth, secrecy, and importance (Scorpio)," she says.
Ultimately, Maisy says, this can help them form a lasting bond.
Conjunction: Jennifer's Venus and Ben's Saturn in Gemini
In Bennifer's natal chart, Jennifer's light-hearted and flirty Venus is conjunct Ben's cerebral, yet persuasive Saturn.
Because Venus is the planet of love, and Saturn is the planet of not just structure but also karma as well, is it such a wonder why these two keep coming back to each other? They are karmically tied, she says.
In this case, opposites attract—or at least conjunctions do.
Sextile: Ben's Pluto and Jennifer's Ascendant
This is a simple aspect, but it means a lot.
The ascendant is one of the most sensitive points in our charts. So, to see such a sensitive point supported by a strong planet, such as Pluto, is important!
"Pluto is the planet of sex and mystery," Maisy says. "Whatever it touches, it brings lust and sensuality that you can't deny. Because it's linked to Jennifer's ascendant, it means that there's palpable sexual chemistry with these two."
READ MORE: Why Are Leos So Hot?
Future Compatibility: Yes, It Will Work!
Yes—they are compatible! Jennifer and Ben's future looks bright together, and here's why, according to Maisy.
Full Moon in Capricorn
This union comes right after the full moon in Capricorn—a no-bullshit kind of lunation.
"This full moon asked us to get down to business and really dive into what needs to happen in order for us to be happy," Maisy says.
Even cuter?
"This full moon happened in Ben's 7th House of long-term relationships. The thought of 'forever' was definitely on his mind as he closed his chapter of just dating," she says.
Venus Is Not Retrograde
When Ben and Jen first got engaged in November 2002, they did so during Venus retrograde—which is a huge no-go.
"This time," Maisy says," Venus is not only direct, but it was also in free-flowing Gemini (where both of these two have long-lasting love planets, Venus and Saturn)."
Talk about a match made in cosmic heaven.
READ MORE: 8 Leo Rising Celebrities
Moon Trines
On Friday, July 17, Jen and Ben said "I do" at the celeb-favorite A Little White Wedding Chapel in Las Vegas.
"On the day of this wedding, both Jen and Ben had strong natal moon trines happening," Maisy says.
Jennifer's devoted, sexy Scorpio moon made a strong trine to both the sun and Mercury—which means she should feel supported by her decision to wed, both personally and mentally.
"Ben's moon made a strong trine to the transiting moon," she says. "Which suggests that he feels incandescently happy and at ease with the marriage. The transiting moon also made a trine to his ascendant, which suggests that he's feeling like this marriage suits 'who he is' at this point in life."
The Lion truly has found his Lioness.
Are you ready to find out if you and your partner are destined for a long-lasting romance à la Bennifer 2.0? Discover what the stars have to say about your current (or even past-turned-present) romance and how compatible you and your love truly are with our premium Love Compatibility report.