January/February 2022 New Moon in Aquarius Horoscopes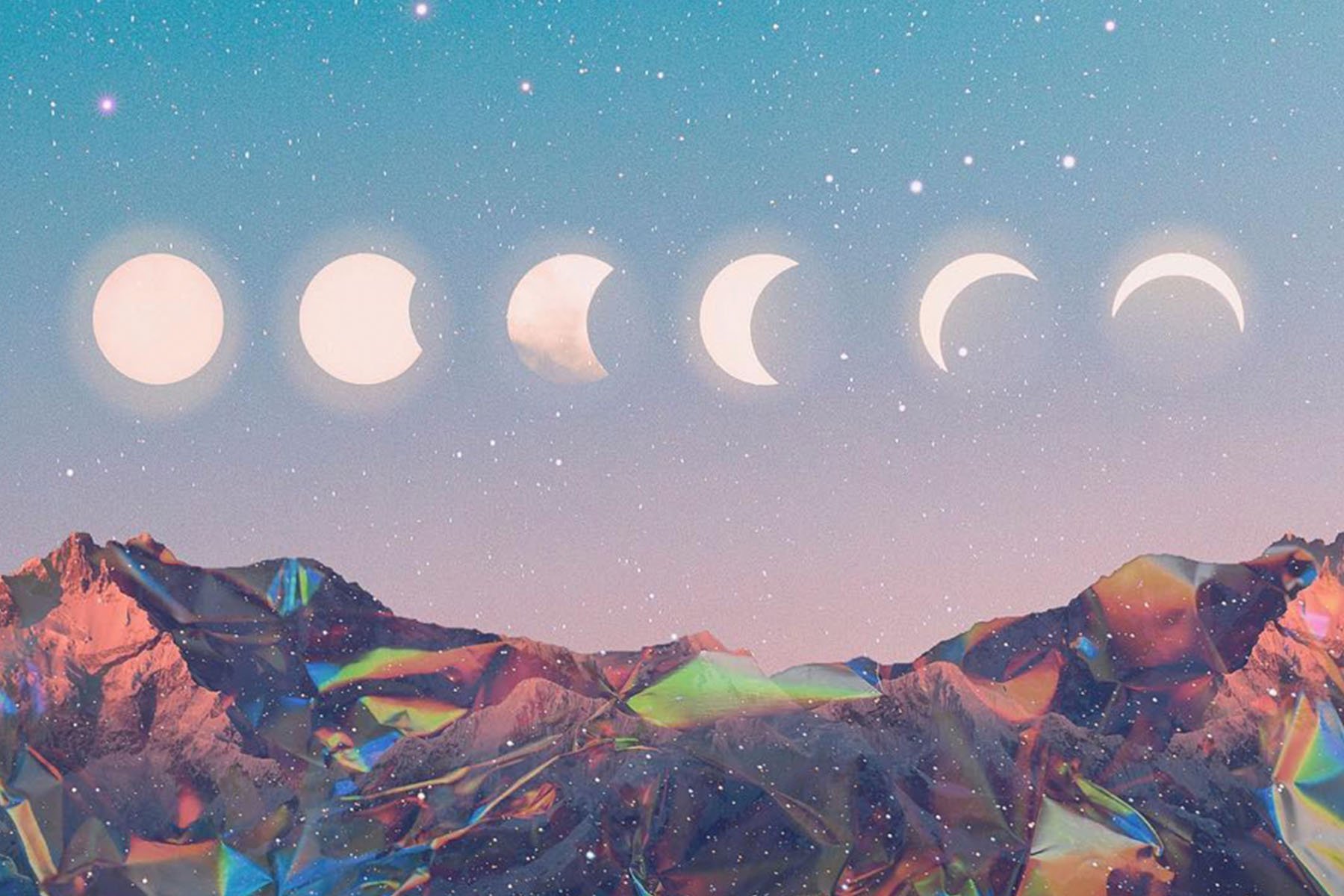 You've heard of a blue moon, but how about a black moon? This term refers to the relatively rare occurrence of a second new moon during a single calendar month, and the upcoming new moon in Aquarius is exactly that — at least for those of us living west of the eastern time zone, anyway. Rising on Monday, January 31 at 9:46pm PT, this late-night lunation straddles the line between one month and the next. The quirky timing of this Aquarius-ruled moon is a perfect reflection of its idiosyncratic lunar energy.
Taking place in innovative Aquarius, this lunar reset inspires us to think outside the box and break the usual mold when it comes to setting personal intentions. Embracing our most wonderfully-weird qualities instead of trying to blend into the crowd will make it easier to attract the people, energy, and magic that's waiting to find its way to us. In the spirit of Aquarius season, use this lunar moment to build yourself an entirely new playing field instead of trying to fit a square into a circle. Write yourself a new rulebook and put your eccentricities front and center.
While the luminaries' residence in Aquarius gives this lunation a progressive and airy flavor, we'll still want to keep our pragmatic wits about us. The new moon is aligning with responsible Saturn in Aquarius — one of the planet's traditional home signs — which boosts our goals with added motivation, determination, and seriousness. This hardworking edge is heightened by the fact that Mars, Venus, Mercury, and Pluto are clustered together in Capricorn — Saturn's other home sign — forming a down-to-business stellium that'll up our sense of discipline and enhance our work ethic. This new moon isn't messing around when it comes to bringing our most futuristic visions to life. 
Ultimately, this heavily Saturnian-tinged lunation gives us an opportunity to start visualizing, actualizing, and structuralizing our collective hopes and wishes. Get real about thinking big and make some new moon magic happen.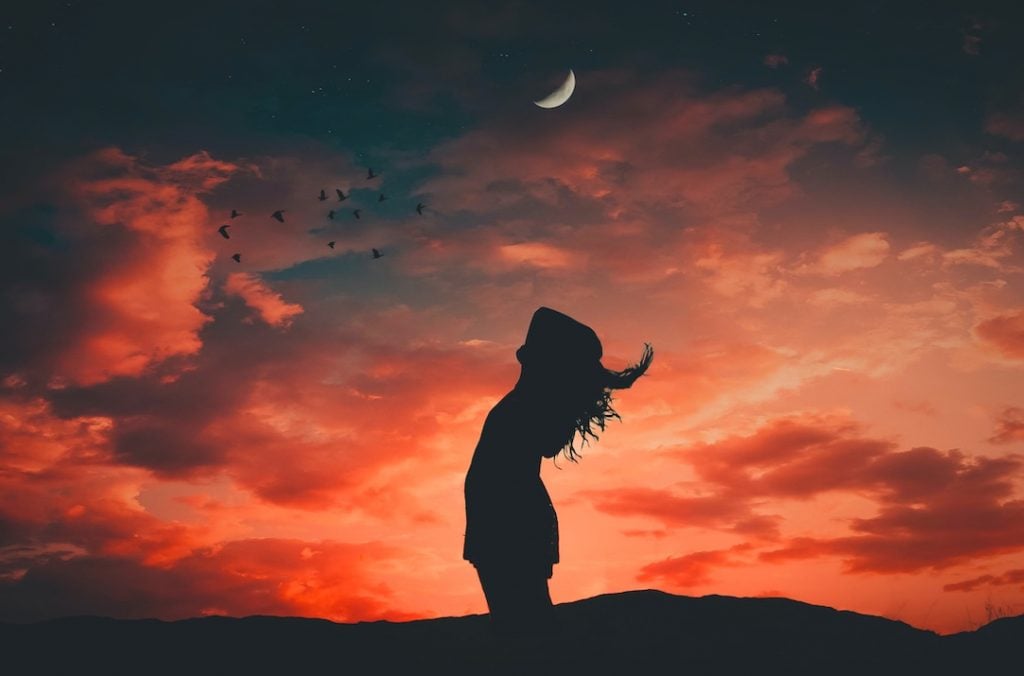 Aries
You're turning over a new leaf when it comes to networking and social connections, Aries, so it's a good time to put yourself out there and mingle with some inspiring new minds. You'll find you're able to connect with people who want to work toward shared goals more easily, and doing so will make you feel more fulfilled. Surround yourself with people who inspire you to aim higher instead of always seeking self-satisfaction.
Taurus
If your current career situation is feeling stale, this new moon marks an important time to shake things up and embrace a less conventional trajectory. You normally like to play it safe and stick to the rules, Taurus, but this is an auspicious time to branch out and start paving the way for a more innovative professional future. Visualize what you want and connect with the people who can help you achieve it.
Gemini
You've been doing a lot of soul-searching lately, Gemini, but this new moon in your worldly ninth house asks you to take all that inner-knowledge you've acquired and apply it to a new endeavor. It's time to take a risk and pursue a mind-expanding adventure that's fully aligned with your interests, hopes, and dreams. Whether it's planning a trip or signing up for a course, now's a time to embrace your growth.
Cancer
This new moon in your intimate eighth house is stretching your soul, Cancer. You're searching for spiritual connections and vulnerable honesty and finding strength in your inner wisdom. So, while sharing your secrets and unlocking your truth may be difficult, once you do, you'll find that you're able to shine even more brightly. Take a step toward radical realness.
Leo
You don't need to play by anyone else's rules when it comes to love, Leo. While renegotiating the terms of a relationship and opening up new conversations about your shared trajectory may not be easy, this new moon might inspire you to open your heart to new — and better — way of being in partnership. Check in with your own needs and those of your partner and be willing to experiment on your own terms.
Virgo
It's time for a change of pace, Virgo. Your ruling planet Mercury is approaching the end of its retrograde as this new moon rises. So, you're being gifted the opportunity to shake up your schedule and rearrange it in a more forward-thinking way. Sometimes simply embracing a new rhythm in your daily routine can invite more opportunities for creativity, joy, and productivity.
Libra
The new moon is lighting up your creative side, Libra, so it's time to pour your heart into the things that make you feel joyful. Now's a time to follow your dreams and express your authenticity to the fullest — even if it means breaking your usual mold by doing something unconventional. By embracing your excitement for your goals and hobbies, you will inspire other people to do the same.
Scorpio
You don't need to live by anyone else's conventions, Scorpio, but you do need to live in alignment with your inner needs. This new moon marks a new opportunity to lay out a more supportive foundation for yourself — one that will help you launch all your most creative goals and nourish yourself. Devote more time to self-care and self-love so that you have the confidence you need to set sail into unknown seas.
Sagittarius
Expressing yourself and connecting with others is always important, Sagittarius. But right now, you'll make an even bigger impact on people than usual. First get in touch with your values. Then, get in touch with the friends. Your social life is lighting up with fresh opportunities for fun, freedom, and even financial gains, so be ready to dive into all of it with total authenticity.
Capricorn
Take stock of all your personal goals, hopes, and wishes and start laying out the framework for your success, Capricorn. Matters of money and material resources are being given a major boost under this new moon, meaning that you have a heightened ability to manifest magic in these areas. Launching forward-thinking work projects or new investments could pay off in a big way.
Aquarius
This is your new moon, Aquarius, and it marks a powerful new beginning when it comes to who you are and what you want. Now's a time of reinvention and inner power. Your self-reflective time alone is paying off with a deeper understanding of yourself. Whether you want to revamp your image or start a new endeavor, now's the time to put yourself out there and make it work. The world is waiting to cheer you on.
Pisces
Your intuition is soaring to new heights under this new moon, Pisces, so embrace your creative inner dreamer. Leaning into your idealistic visions of a better future can help restore your faith in life's endless possibilities, which can enable you to manifest with more sincerity. Write down your dreams and stop doubting your hopeful feelings; your wildest fantasies could come true!
Photo Courtesy of Alexandro David on Pexels.