Are My Dark Fantasies Bad? A Goddess Answers Your Sticky Sex & Love Qs!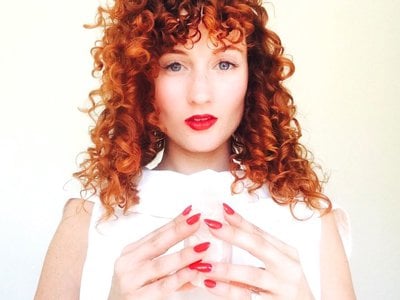 Have a love problem or a sex question? Horoscope.com's resident Sex Goddess, Alexandra Roxo, can help! Alexandra has gone on her own journey to embrace her sexuality, and is always learning, exploring, and loving. Whether explaining sexual auras, exploring the appeal of crystal sex toys, or sharing how to connect your eroticism to the moon cycle, Alexandra is a beloved source of wisdom, inspiration, and guidance. Here, she answers Horoscope.com readers' burning love questions without shame or judgment. You can ask her anything by emailing [email protected]! — The Horoscope.com editors.


Dear Roxo: I recently got out of a long term relationship with a partner who wasn't sexually adventurous at all. There weren't any hard feelings, but now that I'm single, I am SO READY to get out there. I love sex and am so excited to try so many things, like BDSM, and maybe a threesome. Anyway, while I'm really looking forward to no-commitment sex, I also really want to make sure it's respectful. How would you suggest going about it?

Dear Reader: This is a great question, and I wish there was an easy answer for you! To explore any of those things, you need trust with your sexual partner, and trust is built over time. Unless you are patient and build trust, there is no surefire way to know if someone is not gonna bring you drama or chaos. That being said, I have done the opposite in the past! I've had one night stands, lovers, BDSM play dates, and more, without trust in place. Luckily, nothing crazy ever happened to me. I did pray a lot, which might be why I attracted really nice people—some yogis and spiritual dudes, mostly. But I feel very lucky and would not recommend this path, as it could be dangerous! But while you are slowly building trust with someone, here are some other ways to play:

•Try a kink party or dungeon or play party where you can be in the energy safely (meaning, where others are looking out for you)!
•Try a Shibari (erotic bondage) class, or a one-on-one tie session with someone well-reviewed online.
•Get to know a couple you meet online and want to engage in a threesome with. Make sure they have done it before and you aren't the first. Declare solid boundaries for yourself. Sleep over? Penetration? Be clear with yourself, and them, about what you want.
•Explore solo! Read books! Watch films. Go to talks! Even if you aren't getting naked with people, you can surely grow erotically and enjoy the adventure!
* * *

Dear Roxo: My boyfriend has always been talking about a threesome, and I've sort of went along with it. For example, we would fantasize about threesomes, and I'd be like, "Yeah, that's so hot." And in my fantasies, it was. But now, he really wants to move forward with it, and has been searching online for a third. He thinks he's found someone who's willing to do it and we made plans to all get together for drinks soon. Here's the thing: I don't want to. Not at all. The woman he found is cute, and we've been texting, but I just hate the concept. The actual idea makes me physically sick. But I feel like I went along with it for so long with him that it's almost like I was lying. I love him enough to go through with it, but am SO worried about the fallout. What do I do?

Dear Reader: Honesty is the key to any relationship. Your relationship will never last if you aren't honest. Remedy the ship before it crashes! And, my love, if you aren't being honest here, where else are you not being honest in your life? Where else are you living to please others instead of yourself? Where else are you abandoning the precious You in favor of not losing love or affection? These are big questions, and I hope so much you see this as an opportunity to take a greater look at yourself.

After you fess up and get real with your man—no need to make this a big sob fest or drama—tell him you thought you could do this, but you aren't feeling it. Then offer options. First, what might you be comfortable with? Some suggestions: A drinks date with a third as foreplay? Watching threesome porn? Watching him hook up with someone—while directing the scene?

Get real with yourself about what you are open to, and offer your partner some suggestions about how you'd like to explore his fantasy as a couple in a way that feels good to you, too!

* * *

Dear Roxo: I'm a guy in my early 20s who pretty much grew up on porn. Anyway, the scenes that have always gotten me off are ones depicting non-consensual acts. Now, let me be clear: I would NEVER EVER do anything like that in real life, and in all of the sexual encounters I've had in the past (both casual and in relationships), we are super gentle and pretty vanilla. But my mind goes to these really dark places, even during sex, which makes me feel horrible. I don't love these fantasies, but I can't get them out of my brain. Help!

Dear Reader: Hi love. A. Please don't beat up on yourself. Fantasy and reality are very different. Guilt and shame only turn into poison in your body. Be gentle on yourself. B. There is good reason why you have these fantasies! Chances are you are deeply in need of claiming your masculinity and power in a world that has probably emasculated you again and again. Chances are, women in your life have emasculated you. Or maybe you just haven't had space to become the man you wanna be. Some ways to reclaim your masculinity:

•Read The Way of the Superior Man by David Deida, and study his work.
•Get involved with The ManKind Project, a development organization that supports men to "wake up, show up, and grow up."
•Take up some masculine sports or skills if you haven't already, and work on embodying that amazing, sexy, dominant strength in a healthy way. Try boxing, hatchet throwing, rock climbing, hunting, or something that connects you to your raw and animal spirit.
•Look to strong men as role models (my fave is Jason Momoa for raw manhood).
•Look at which relationships with women in your life may be toxic and need healing (aka boundaries with Mom or Sister or Female Boss).
•Play with a dominant/submissive relationship in sex, where you can express dominance in a way that is wanted by a woman! Same with role play. Get some books on this and read up! You may find a partner who wants to engage in primal caveman role play with you.
It's okay to crave the animalistic in life! We have detoured from nature so greatly that it's important to find healthy ways to get primal and raw again. The world needs strong men, and I want to see you rise into this sexy place in a consensual, loving way!

* * *

Dear Roxo: I've been dating my boyfriend for about a year. We're so compatible, we laugh a lot, and we "fit" together. Our families love each other, and everything just feels comfortable. I can very easily see us getting engaged, married, and having kids. But here's the thing: I'm not attracted to him, and I never have been. Physically, he's "fine." But I just don't feel anything when I see him, and sometimes, if I see him when I'm not expecting to (like, he surprises me at work by waiting in the lobby), the sight of him will actually cause my heart to drop a little. Is there anything I can do to make myself be attracted to him? I would love this to work!

Dear Reader: Honey, oh honey. I am so sorry to hear this. As women in this world, it's insane how we have been taught to abandon ourselves to social norms or having "the dream life." That life that is a lie, and can lead to depression, pill popping, eating disorders, affairs…. You've probably watched TV shows and soap operas about women in "perfect" relationships who are violently unhappy; it's an old trope, and I hate that you are living it. But you are aware of it, and that is a gift! You are starting to listen to yourself. You must keep listening to your heart. It's all you have! If you abandon yourself, who will you have, then? If you aren't attracted to him, there could be hope, but honestly, you probably can't change this aspect of things. Honesty towards him and yourself is so important. After all, if you are out of integrity here, where else are you not being real in your life?

Would you rather be happy and fulfilled in a delicious and sexy and juicy love—or in something that looks okay and "fits" well, but feels like a bummer?

I am wishing you courage and strength. I know it's not easy. Choosing yourself is huge. Read, eat, pray, love! See a therapist. Lean on your friends. Develop self love. I'm rooting for you.
As always, I'm here to help! Email me at [email protected]. If we publish your question, it may be edited for length and clarity.


Got more questions for the Universe? These amazing astrologers are here for you.

Want more spirituality, mysticism, and advice for bringing your spirit to the next level of awesome? Follow us on Instagram.
For more of Alexandra Roxo's racy wisdom, you'll love:
A Sexy Solar Eclipse Mantra for Your Zodiac Sign
Could a Love Goddess Transform Your Future?
How to Seduce Anyone, With Help From Their Zodiac Sign
Is Sign Compatibility BS or Essential?