The Best Spiritual Hotspots to Visit in 2017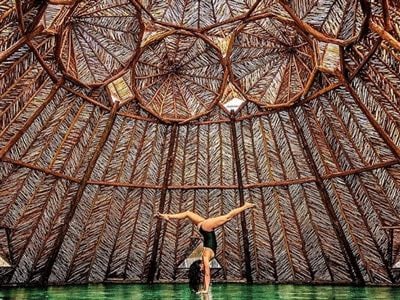 So, you've been to the top of the Eiffel Tower, or taken that gondola ride in Venice. Now you're craving a different kind of vacation—more hippie paradise, less touristy rush. Maybe it's even to a place where people aren't embarrassed to say things like "self care" and "holistic healing." That's it! You need to take a trip back to yourself. You need a spiritual retreat—and one that's not boring. But which of the so-called "now age" vacations you're always hearing about are just marketing ploys, and which are the real deal?  
We thought you'd never ask!
Here, Our Top Six Vacation Ideas for Soul-Searching Travelers:
1. Take a Vortex Tour in Sedona 
Often deemed America's new age capital, Sedona, Arizona, has it all: scenic red rock mountains and mesas, psychic healers, and crystal shops galore. But the vortexes—there are four or five biggies, depending who you ask—have got to be the number-one reason to come for a visit. Take a vortex tour with one of several companies that run them, or venture out on your own. There's a great vortex map on lovesedona.com that offers information on what sides of the self each vortex strengthens. The Chapel of the Holy Cross is definitely worth a visit. Designed by Marguerite Brunswig Staude, the chapel emerges from Sedona's red rocks, and boasts breathtaking views.  
Spiritual traveler @kyllamckenzie channels Sedona's
powerful vibes in an Instagram photo by @minkmade.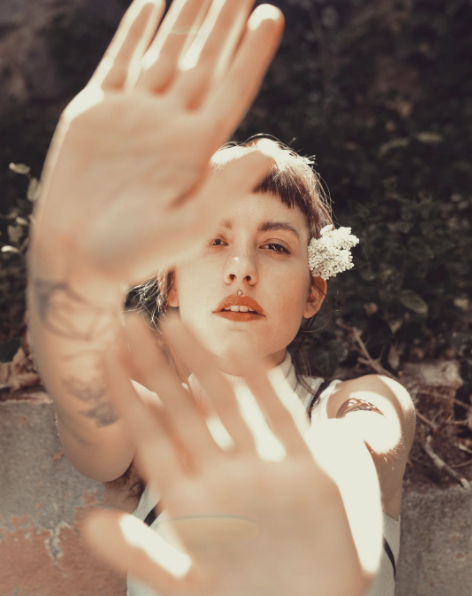 * * *
2. Do Yoga on the Beach in Tulum  
You knew you'd find this Mexican beach town on the list, but do you know why? It's because in Tulum, you get yoga on the beach (or in town, if you'd rather), vegan tacos in a jungle setting, juice bars, retreat centers, and many places where you can go for things like meditation sessions, sound healing, and Ayurvedic massage. Plus, nothing restores the psyche like a dip in the Caribbean Sea or a crystal clear tide pool—or of course a trip to the nearby Mayan ruins. The ruins are bikeable or drivable, and seaside; or, if you're feeling up for a day trip, Chichen Itza is about three hours away. Stay in a thatched roof bungalow and try meditating for the first time. Trust us, you'll finally understand the power of the om.
See more of Tulum's amazing views @Tulummexico.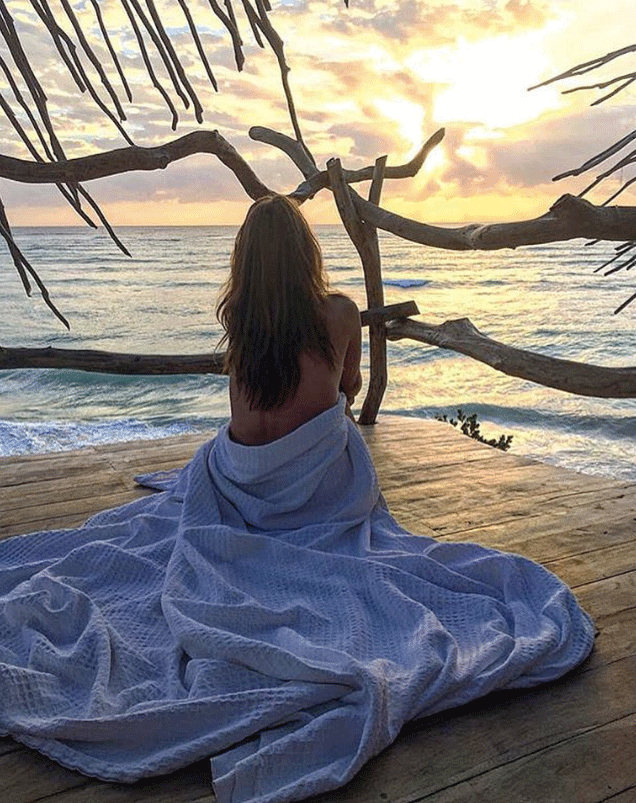 * * *
3. See the Light in Marfa  
If you've been watching I Love Dick and you haven't yet been to Marfa yourself, you might be wondering if it's as magical as it seems. The answer is yes. First off, it's located in the West Texas desert, one of the most beautiful, peaceful, and desolate-seeming places; it has the Marfa lights, atmospheric reflections that glow in a rainbow of colors; and everything is new agedly adorable. Think an episode of Portlandia meets the Summer of Love. Take a meditation class and stay in an Airstream trailer, yurt, teepee, or tent at El Cosmico—plus, make sure to stop by the gift shop there for all your smudge stick and copal bundle needs. P.S. If you're feeling like a drive, check out nearby Balmorhea State Park, featuring a spring-fed swimming pool where you can jump off the diving board right into a school of fish.  
Stay in a vintage trailer and seriously soak up the
vibes at @ElCosmicoMarfa.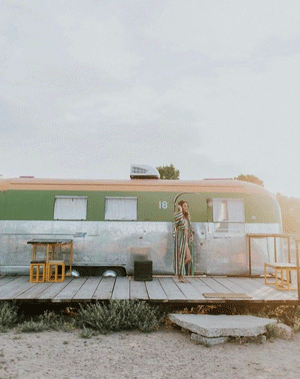 * * *
4. Live a Fairytale on Isle of Man  
Tucked between England and Ireland is this tiny country where witchcraft was prevalent as far back as the 1330s, and the citizens were known to have had magical powers long, long ago. If this sounds like the beginning of a fairytale, it's no coincidence. The Isle of Man is an island so deeply steeped in folklore that really everything about it feels enchanted. Roaming the island are magical hedgehogs, called Arkan Sonney in Manx, the local language—a sighting brings good luck, naturally; there's also the Fairy Bridge, in which you have to greet the fairies when you cross, or else. And be sure not to miss the charming Peel Castle, which is said to be haunted by a black dog, the Moddey Dhoo, who demands that tourists treat the castle with respect—just make sure to be on your best doggone behavior when visiting.   
The Isle of Man is known for its fairies, and views
like this one, captured by Isle Of Man Landscapes.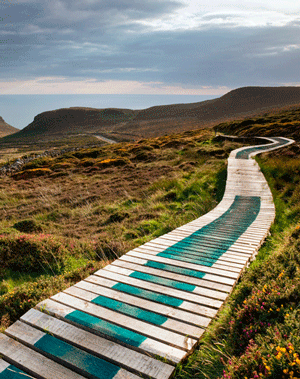 * * *
5. Take a Sound Bath in the Integratron  
If aliens or sonic healing sessions are your thing, this is the place for you. When George Van Tassel built the Integratron in 1957 in California's Mojave Desert (about 14 miles from Joshua Tree), supposedly from instructions he received from alien inhabitants of Venus, he did so under the guise that it would be used for time travel, as well as anti-gravity and rejuvenation. One of the reasons he chose the location was for its proximity to magnetic vortices. It's since been bought by three sisters, and you can't use it to time travel since that's not a thing, but you can go there for a healing sound bath session that involves crystal bowls being played live, and time to reflect. Go see what all the hype is about, and leave feeling deeply rejuvenated.  
The Integratron's sonics must be heard to be believed.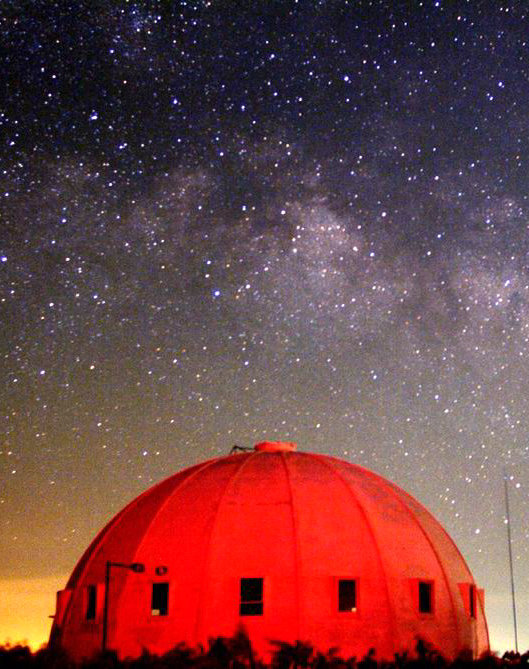 * * *
6. Touch the Wawel Chakra  
If you're planning on a backpacking trip to Europe this summer—or whenever—be sure to add this spot to your list. The Wawel Chakra is a spot on Wawel Hill in Krakow, Poland, that is believed to emanate powerful energy—like a chakra point in the human body. It is thought to be one of seven such chakras on the planet—others are located in Delhi and Rome. Specifically, the Wawel Chakra is located underneath St. Gereon's Chapel, between the royal castle and the Wawel Cathedral, in the left corner of Wawel's courtyard. The energy flowing through a wall over this spot is said to be so intense that it makes some people's teeth rattle; others say they feel the energy flowing right through them. Some simply come here to meditate. The walls are worn down from the touch of so many seekers, but touch at your own risk, as it's technically forbidden. 
Not just another European castle, the Wawel Chakra 
puts out seriously powerful energy.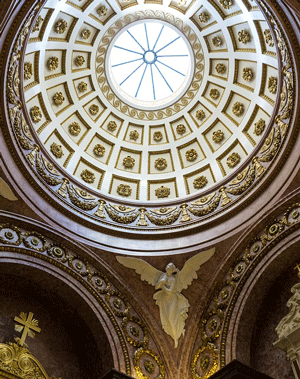 Want more spirituality, mysticism, and advice for bringing your spirit to the next level of awesome? Follow us on Instagram. 
For more ideas on how to live a more adventurous, spirit-filled life, visit these stories and more in Sun: 
Your Star Sign Can Lead You to a Dream Vacation
Need a Little Hope? Start With Wonder
You Grow Through What You Go Through