What Zodiac Sign Is the Queen of Swords?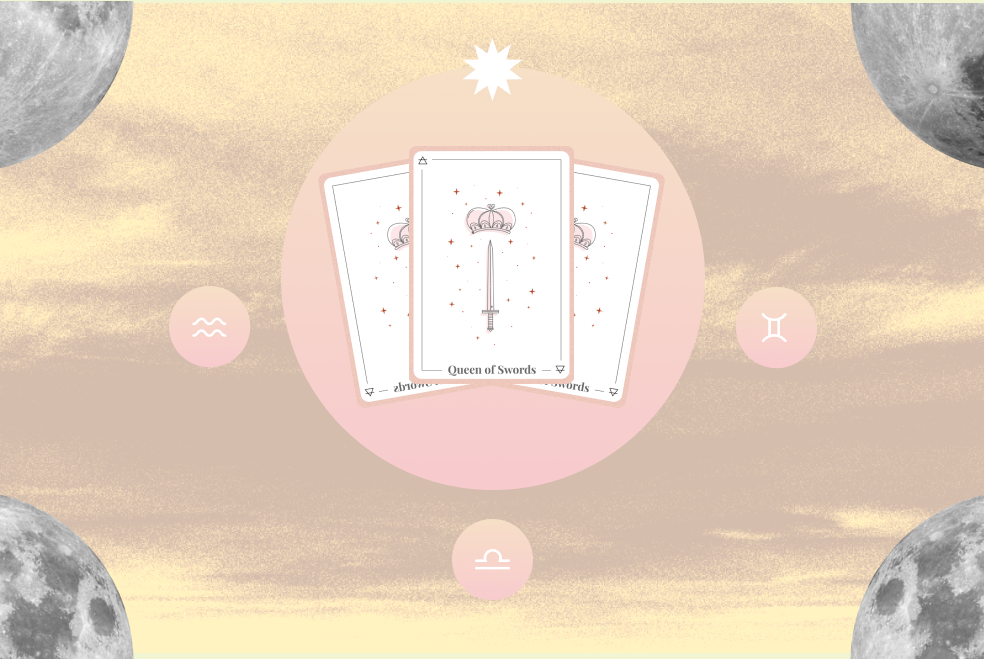 The Queen of Swords in the Tarot deck represents someone with poise, gentility, a quick and logical mind, and the skills of persuasion. What zodiac sign does that sound like to you? If you guessed the witty air sign Libra, you're right!
We asked Tarot reader Maisy Bristol of Tarot By Maisy to answer a few questions on how the Queen of Swords matches up with its astrological pairing, Libra.
Zodiac Sign: Libra
Swords represent all air signs: Libra, Aquarius, and Gemini. "Queens" represent the cardinal signs in the zodiac. So, that makes this Queen pair up with the cardinal air sign, Libra.
Libra is the polite, sophisticated, smart, and charming zodiac sign that can convince anyone of anything. This sign's best trait is their ability to blend into any crowd with ease and poise. And not only that, but befriend even their worst enemies before they know it. "The Queen of Swords has the same calculating mind, but sweet feminine vibe. In all honesty, she is the definition of femme fatale," according to Bristol.
One Libra trait that reigns true with the Queen of Swords is this sign's ability to weigh all options with a level head. Libra acts as the mediator within conflict—whether it has to do with court justice or who's turn it is to watch TV in the household. "The Queen of Swords is the most fair when it comes to decision-making and can do so with an empathetic flair as well—thanks to her feminine touch," says Bristol.
Meaning
Upright
In an upright position, Bristol says that the Queen of Swords is using her powers for good. "An upright Queen of Swords in a reading symbolizes a person who is bringing justice to a situation, but with soft sensitivity," she says. "She can always see other perspectives, but her biggest concern is respect."
Ultimately, this card suggests a woman who needs respect in order to feel comfortable to engage. If you don't appreciate her as an intellectual, she will not help you. And that's just fair, right? That's the air sign coming out in her, according to Bristol.
Reversed
A reversed Queen of Swords is bound to have a completely different personality. Bristol explains that this type of Queen is much less likely to be fair when her feelings are hurt. "The Queen of Swords is the most logical of the four, but she's still a feminine energy," Bristol says. "This means that she still guides with her heart and her feelings—so, if she feels crossed in any way, she's not totally averse to petty behavior."
Additionally, the reversed Queen of Swords can represent one of Libra's most infamous traits: indecision. "We think of Libra as the middle man in the zodiac because they can easily direct anyone else's problems… but when it comes to their own, it's a whole different story," says Bristol.
She explains that Libra is very logical, but when all those thoughts become too overwhelming, the Queen of Swords can become totally paralyzed in her indecisiveness.
Other Libra Tarot Cards
Justice
Of course, this one makes sense, right? Justice is an egalitarian card that holds balance, justice, and fairness to the highest degree—just like Libra.
2 of Swords
The 2 of Swords represents that classic indecisiveness that makes Libras so easygoing… and so hard to deal with at other times.
3 of Swords
The 3 of Swords is indicative of a period of betrayal. It usually represents times when boundaries have been crossed and we feel the hurt deeply. This is a Libra card due to its connection with worry, doubt, and anxiety.
4 of Swords
The 4 of Swords represents peace, patience, and waiting before acting. "It comes from a truly prudent place—one where we don't need to make rash decisions before we really understand the situation. It's a perfect Libra card!" says Bristol.
FAQs
Are Tarot cards associated with astrology?
Yes, definitely! Every Tarot card is associated with either a zodiac sign or a planet. If you're interested in astrology and how it relates to you, we recommend getting a birth chart reading.
What Tarot card is Aquarius?
These are the Tarot cards for Aquarius:
5 of Swords
6 of Swords
7 of Swords
King of Swords
What Tarot card is Scorpio?
These are the Tarot cards for Scorpio:
5 of Cups
6 of Cups
7 of Cups
King of Cups
Related Articles:
King of Pentacles Zodiac Sign and Meaning