Justice
If you've been wondering whether the universe can be fair, now is the time to start believing that you'll get the outcome that you deserve. Is that positive or negative? Only you know the answer. The Justice card, however, signifies that whatever you've got going on will be solved with whatever fairness exists out in the cosmos. That doesn't always mean you'll get the outcome you want. But it does mean that order will soon be restored.

In her right hand, Justice holds a scale with a heart on it (emotion). While in her left, her scale holds a skull (logic). She walks across a sword, blindfolded. This represents the calm, rational mind that she needs in order to make decisions clearly—without catering too heavily to her heart or her head. If one scale were to tip, it would throw off balance. If you're to judge and be judged fairly, you must focus on all aspects of the situation before making a decision.
Speak to a live horoscope expert. Find clarity, connection, and a path forward. Click here and get your first reading for just $1.99!
Read more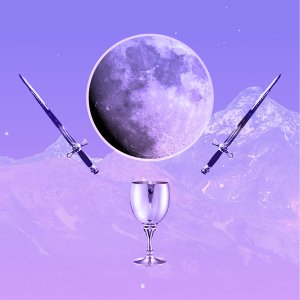 2023 Tarot Reading