February 2021 New Moon in Aquarius Horoscopes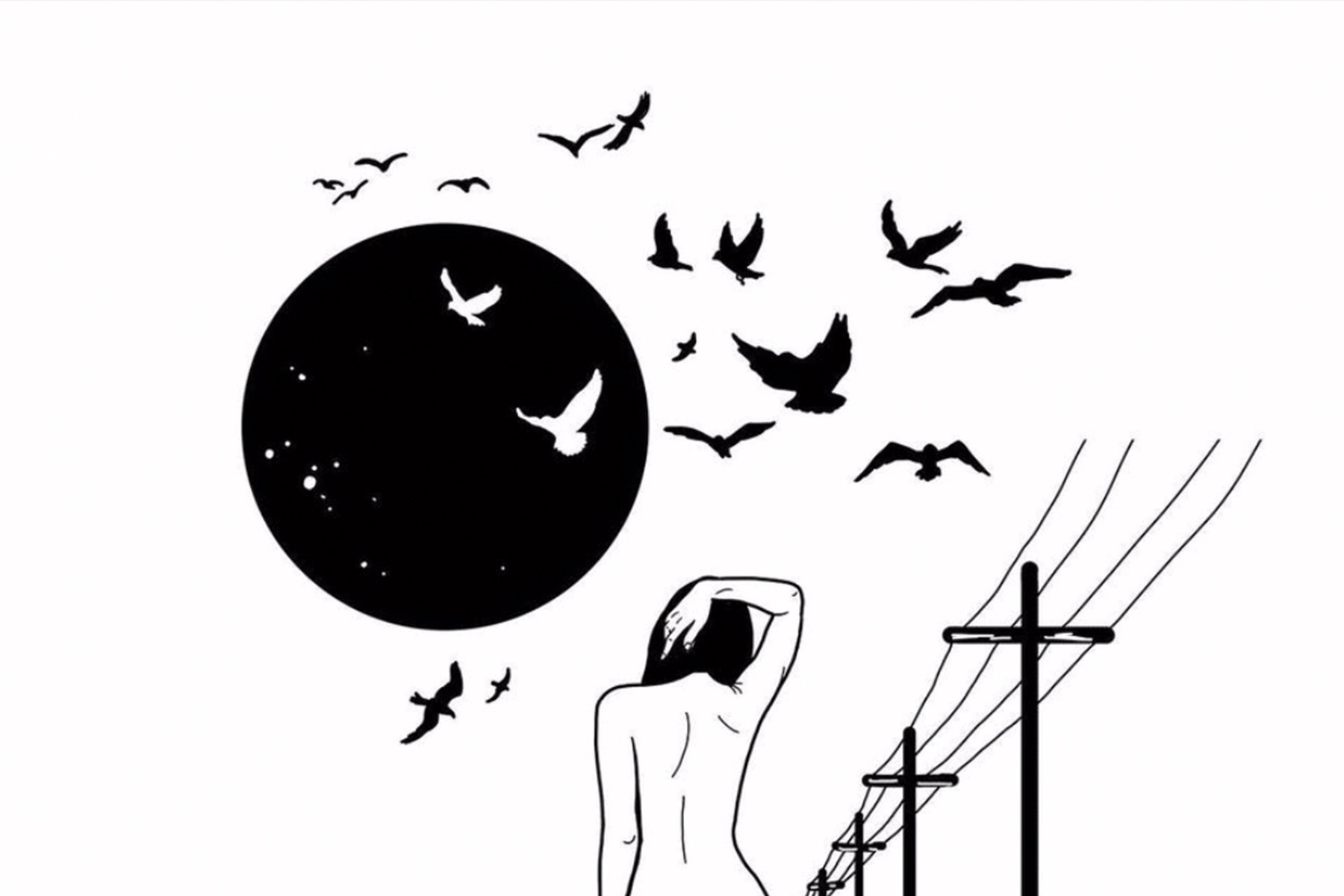 The February new moon in Aquarius on Thursday, February 11 at 11:06am sparkles amidst the darkness as the quiet apex of the Aquarius stellium that's dominating this month's astro weather. At the time of this lunation, the sun and moon are joined in Aquarius by Mercury (planet of communication—and now retrograde), Venus (planet of love), Jupiter (planet of luck), and Saturn (planet of rules)—and Aquarius' maverick energy will be felt heavily as we usher in this new lunar cycle.
Under this new moon, it's out with the old and in with the future. Aquarius is the visionary sign of the zodiac, and its progressive flavor invites us to step outside of our personal boxes as we embrace our most eccentric hopes and wishes—for ourselves and the collective. Forget about what's "normal" and burn your instruction manual. Channel the inventive and rebellious Aquarius energy to help break free of traditions and carve out a new path that's entirely your own.
While this new moon doesn't closely aspect any major planets, it's snuggling up to the asteroid Pallas, named for the wise and clever warrior goddess in Greek mythology. This alignment unlocks our ability to problem-solve with more creativity, intuition, and innovation than ever before. So, don't be afraid to think unconventionally, challenge the status quo, and take the road less traveled.
Additionally, the two "benefic planets" Venus and Jupiter come together alongside this lunation in a gorgeously glittery conjunction that's gushing with good vibes. This aspect brings fortune in love, money, beauty, relationships, and beyond—making it an extra auspicious backdrop for setting new moon intentions.
How the New Moon in Aquarius Will Affect Your Zodiac Sign
Courtesy of @broken_isnt_bad
Aries
If you want to be more active in your community or involve yourself with social causes, Aries, this lunation is a powerful time to embark on those endeavors. You're finding new ways to connect with friends, colleagues, and other people who share your interests. Fostering these connections will have a mutually beneficial domino effect in the way they open doors for you in the future.
Taurus 
Get a little unconventional in your approach to your career goals now, Taurus. With the new moon in your house of public image, you have a real opportunity to make an impact through your work—especially if you're willing to step outside the box to pioneer your own path. And don't do it alone… collaborating with your colleagues will actually boost your standing and allow your contributions to sparkle.
Gemini
This new moon ignites your sense of adventure,Gemini, and it'll have you exploring all sorts of mystical landscapes and faraway places—without having to actually goanywhere. Your hunger for knowledge is inspiring you to seek mental, spiritual, and philosophical stimulation that'll spark some exciting new ideas. Looking at the big picture instead of getting caught up in the details feels like a refreshing change of pace.
Cancer
If you've felt a strain on your boundaries lately—whether in the realm of finances, relationships, or spiritual energy—this lunation offers you a chance to hit the reset button and start manifesting a new set of limits for yourself, Cancer. Your emotions are in touch with the truth, so listen to your gut before making any promises. It's okay to say "no" when people ask you for your time or offer you theirs.
Leo
This new moon brings fresh starts in your love life and a chance to visualize a new dynamic between you and your boo. You might have an opportunity to start a new relationship now, although the arrangement might have an unconventional flavor. Remember that love doesn't play by the rules, Leo, so keep an open mind. If you're linked up, discuss your shared hopes and wishes and find ways to build toward them together on your own terms.
Virgo
Hey Virgo, if your New Year's goals already feel like an ancient relic, trust that this new moon in your house of routine will revitalize you with the focus you need to get back on track—and perhaps get you onto an even more inspiring one. Sometimes, we have to break out of our current routines entirely in order to create better ones. So, don't be afraid to revamp your schedule and add some unexpected new rituals into your daily groove.
Libra
Inspiration has struck under this new moon, and there's no limit to the beauty you can bring into your life now, Libra. Set work and other mundane responsibilities aside and focus your influx of creative energy on your dreams and passions instead. Create a beautiful work of art, say yes to a fun and flirty fling, or try an exciting new hobby that makes your heart flutter. This lunation is all about listening to your heart.
Scorpio
It's time to put down your stinger and let yourself sprout some roots, Scorpio, as the new moon in your domestic fourth house asks you to invest more individuality into the place you call home. Whether you're searching for a new place or simply doing some redecorating to bring new life into your current space, think outside the box. Your home base should be a safe haven where your eccentricities can shine.
Sagittarius
Mercury may be retrograde, but this new moon is helping you find new and innovative ways of communicating your many strong opinions to the world around you. Experiment with expressing yourself through a new medium, Sagittarius. Try starting a blog, podcast, social media account, or even just a group chat with your friends that's dedicated to sharing information.
Capricorn
You typically play by the book when it comes to money, Capricorn. But this lunation asks you to take a different approach. Perhaps it's time to splurge on a fun piece of tech, come up with an unconventional way to make some extra cash, or make a forward-thinking investment in something fresh that'll pay off in the future. Create a new set of rules for yourself using your tried-and-true methods… but with an innovative twist.
Aquarius
You're no stranger to reinvention, but this once-a-year new moon in your sign gives you a key that could unlock a completely new piece of who you are. You're evolving in unexpectedly new ways now. It's important that you maintain the freedom necessary to explore the paths that are unfolding in front of you. Keep one hand on your pulse as you weather the changes to ensure you don't lose touch with what's most important: yourself!
Pisces
Before you can take tangible action on your goals, you have to have a clear vision of what you want in the first place, Pisces. This lunation is inspiring you to fantasize your way into a more aligned future. Give yourself some downtime to daydream and combine your whimsically wild imagination with your real-world objectives. You might just dream up something magical.
Lead photo courtesy of @broken_isnt_bad