How Will This Once in a Lifetime Transit Affect YOU?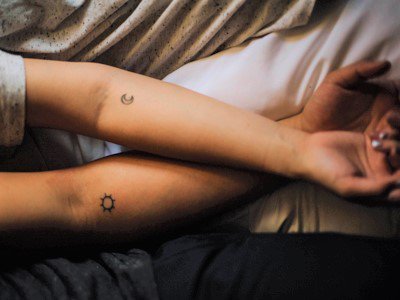 When Uranus moves into Taurus on Tuesday, where it remains until 2026, life as you know it may never be the same. This transit is huge on a global level — the last time this transit ocurred was in 1934 — and may cause financial and environmental upheaval. On a personal level, too, all signs may feel the shifts and effects of this transit, which you may feel right away. Expect the unexpected.
On Tuesday, feisty Mars moves into Aquarius, which can make it tough to suss out what you want or where you're going in life. This week is all about picking up and putting down projects, and you may feel restless and unsatisfied.
On Saturday, when Venus moves into Cancer, you may feel like you need to relax, take a break, and just breathe. And on Sunday, as the sun shifts into Gemini, it's prime time to jumpstart summer plans. In short, this is an electric week—make every second count. Here, your weekly horoscope for May 14 to May 21.
See the future. Know the future. Download your premium astrology report today.
Activity in your personal finance zone abounds, Rams! A Taurus new moon on Tuesday, coupled with a shift of Uranus into Taurus, equals a change in how you make money, or how you use money. Keep an eye out for a career change possibility. The entire week may make you feel jumpy and unsure of what's going on. Roll with it, and don't get too invested in a possibility. The weekend is a great time to chill, relax, and get ready for Gemini's sprightly energy to jumpstart your summer.
With a new moon in your sign on Tuesday, as well as electric Uranus in Taurus, you're feeling the jolt and change in energy. How will you use it? Don't make any sudden moves. You have more time than you think, and slow and steady is especially key for these planetary transits. Mars moves into Aquarius on Tuesday as well, and the entire work week is about possibility and potential. Just take things one day at a time. The weekend can be incredibly romantic with luscious Venus in Cancer — skip plans and stay home.
It's your week, Gemini! Energy is building for Sunday, when the sun shifts into your sign, and you may be feeling restless, nostalgic, energetic, or a combination of all three. This week can be intense, with a flurry of planetary activity, including Uranus in Taurus and Mars in Aquarius. In addition, a Taurus new moon in your spiritual sector may cause a crisis of confidence of sorts. There's so much you want, and so many other people's expectations that you need to juggle, that you may feel a lot of pressure. Over the weekend, take a break. Spend time with your nearest and dearest, and focus on what your heart wants.
Uranus affects your social life, and you may feel a profound shift, quite suddenly, over who you spend time with. You may be getting out of your shell more and invited to more events. Go with the flow! On Tuesday, as Mars moves into Aquarius you may find clarity on an emotional issue that's been bothering you for quite some time. Over the weekend, Venus in your sign adds extra sizzle to your romantic relationship, and you may be surprised by just how much passion surges between you and your partner.
You know what you want, and Uranus in Taurus can help you get it. You've always been good at playing nice and playing any sort of political game at work, but now might be the best time to potentially go it alone. You may get a surprising offer, that may not feel safe, but feels right, in regards to work or career. Go for it! The weekend gives you time to reflect, with Venus in Cancer allowing you the perspective to truly step back and see your whole life. Meanwhile, the sun shifting to Gemini cranks up the fun factor on Sunday. One thing's for sure: This summer will be like nothing else.
A Taurus new moon opens a door, and the eclectic energy of Uranus on Tuesday may usher in a unique opportunity. You may feel more free than you have in a long time, and may realize — perhaps for the first time — just how much other people's opinions have affected you. Wellness gets a boost as Mars moves into Aquarius, and it's a great time to jumpstart a fitness routine. Venus in Cancer over the weekend can make you feel seriously connected to a partner. Single? Try reconnecting with someone from your past — it's a great day to do so. Finally, as the sun shifts to your career zone on Sunday, it may be time to step things up at work.
A lot of activity occurs in an intense section of your chart, which could have huge effects on the months and weeks ahead, so let's break it down: Uranus in Taurus can bring intense changes to your financial, love, and professional life, but they can be great ones. This week, it's all about doing what you feel is right. You've been so concerned with what other people think in the past, but this changes with this transit. Mars in Aquarius can crank up your career confidence, and you may feel like you can do no wrong when the weekend rolls around. Follow your heart; it guides you well!
You love life gets scrutinized by Uranus in Taurus, and learning the lessons of Uranus early can help you avoid heartbreak in the future. Expansive Mercury also plays a role in love — you may feel like you're feeling bored and restless, and may want to take action. Take caution, and remember that slow and steady can be the best way forward with this planetary transit. Fiery Mars in Aquarius urges you to take a look at your home, at your here and now, and pick up what you can — no need to make grand, sweeping changes suddenly. Venus in your travel zone over the weekend ignites your wanderlust — just pack up and go!
Your work and lifestyle zone may be about to undergo a change. The new moon in this sector on Tuesday brings the opportunity for a fresh start. With revolutionary Uranus moving into the same zone on the same day, your whole mindset could change, especially concerning the way approach your health. It may be time to shift up your work/life balance, and make time for the gym. Haven't had a checkup in ages? Fix that, ASAP. Tuesday is great for networking, as progressive Mars moves into Aquarius in your communication zone. Send an email you've been holding off on. Finally, a Gemini sun makes this a great time to prioritze a relationship or prioritize the search for a plus one in your life.
A Taurus new moon in your relationship sector starts the week off with a focus on love, but lively Uranus in Taurus complicates what you see — and what you want. This transit may make you realize just how much more there is to life, love, and what you want than you thought. Also on Tuesday, Mars moves into your money zone, and focusing on budgets and financial goals can be smart. As Venus enters your relationship zone on Saturday, smooth out any misunderstandings, and a Gemini sun encourages you to get off the couch and get moving!
You're feeling like you're reaching another level of your life with the move of Uranus into Taurus. It may feel like you're closing the book on one chapter of your life and starting a new one. Nostalgia and sadness is okay to feel! As Mars shifts into your sign on Tuesdayr, you're feeling committed to a brighter, healthier, bigger life. Join the gym if you've been holding out! Venus in Cancer on Saturday gives you the break you didn't know you needed, so go out and enjoy. And with the sun in Gemini in your leisure sector on Sunday, anything is possible and pleasure is paramount. Happy summer!
Uranus in Taurus gives you visionary-like power, where you're very clear on where you are and where you need to go. Mars in Aquarius on Tuesday make make you feel almost psychic — write down your dreams and see where they lead. On Saturday, Venus in Cancer adds passion to your bond. Attached? Plan a date, just the two of you. Single? Fire up your dating apps and start swiping. And on Sunday, chill out, as the sun moves into your self-care sector. The next month is all about putting yourself first.
Read last week's horoscope here. 
See the future. Know the future. Download your premium astrology report today.
Read the latest:
5 Life Lessons That Will Make You Stronger, Happier, and More Confident 
Did the Scorpio Full Moon Eff Up Your Life?
Your Sign's Summer Sex Fantasy
This Crystal Will Make You Powerful AF
Need a Second Chance? Try This Move!