9 Magical Hacks for a Successful, Prosperous 2018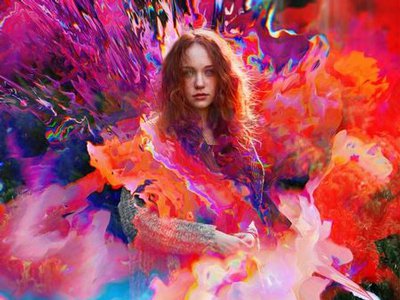 We looked into the archives of everything we published in 2017 to cull the best, smartest strategies for you to get everything you want out of 2018. Get ready for a magical year! — Horoscope.com editors
Want 2018 to be the best year ever? Start prepping now with your 2018 horoscope!
Bad Mood? Try a Cleansing Ritual
Ever have one of those can't shake bad moods? It may not be your fault. The vibrations you pick up from other people can mean that if someone else is having a sucky day, their energy may be affecting your own chill. Here, Shereen Campbell shares how to combat these vibes. Sage can be a good tool for serious cleansing, but you can even use a crystal to hold your bad mood. Take a rose quartz, hold it, and imagine your worries and bad mood leaving you and heading onto the crystal. (Then, cleanse your crystal too by putting it out in a full moon!) 
Learn About Love Languages
One universal truth about relationships: They're hard! Learning how to "speak" your partner's love language is key, says Gala Darling. "The old concept of love languages is experiencing a resurgence in spiritual circles, and for good reason. The idea—posed by author and pyschologist Gary Chapman in the book The 5 Love Languages—states that we all have a primary "language" through which we prefer to receive love: words of affirmation, physical touch, quality time, acts of service, or gifts. Once you know which language your lover speaks, you'll know how to really show them how much they mean to you. And nothing feels better than really being understood."
Protect Your Own Energy
You can cleanse bad energy, but why not avoid it in the first place? Try this brilliant protection, or "zip up" technique from Gala Darling: "Imagine a huge zipper that starts at your pelvis and runs all the way up to the top of your head. All you need to do is visualize closing that zipper, and thereby sealing in all your goodness! The second technique involves seeing yourself inside a sphere. Some people like to visualize themselves inside a big pink bubble, but I like to see myself in a huge disco ball, through which only positive energy can penetrate (and all negativity, jealousy, and bad vibes get bounced back out!). 
Live in the Spotlight
Crank up your confidence by thinking of all the people—past and future generations—who want her to succeed. This mind trick from Gala Darling can help: "When I imagine that there's a camera crew with me—and that my future children might watch the footage—I'm inspired to step up my game. Suddenly, I'm excited to get dressed up in a colorful outfit. I make an effort to leave the house and have an adventure. I am even more outgoing and gregarious with friends and strangers alike. And I realize the importance of making every day special and significant." 
Clean Your Closet, Clean Your Soul
Want to get more organized in 2018? There's good reason, one of the biggest meaning that getting rid of stuff that no longer serves you gives more room for growing into the person you want to be. From Ruby Warrington: "If anything, clinging to my old clothes would actually prevent the flow of energy in my new project, as well as in the new relationships and identity I was building in New York." Warrington cleansed her closet and found a life that was much more authentic. While it may be painful to part with expensive clothes or clothes that have good memories, the result is worth it. 
The Right Good Luck Accessory is Everything
A good luck bracelet is more than a lucky charm. It can seriously boost your confidence. But a good luck charm doesn't only need to be jewelry. From Ruby Warrington: "A tarot or other kind of oracle card can also become a talisman if you choose to work with it more deeply. Pick a card at random or select one that resonates strongly with you, and then find ways to incorporate it into your life. Maybe you make a special place for it in your wallet, or keep it somewhere you can see on your desk and allow it to trigger positive intentions every time you look at it." 
You Can Use Magic to Inspire Love
Shereen Campbell manifested the love of her life with positive intention, optimism, and a little candle magic. " I created a vision board, a crystal-and-tarot–bedecked altar, and a wishing bracelet. In preparation for lighting my candle, I forced myself to ask and answer some tough questions. I pondered what I really wanted in life. I asked the candle to show me how I could better connect with myself. I asked for inspiration and support in reconnecting with the dreams I'd lost. I asked for the power and faith to create a new life plan. I asked for a relationship that would support me in becoming all that I could be." 
Forget About Vision Boards. It's All About Happiness Boards
A vision board may look Pinterest-perfect, but they may not be effective, because they show an "ideal" life—not a life that will actually make you happy. Try a happiness board instead, focused on things you already like! From Cara Alwill Leyba: "Taking the pressure off all those hard goals and creating a piece of art that simply reflected all the things that made me happy felt like a smarter way to approach life. My first happiness board was a collection of quotes that inspired me, photos with friends and family, a few career achievements, and pretty pictures. Sure, I kept some "goals" on it, but I approached those goals from a very different place. I asked myself, Does this bring me joy? If the answer was no, it didn't go on the board." 
Tapping Into Your Sexual Aura is Everything
Everyone has a sexual aura—a color that resonates with the sexual energy you're emanating. You can see it if you look hard enough, and becoming familiar with it can mean everything for your sex life. From Alexandra Roxo: "How do you tune into your sexual aura? First, you've gotta get in tune with your mood. Start by summing it up in a few words. Are you feeling kinky? Insightful? Lovey-dovey? Now, pick a theme song for this mood. Is it raucous? Sensual? Now, let these senses guide you to your look as you get dressed. Are you reaching for a pantsuit? A T-shirt? A bodycon dress? Let all these tiny details be the first clues to your sexual aura this evening." 
Use these tips for a brighter, hotter, more magical 2018!
Want 2018 to be the best year ever? Start prepping now with your 2018 horoscope!
Image by Dorian Legret. Find his work at Society6. 
Get Ready for the New Year With These Articles!
How Will Tomorrow's Cancer Super Moon Affect Your 2018?
The Best Self Help Books of 2017: Read These to Get on Track
9 Strategies That are Better than New Year's Resolutions
11 Questions Everyone Should Ask Themselves in the New Year
Need a Fresh Start to the New Year? Consider a Reiki Treatment