Your Weekly Horoscope for November 12 to November 19: Sparks Ignite. How Will You Handle Them?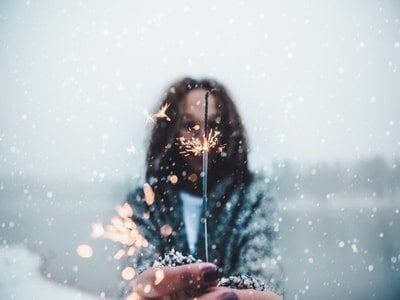 Want a sneak peek into 2018? Find out what to expect right now with your 2018 premium horoscope! 
Weekend vibes continue into Monday, as sociable Venus aligns with expansive Neptune. But don't get carried away. An alignment between interactive Mercury and Neptune may lead to some misunderstandings—make sure you know what you're agreeing to, and don't go along with something just because you want other people to be happy. As the weekend rolls around, an awkward angle between potent Pluto and feisty Mars leads to control battles. On November 18, a new moon in Scorpio can help you shift or change toward a new direction—just be aware that everyone around you may not be happy about it. 
Aries Weekly Horoscope 
A Venus-Jupiter alignment casts a lovely light onto your relationship. Single? Expect to find flames where you least expect them, and expect a flirty conversation to segue into a date with very little effort? Attached? Make sure to set aside some time in your calendar to spend with your partner—this week, quantity of time will lead to quality improvement in your relationship. This week, ethereal Neptune warns you not to make any commitments (especially at work) and to keep everything in casual conversations. Contracts and promises will make more sense next week. This weekend is especially volatile; keep things light!
Taurus Weekly Horoscope  
Ready to finally commit to that workout plan? This is the week. But slow and steady, Bulls! The more realistic your plans, the quicker you'll reach your goal. Relationships are important this week, and everything seems to be going the way you want it to, with seems being an operative word. This weekend, a major issue may come up between you and your partner, or even you and a newish date. How this conflict plays out says a lot about your relationship. 
Gemini Weekly Horoscope    
Lively Mars enhances your social life, and this is an awesome week to plan a date, plan a party, or just go out on a weeknight because #YOLO. A lovely aspect between coy Venus and ambitious Jupiter say that opportunities will present themselves when you least expect them, as long as you get out there. Don't overthink things. Rely on your intuition, and see where it leads. Bottom line: If you play your cards right, not only will you have fun this week, but opportunities will propel you to your best year ever. 
Cancer Weekly Horoscope
The beginning of the week is great in all areas. Work flows, social life is humming, and it feels as if all the hard work you've put in all year is finally paying off. And it is! Stop waiting for the other shoe to drop and just enjoy exactly what you have. You're feeling extra empathetic, especially on Thursday, when you may feel almost psychic when it comes to people's moods, desires, and wishes. This psychic ability has always been within you, now's the time to truly trust it's power. 
Leo Weekly Horoscope
The holidays are on your mind as convivial Venus and sporty Jupiter push you to plan a gathering. You may feel overstressed about every aspect of the week ahead, but delegating, as well as just letting go and letting things unfold, is key for a good time to be had by all. Dreamy Neptune pulls your attention toward daydreaming. Don't get annoyed—these daydreams can help provide some clues into how the week will play out. The more you visualize the perfect holiday gathering, the more likely it is to go according to plan. 
Virgo Weekly Horoscope 
The beginning of the week opens with plenty of social invites, work opportunities, and ways to get yourself out there and make your name heard. This is awesome! But pay attention, because mercurial Neptune could lead to things not being exactly as they seem. Don't get carried away, and most importantly, don't spend money before you have it. The weekend may bring financial concerns to the forefront; the good news is that Saturday's new moon gives you the opportunity to turn over a new leaf when it comes to financial habits. 
Libra Weekly Horoscope 
You're always generous, Libra, but be careful at the beginning of the week, when generous intentions may lead you to overspend. As you're preparing for the holiday next week, make sure to double and triple check details. A link between chatty Mercury, glorious Venus, and ethereal Neptune suggest mistakes—mixed-up travel plans, double-booking events—so making sure you have some sort of system in place will make for a smoother week. This weekend, conflicts may arise. Don't get caught up in the minor details and keep major issues in mind as you talk through a conflict. 
Scorpio Weekly Horoscope 
You're in your element at the beginning of the week, Scorpio, and may find your week stacked with social invites. Enjoy them! Jovial Jupiter lends you empathy and you may find yourself getting involved with a charitable project or event. As always, heed your intuition, and if things seem to not stack up the way you feel they should, find an opportunity that more closely aligns to your beliefs. A new moon in your sign on Saturday is a great day to commit to a goal—and actually achieve it. 
Sagittarius Weekly Horoscope 
You're feeling charitable at the beginning of the week, but Archers, take heed. While your intentions are good, others may not be, and the stars say you may be getting played. Do your research before you commit. As your birthday month approaches, you're digging deep and letting go of the past so you can head into the future. This is hard work. It may not feel like you're doing anything or getting anywhere, but trust that you are, and the hard work you're doing now lays the groundwork for a glorious month ahead. 
Capricorn Weekly Horoscope 
Easygoing Venus and flamboyant Jupiter connect in your social sector, and while you tend to be cautious, you're throwing a lot of that to the wind in order to enjoy every last second of the holiday season. Enjoy letting your hair down! You know you've worked hard all year and now's the time to enjoy. But also be cautious of the bonds and connections you have—storms are brewing over the weekend, and you may find a conflict escalate out of your control more quickly than you thought possible. Keep a cool head. 
Aquarius Weekly Horoscope 
Your luck is on fire at the beginning of the week! A combination of aspects allows you a few choice opportunities at the beginning of the week. But of course, with ethereal Neptune in the mix, things are anything but easy. Make sure to double and triple check any contracts before you commit, and remember: If an opportunity wants you, taking a few days to think about things should not be a deal breaker. Act from a position of control and power. Feel like you're holding back? It may be time to let go of things you're hanging onto from the past. You know what they are. 
Pisces Weekly Horoscope 
Romance is in the air, and you're feeling dreamy-in-love regardless of whether or not you're attached. See what you can do to step out of your day to day reality; a night at a hotel with your partner, even if it's in the same town, will skyrocket your romance. Single? Exploring a new place may bring exactly who you need into your life. Conflicts arise over the weekend; try to step into the other person's shoes, at least for a little bit, in order to act from a place of empathy. 
Make 2018 your year! Here's how!
Read last week's horoscope here!
Read your November horoscope here! 
For more spirituality, mysticism, and advice for bringing your spirit to the next level, Follow us on Instagram.
Want To Dive Deeper Into Your Best Self? Try: 
Your November Love Horoscope 
A Full Moon Love Spell to Attract Your Perfect Partner 
The Best Birthday Gifts for a Scorpio 
Can This Simple Drawing Have the Power to Change Your Life?
Seeking Answers? An Oracle Deck May be the Key