Your Daily Horoscope for Monday November 6: The Stars Say It's Still the Weekend. Go With It!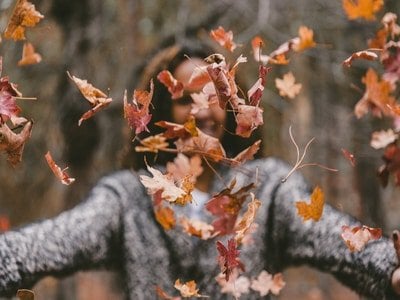 Monday vibes? Not really. With the moon in social Gemini, you may find the weekend carrying into the early part of the week. Go with the flow, but make sure your bases are covered. A Mercury-Saturn parallel aspect could bring up some serious conversations. Don't bluff your way through them. If you don't have an answer or don't have the background intel, give yourself some time. The last thing you want to do is go into something only half-understanding what you've agreed to. And this evening, a Moon-Saturn opposition may bring some criticism or rejection—take it in stride. Remember, putting yourself out there is worth the occasional rejection. 
Want 2018 to be the best year ever? Start prepping now with your 2018 horoscope!
Aries Daily Horoscope
A Mercury-Pluto aspect is causing some drama in your chart. You're pushed into conflicts, but resist the urge (as much as possible) to lash out. Empathy is your friend, and you'll find yourself catching a lot more flies (or contracts, whatever) with honey today. Sweet isn't natural for you, Rams, but give it a try. 
Taurus Daily Horoscope 
You're second guessing the people in your life, and wondering if even your own plans and goals are realistic. It may be a good day to remove yourself from the fray a bit—not talking hermit status, but if a conversation comes up, and you're having the urge to be the naysayer, just step away for a bit. 
What does your soul crave in 2018? Your Vedic horoscope can tell you …
Gemini Daily Horoscope      
With the moon in your sign, you're in the mood to play, Gemini! Only thing is, Mercury is redirecting your attention so even just for fun conversations or events take on some seriousness. You're thinking longterm today, and may be ready to set the groundwork for a major project in the future. 
Cancer Daily Horoscope
You may find people playing games with you later today. Stop interacting and stop enabling them. Someone sending you mixed messages on text? Put on 'do not disturb' and refuse to engage. A coworker bringing you down? It may be time to speak to a higher-up, especially if it's pulling you from your work. 
What color is your aura, and where is it leading you? Ask the Chakra Tarot….
 

Leo Daily Horoscope
You're in the mood for self-improvement. Make it a priority today. You're feeling ultra-sensitive, but about events that either never occured or occured deep in the past. Tuning more into your inner self will help you let go—exactly what you need right now. 
Virgo Daily Horoscope
You are stubborn AF today, Virgo! Luckily, you're always charming, so this just might work in your favor, and you may be able to get exactly what you want. Mercury parallel to Saturn brings up some conflicts; follow your passion and speak up to get what you need from the situation. 
Need an instant answer to a tough question? This Tarot deck has it.
 
Libra Daily Horoscope
Your home sector is stormy today, and you may feel like a conflict comes from nowhere. Whatever comes up today may be rooted in something from a long time ago. Some detective work, and an apology, may go a long way today. 
Scorpio Daily Horoscope
 You're feeling introspective today, and this plays out in your closest relationships. You may feel like you're in a therapist-like comunication pattern with a friend or partner—see where the conversation leads and don't be afraid to go deep. 
Learn about your animal sign with the wisdom of Chinese astrology.
 
Sagittarius Daily Horoscope
Your relationships are under a microscope today, and you may find yourself doing a deep dive, going years in the past on your partner or date's social media feed. Chill out! You'll gather the intel you need from five minutes of real life conversation, not five hours of online stalking. 
Capricorn Daily Horoscope
You've slacked a bit on self-discipline, but today you're back on the horse, and you couldn't be happier. Goats thrive when they've got a goal, and today is a great time to get some on your to-do list. You can do anything you set your mind to, so just pick something and stick to it!
Where is your love life headed? Get two valuable perspectives.
 
Aquarius Daily Horoscope 
Work is stressful today, and you may find rumors and gossip flying. It may be impossible to completely disengage, so be smart about it. Keep conversations in real life, behind closed doors, and preferably far away from your office building. Don't put anything about someone in writing that you wouldn't want them seeing. Paranoid? Maybe, but better safe than sorry. 
Pisces Daily Horoscope
Conversations are super intense today. That's okay. You're a sounding board for a lot of different people, so make sure to protect yourself in these conversations. It's okay to take a break if you fele like they're affecting your own happiness and emotional stability. 
Want more spirituality, mysticism, and advice for bringing your spirit to the next level of awesome? Follow us on Instagram.
Want more info to tap into the power of your zodiac sign today? Try these articles!
When Jupiter Moves Into Scorpio, Every Sign Wins. Here's Why! 
Seeking Answers? An Oracle Deck May Be the Key! 
Want to Heal Yourself With Herbs? Here's How 
These 5 Crystals Will Help You get Through Fall 
Your Sign's Biggest Weakness (And How to Fix It!)