Tomorrow is the Luckiest Day of the Year: Here's Why (and How to Maximize Its' Power)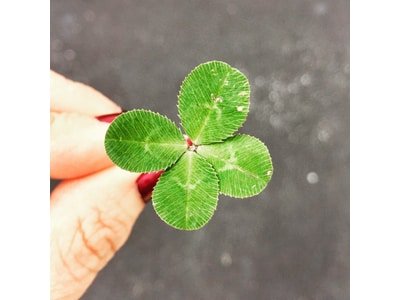 Tomorrow, Thursday, October 26, is one of the luckiest days of the year. As Jupiter and the sun meet, this celestial connection shines favor on all signs. Expect tomorrow to be one of those days where everything goes right: You get a free coffee just because, you sail through all green traffic lights, and you effortlessly agree on everything you discuss with the people closest to you. So set up an important meeting, schedule a date, or do any of these five things to enhance and manifest your luck. And remember, "luck" is about more than buying lottery tickets, it's all about seamlessly understanding, appreciating, and respecting the synchronicity in everyday life, and the connection of your energy to the energy of others, as well as the energy of nature and the planets. The more in tune you are with the way luck is always coursing through the universe, the more you'll recognize it tomorrow, and every day of the year!
Put Down Your Phone
Of course, it's not realistic to totally turn off your phone, but do try to only check it if necessary. If you're always using it, you may not be wholly in tune with the luck that's coming your way. Look up, engage, and connect. Make conversation when you get your AM coffee or say hi to someone you feel drawn to—you don't know where the connection will lead.
Think Beyond Lottery Tickets
They're cliche, and that's not the only way luck works. Of course, if you usually participate in games of luck, today may be an extra-good day to do so. But the luck you feel today will likely enhance whatever routine you already have. Maybe you'll have a key opportunity at work, maybe you'll meet a great match, if you're single. Or maybe you'll just feel really awesome and on top of everything all day. Whatever it is, know that luck sometimes shows itself in small ways, but it's just as real and just as important as huge, lifechanging events.
Learn about your animal sign with the wisdom of Chinese astrology.
Connect With Friends 
Luck thrives on energy, and the more people you surround yourself with, the more luck will be attracted to you. Schedule a night out, grab coffee, or talk to a coworker in the break room. These interactions may seem like NBD, but may pave the way for a lucky break, either that day or very shortly after. 
Read Your Cards
Do a reading for yourself today, which can help you suss out where luck may be headed, and how you can make the most of it. For example, if your cards seem to be a lot of relationship-oriented ones, it may be a sign that you should focus some extra attention on your romantic life and fire up your long dormant dating app. Cards seem to show career related images? It's a sign to get facetime with your boss, send out that memo you've been sitting on, or otherwise make some moves. 
Need an instant answer to a tough question? This Tarot deck has it.
Get Outside
Luck thrives in natural surroundings, so spend as much time as possible outdoors today. You may find luck approaching in the form of a lightning bolt idea, a connection to someone, or even just a sense of general lightness and happiness. Breathe deep, see the sun, and feel the air on your skin—and let luck into your life!
Want more spirituality, mysticism, and advice for bringing your spirit to the next level of awesome? Follow us on Instagram.
Want more info to tap into the power of your zodiac sign today? Try these articles!
When Jupiter Moves Into Scorpio, Every Sign Wins. Here's Why! 
Seeking Answers? An Oracle Deck May Be the Key! 
Want to Heal Yourself With Herbs? Here's How 
These 5 Crystals Will Help You get Through Fall 
Your Sign's Biggest Weakness (And How to Fix It!)