You Can Thank May's New Moon for Making Your Dreams Come True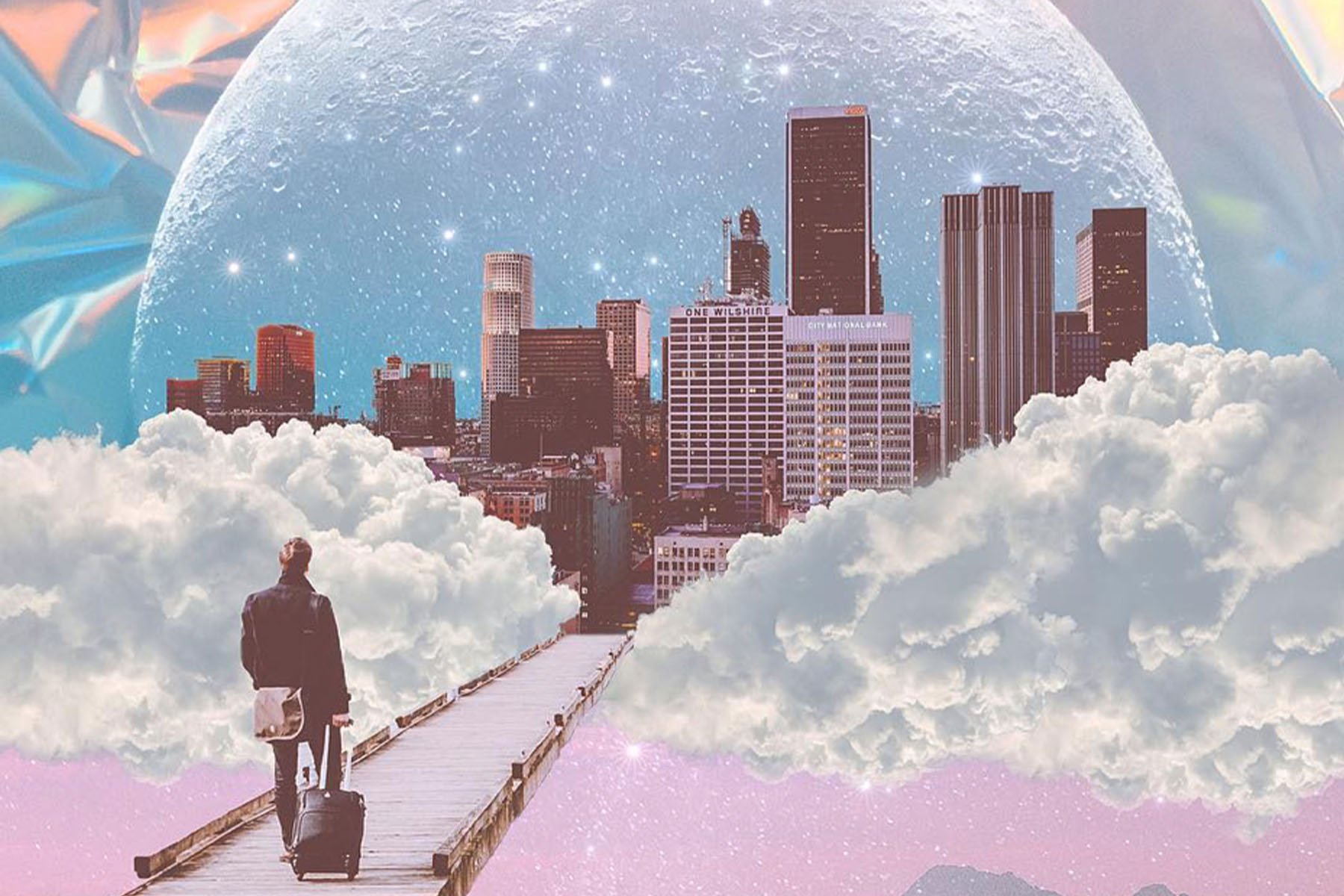 "If you can dream it, you can do it."
While Walt Disney may not have used moon phases to make his dreams come true, his words are the theme of this month's new moon. Happening on May 4, 2019 at 3:44 pm PT, the new moon in Taurus will give you the faith, trust, and self-confidence to make your desires a reality. If you've ever wondered when the "right" time is to start pursuing something new, this is it.
Why This Full Moon Is a Good Time to Achieve Dreams
With Mars (planet of communication) in an opposition with Jupiter (planet of luck), you could be feeling extra optimistic and pumped about what the future holds—and your ability to manifest it. You may also receive many new insights about your life and what's to come next, even if doing these things may take some time in order to fully see the results. Additionally, your dreams might become much more vivid—write them down for inspiration!
Read This Now: Try This Candle Ritual to Make the Most of the Taurus New Moon
Any Downsides to the May New Moon?
Relationships and money, however, may be holding you back from stepping into this new and better life you're envisioning. With Venus (planet of love) in a square with Saturn (planet of foundation), Pluto (planet of power), and the nodes of fate, obstacles both personal and financial could arise at the worst times, which will distract you from what you want. That's because both of those things may still need time to adjust to a new and different set of circumstances (as well as your growing confidence!).
Conversations about who you are and who you want to be will be extra important to get other people and resources on board with your dreams, even if starting these talks is challenging or frustrating. But having the hard conversations will be very useful to help you in the following months recalibrate your life toward something that is more authentic to you, and actually begin to create a reality that feels more sustainable.
Feeling excited about the future and yet, having to stay put in your reality can be frustrating. Here's a tip to get through it: Be patient this month with responsibilities. There could be a tendency to bite off more than you can chew. Instead, do things bit-by-bit and don't force yourself to do more than what's necessary.
How the May New Moon Will Affect My Sign
Courtesy of Twenty20; Design by Horoscope.com
Aries
It's time to make money in new and different ways by using those talents you've pushed aside. This can, in turn, increase the balance in your bank account. However, it may also require you to totally change your career or life in direction in order to do that. It could feel scary, Aries, but it will be worth it to help you create a more meaningful life.
Taurus
New opportunities are opening up to travel, study, or branch out—with many new people coming into your life. This is a good thing. Just don't get stuck in old habits or subconscious patterns. Allow yourself to do things differently and embrace what is foreign, so that then these things can eventually become more familiar and more comfortable.
Read This Now: This Hotel Bases Your Stay Off Your Zodiac Sign
Gemini
The past is the past, Gemini. Ridding yourself of subconscious patterns that hold you back will be key here. This should help you feel more comfortable in your career and the direction your life is headed. You may have to change your goals for the future and re-evaluate old friendships. Some big financial adjustments may also need to be made to move forward.
Cancer
Your future has been a little foggy for a while, but the time has now come to spend more time out and about socializing with people who get you. Before that, though, you'll need to adjust some of your one-on-one relationships, and how you work with people. If you can do it, Cancer, your days still look busy with much work to do, but they will finally start to get a bit more fun, too.
Leo
Your life and career are both going in a different, and much better, direction. It is time to embrace it, Leo! But in order to accommodate all these new and exciting things, you may have to change a few things. Namely, your daily routines, who you spend your days with, and how you spend your money. Allow that to happen, and work in some time for play too.
Read This Now:  The Top 10 Careers for Leos
Virgo
This moon will be about welcoming new people into your life, and doing things differently with others. That may require you to change what makes you happy, by making a big financial adjustment or taking a risk. But it will all work out in the end, Virgo. Do what you need in order to create life that is better for you at this time with the right people.
Libra
Hurrah! Your job and health are changing for the better. Do things that resonate more with you on the day-to-day, and stop relying so much on others. Take charge. That may also mean re-arranging your home and living space, as well as adjusting things with family. As an order-loving Libra, these adjustments will make you feel much more stable.
Scorpio
Time for a new romance, or to have more fun with the people currently in your life. It's also a good chance to take on more of a leadership position (a Scorpio's natural place), with others at work. Don't forget to communicate with people about the things you're working on or that are important to you. You may have to adopt a different communication style in the process.
Read This Now: The Best Sex Positions for a Scorpio
Sagittarius
Things in your job and daily routine will start to feel much more comfortable at this time. Your health and living situation may also start to improve. Enjoy it! Let your finances change so that you can pursue more of your passion projects and do more of what you love. Sagittarius, you were not made to be a machine.
Capricorn
What makes you truly happy, Capricorn? Now will be about opening up about your passions and taking some major risks in the process. Think about it: Where does your inner power come from? You may also have to stop doing things that don't really matter to you anymore out of duty, routine, or obligation.
Aquarius
More stability at home and with family is about to be restored. Money, too, should begin flowing in more consistently (thank God!). You may first, though, have to tie up some details from the past, and communicate more clearly about what you feel (even though we know that's not an Aquarius strong suit). In doing so, your days will be more organized.
Read This Now: Is Same Sign Dating a Good Idea?
Pisces
Luck is on your side here, Pisces, especially in career. Conversations about your identity look positive, which gives you freedom to dream bigger. What comes next is to let old goals and dreams go by the wayside so you can start to make money in different ways, using different skills you feel more talented at.
Lead photo courtesy of @emoji_of_a_wave