The World's First Astrology-Themed Hotel Is Here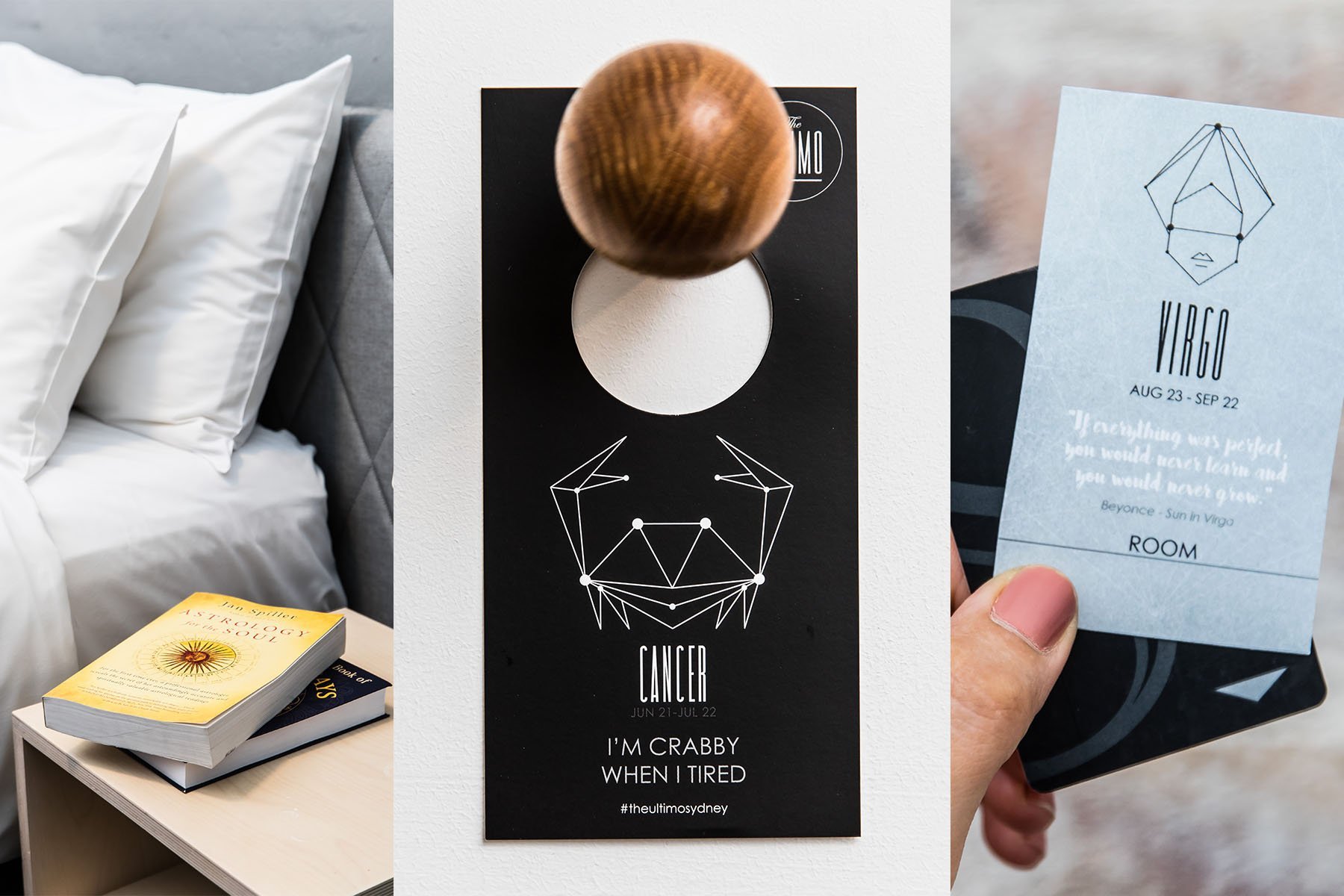 There are certain things you just know you'll like, simply because of your sign. For example, Pisces are drawn to water, adventurous Archers are excited to go anywhere they haven't been before, and a spotlight-loving Leo is drawn to Instagrammable exotic destinations. But what if you could customize any city itinerary to your exact zodiac sign?
That's the concept behind Australia's Ultimo Hotel. Based in Chinatown in Sydney, the hotel offers an in-house astrologer, Pia Lehmann, for astrological consults, as well as customized itineraries based on star sign. While the rooms themselves are contemporary city chic—exposed brick, steel fixtures, abstract wall art—details have been designed by astrologer Damian Rocks. These details include privacy signs based on, well, sign (Please Vir-Go Away, for all those Virgos sleeping in), tailor-made slippers, plenty of astrology books (because ~knowledge~), and a range of Astrolo-teas (naturally), all based on your sign.
To take things a step further, the hotel also offers three different packages to choose from upon booking: a natal chart package—which includes a 90-minute astrological consultation, a solar writer package—which includes a 16-page report on your astrological profile, and a "getting to know yourself" package—which includes a 45-minute Skype consultation regarding your natal chart.  
https://www.instagram.com/p/BQPac5wA_Qa/
https://www.instagram.com/p/BnllrDlgKB0/
https://www.instagram.com/p/BRJ6oV5AaI9/
So, is the stay worth it? With a solid 4.5 rating on TripAdvisor, it seems that the hotel definitely has the potential to appeal to all signs. Added to the package is the ability to select a curated vacation itinerary, based off what each sign may want to see on their vacation. Art-loving Libras may find a schedule packed with museum jaunts, while adventure loving Aries may find popular surf breaks on their to-do list.
https://www.instagram.com/p/BcdqT8TBT-Z/
While the Ultimo Hotel may be the world's first astrology hotel, more businesses are looking to the stars in hopes of potentially getting more stars on their ratings sites. Mood Ring, a bar in Brooklyn, NY, creates a customized cocktail each month based on the Zodiac sign for the month. Spotify offers users of its' streaming service customized playlists based on their sign. And of course, Etsy offers a customized treasure trove of products based on your sign.
But can your star sign truly help you customize a perfect vacation? It's worth a try. And even if a visit to Sydney isn't in your budget, you can DIY your own vacation itinerary by thinking of certain characteristics of your sign. After all, you bring yourself with you anywhere you go. If astrology helps drive you in everyday life, it only makes sense to consult the stars to figure out how to make your vacation out of this world.
Lead photos courtesy of The Ultimo Boutique Hotel; Design by Horoscope.com