Your Full Moon in Scorpio Ritual to Help Unlock Those Demons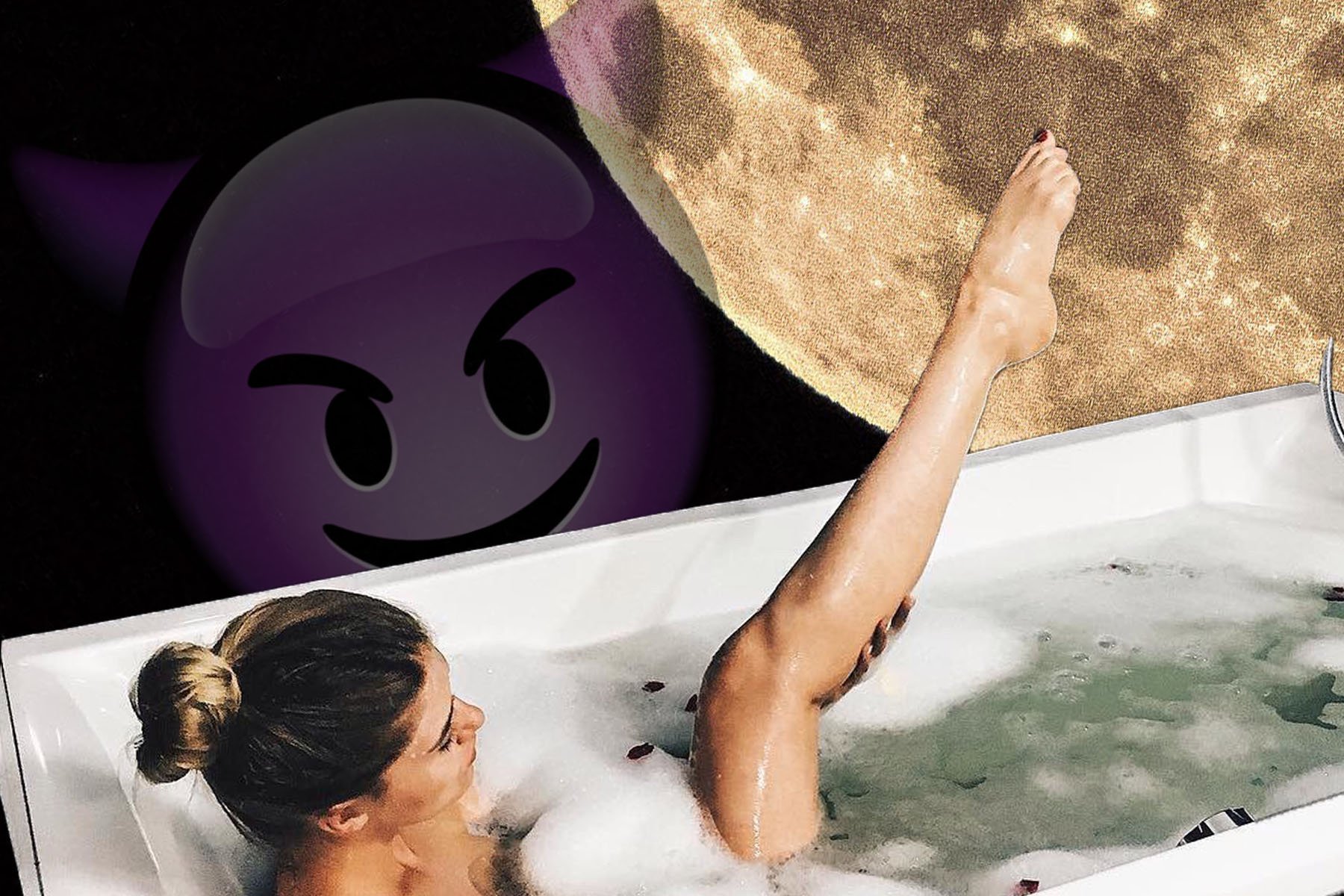 On May 18, 2019 at 2:11 pm PT, a full moon will ask you to change our perspective for the better. As we approach this May's full moon in Scorpio, it's time to take a moment to reflect. Spring may have arrived with sparks flying, but now that we're comfortably in Taurus season, we're encouraged to relish in the sensual pleasures that make life worth living.
Read This Now: The 5 Things Everyone Taurus Needs for Self-Care This Season
What Happens During Full Moon in Scorpio?
During a full moon, we're presented with great power and insight, the wisdom of the past moon cycle revealing some important truths.
Read This Now: What You Should (and Shouldn't!) Do During a Full Moon
When you add a Scorpio moon into the mix though, facing our unconscious minds comes into play. This means tapping into our innermost desires, conflicts, and awareness which can provide you with a roadmap to navigate your life. When the moon is in Scorpio, a sign that is often associated with darkness or the underworld, it forces us to explore our "shadow selves."
This can be challenging work, as it opens up space to heal from past wounds or emotional scars. But a full moon in Scorpio also creates an interesting juxtaposition that we can use to our advantage with the full light of the moon shining on the darkness of Scorpio—opening a passage to do some intense personal work without fearing the judgment or shame we might otherwise be intimidated by.
What Makes This Particular Scorpio Full Moon Special?
Since Jupiter (planet of luck) went retrograde last month, we've likely been questioning the ways in which we make meaning. Unlike the facepalm-inducing energy of Mercury retrograde, Jupiter retrograde is slow and methodical (it lasts until August, so settle in)—and this full moon will be the perfect opportunity to capitalize on its optimistic energy.
Before you start collecting your cosmic blessings however, you'll want to harness this full moon's energy to dive deep into your feelings and get yourself situated, emotionally speaking. That's where this spiritual bath comes into play.
A Detox Bath Recipe for the Full Moon in Scorpio 
This bath helps open up your spiritual self by using herbs that complement Scorpio and essential oils that complement Taurus season. By bringing these two signs together, you'll create a nice opening for self-discovery.
Ingredients:
Instructions:
Light candles and run a bath under the moonlight. Sprinkle the chrysanthemum and thistle directly into the bath, or blend them in a sachet to place on your altar. During the bath, use patchouli oil to promote balance, calming, healing, and creativity, as you connect with your body and celebrate the pleasure of Taurus season. Feel free to use any other favorite essential oils as well.
As you bath, meditate on what is holding space in your life. Are these things holding you back, or bringing you joy? What would you like to invite in if you made a little space by letting go?
After your bath, take some time to list what you would like to release. Before going to bed, hold a rock in your palm and focus your thoughts on the things you would like to let go. (Side note: The full moon is also a powerful time to charge your crystals, so make sure you lay them out in the moonlight overnight.)
When you wake up, journal any thoughts or dreams from the night before. If you feel up for it, head to a body of water such as a river or ocean, and place the stone you used the night before in it, releasing the past and the things that are holding you back. As you do this, send gratitude to the water for helping on your journey.
Scorpio Full Moon affirmation:
I invite light into the dark places in my soul. I trust myself and the universe to create and honor my whole self. I invite blessings of wisdom, insight, and abundance into my life.
Lead photo courtesy of Twenty20; Design by Horoscope.com