The Crystal You Need to Banish Negative Energy During Eclipse Season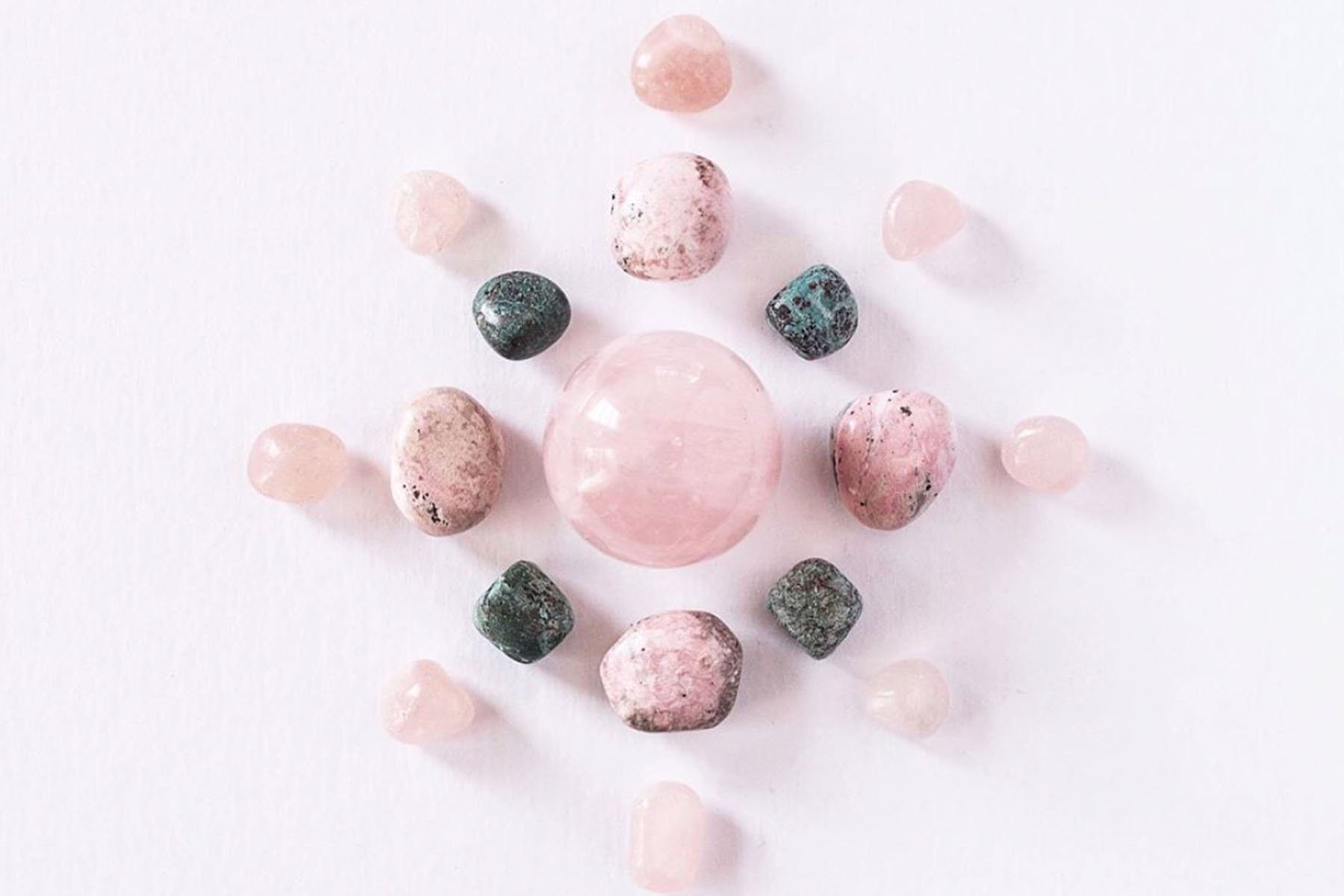 Pretty, powerful, and full of energy, crystals can be used as a tool to help you in any aspect of your life. But they're especially useful during eclipses, where emotions are heightened, decisions are charged, and there's extra urgency in everything you do. But eclipse season is also an optimal time to invite clear, positive energy into your life, and crystals may be able to help.
"Crystals aren't a magic bullet, but they are a tool that can help ground us and guide us," explains Heather Askinosie, a crystal expert and holistic healer and co-founder of Energy Muse, a crystal shop, who, along with co-founder Timmi Jandro, are authors of the book Crystal Muse, Everyday Rituals to Tune in to the Real You. She adds: "Crystals are from the earth, and because of that, they can be really helpful in connecting us to our essential selves, especially since we're so removed from the earth and the rhythms of the seasons in our daily lives." Here, Askinosie shares how to use crystals as a tool to banish negative energy and provide clarity this eclipse season.
Read This Now: The Most Powerful Crystals for Your Zodiac Sign
The Powers of Carnelian, Rose Quartz, Amethyst, and Clear Quartz Crystals
https://www.instagram.com/p/BxLggC5lGi2/
Courtesy of @energymuse
First, walk into a crystal shop and pick up various stones. You may find you can't put one down. That one, whatever it may be, is likely the one you're meant to be working with, shares Askinosie. "Often, people ask what crystal is best for them, and I say, 'I have no idea.' I begin asking a few questions about what's going on in their lives, but they may find their heart and body leading them to the right stone." One popular (and pretty) crystal? Carnelian, a stone that can help ward off negative energies, impart courage, and enhance energy. Carnelian can help you speak your mind and give you the confidence to shrug off naysayers.
Another workhorse of the crystal world is rose quartz, a soft-colored stone that can help protect the heart and emotions. Rose quartz is a great choice for eclipse season, when tensions are high and harsh words may fly. "Rose quartz helps us protect our own heart and not take things so personally," shares Askinosie. Wearing a rose quartz pendant, or keeping a stone in your pocket, will definitely be helpful in the upcoming weeks. Protect your heart with rose quartz!
Read This Now: I Tried a Rose Quartz Dildo and It Was Everything
Amethyst also works well to help us tap into our intuition and what really matters. Advises Askinosie: "It can help us think big picture and get past the pettiness of the day to day. Meditating with Amethyst in your hands or placed in front of you clears your mind of clutter, stress, and anxiety. It facilitates the releasing of attachments, helping you to let go of the things that are no longer serving your highest self."  Amethyst is said to clear the mind and optimize brain cells.
Another amazing all purpose stone, clear quartz, can help amplify our energy and intentions, says Askinosie. She advises: "Let it help bring clarity to shadows of the soul and help you manifest your intentions like never before." Clear quartz can help us adapt and excel during change.
https://www.instagram.com/p/Bn0dhIrHrha/
Courtesy of @luminosity_crystals
Don't Forget to Charge Your Crystal
Now that you have your crystal, Askinosie says the next step is to give it a "job." In this case, the job is to release negative energy, so you will hold the stone in your hand and repeat (to yourself or out loud, it doesn't matter which): "I release my negative energy." Then, whenever you touch it, you will be subtly reminded of what you set out to do. "Using a crystal can help combine the energy of the earth with the energy of your own intention," says Askinosie. Since eclipses are especially powerful and energetic periods, charging a crystal now can be especially helpful. Another way to charge the crystal with good energy: Put it outside during the next full moon cycle.
How to Keep Your Positive Energy
So, you've charged your crystal, and released some (or all, if it was a powerful clearing session) of your negative energy. Now, you've got to keep your energy clean. Since you know that the next two weeks are likely to be an emotional rollercoaster, you'll want to create a regular ritual to help you stay grounded and positive. Askinosie says that the key is coming up with a ritual that works for you.
A protective spell we love comes from our Spirit Goddess, Gala Darling. It's called "zipping up," and it's incredibly easy and effective. Just imagine a huge zipper that starts at your pelvis and runs all the way up to the top of your head. Visualize closing that zipper, and thereby shielding your energy from any bad vibes you might encounter during the day. And of course, taking care of yourself, or making sure to set aside time to decompress with friends, can and should be part of your eclipse season strategy, too. Developing your eclipse escape kit is essential!
Lead photo courtesy of @luminosity_crystals