Editor's Note: Spring Clean to Find the One. Seriously!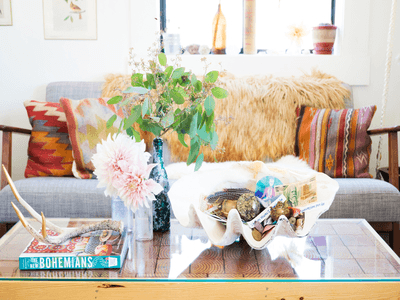 We know, we know, clear your clutter, change your life. It's a common self-help suggestion, and yes, it does make mornings far easier. But does it truly change your happiness and calmness level when you step through your door. That's open to debate.
Enter feng shui. You've likely heard the term before; it's a Chinese metaphysical system of thought where certain objects and certain spaces have energy, and the energy of these objects and areas are all connected. Feng shui decorating seeks to harmonize your space to help you achieve your goals.
Here, Heather Askinosie, co-founder of Energy Muse, a Southern California based crystal and jewelry shop, and co-author of Crystal Muse: Everyday Rituals to Tune In To The Real You, shares some simple feng shui secrets that can help your home align with your goals for the spring and summer in this exclusice question and answer.
What is Feng shui? How do you use it in your life?
For me, Feng Shui is an artform that works to balance your environment so that it supports you. When balance your space, you thrive as your space supports that harmony of your mind, body and spirit. I use it in all aspects of my life—home life, work life, personal life. It's ingrained in my day-to-day life just as much as showering is.
How and why should you switch things up in your home?
What if you have a major goal in mind, like finding a new job or a new partner? What should you do?
A very simple thing that everyone can do is this: Pick a room that you occupy the most and move 27 things. Move around your pictures, furniture, knick-knacks, etc. Take books out and dust them off. Rearrange them. This simple act of moving things around shifts the energy of your room, breaking up any stagnancy and stuck energy. When you "unstick" your space, it helps you to clear your mind and to expand it to unstick your life. For people trying to get a new job, do this in your office space.
Any secrets for feng shui to find love?
There are a few simple switches that can open your space and heart. Here, 6 common mistakes found in homes and easy remedies to add to your arsenal.
1. Dead plants outside the front door (or anywhere in general) are non-welcoming.Remedy: Always throw dead plants out immediately.
2. A bedroom filled with artwork showing only one person usually results in a single person alone at night in bed. Remedy: Artwork should contain two people who symbolize a loving partnership.
3. Mirrors in the bedroom that make a second image of the bed create the potential for infidelity or a third party who interferes with the relationship. Sometimes the third party can be an intrusive in-law or family member. Remedy: Cover mirrors in the bedrooms with a curtain or loose fabric.
4. A bed flush against a wall that can only be entered from one side symbolizes not making room for someone to enter your life. Remedy: Move the bed to the center of the room where is can be entered from both sides.
5. Sleeping under a beam that divides the bed vertically brings separation or loss of connection in the relationship. Remedy: Cover the beam with a curtain.
6. Having black as your number-one clothing color choice in your closet closes down the energy of the heart chakra. Remedy: Try not wearing black over your chest for 40 days. You can still wear black pants and jackets, but no black over the chest. Wearing colors such as pink, green, coral, rose, white and blue will shift your energy immediately.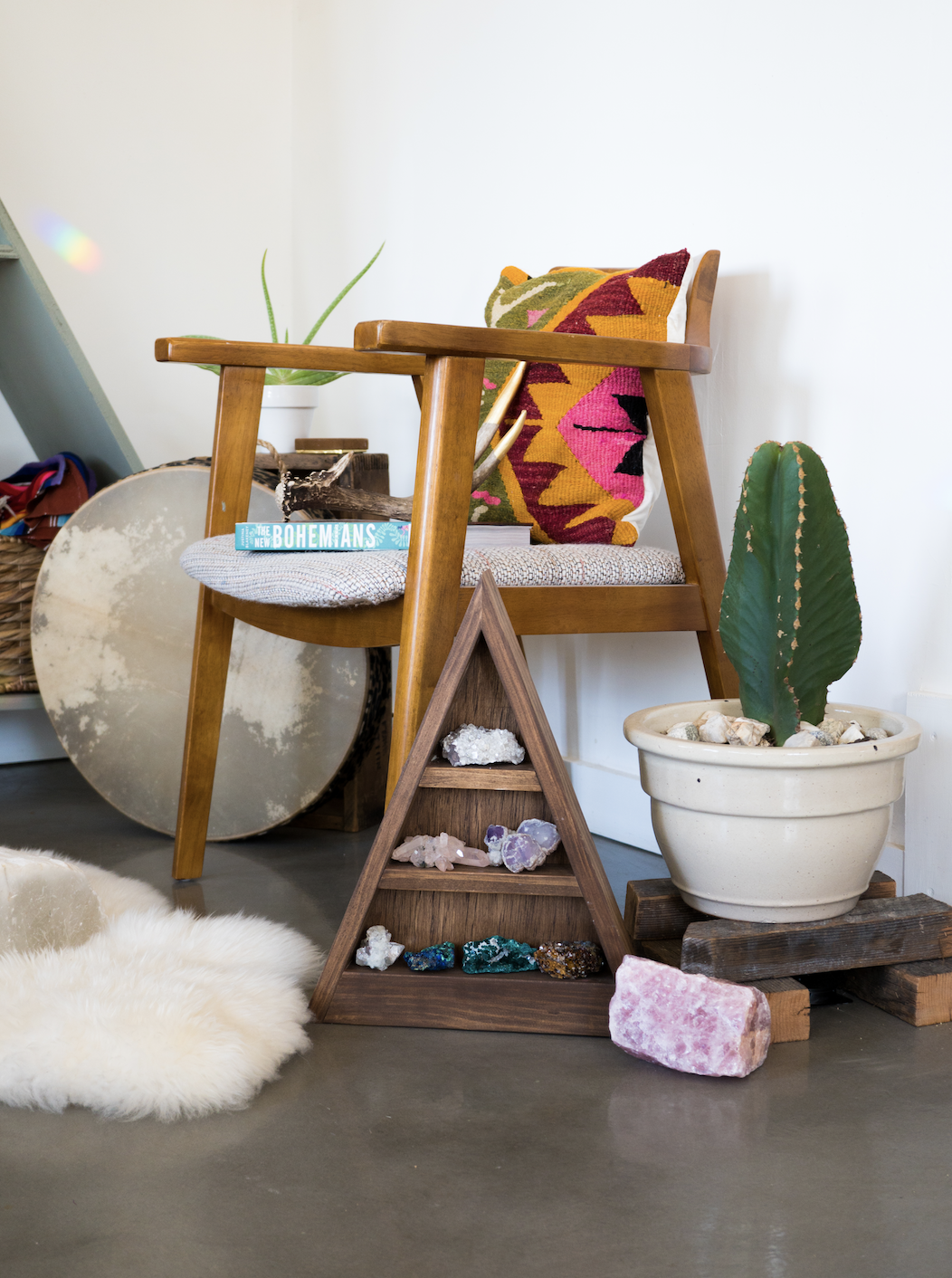 Add healing crystals and plenty of plants to your home for summer. 
What are some general spring and summer tips to try?
During the spring and summer, I like to bring more flowers into my space to freshen it up. It's also helpful to give yourself and your space a thorough cleansing and energetic makeover. Move your winter clothes to the back of your closet and bring out the summer clothes.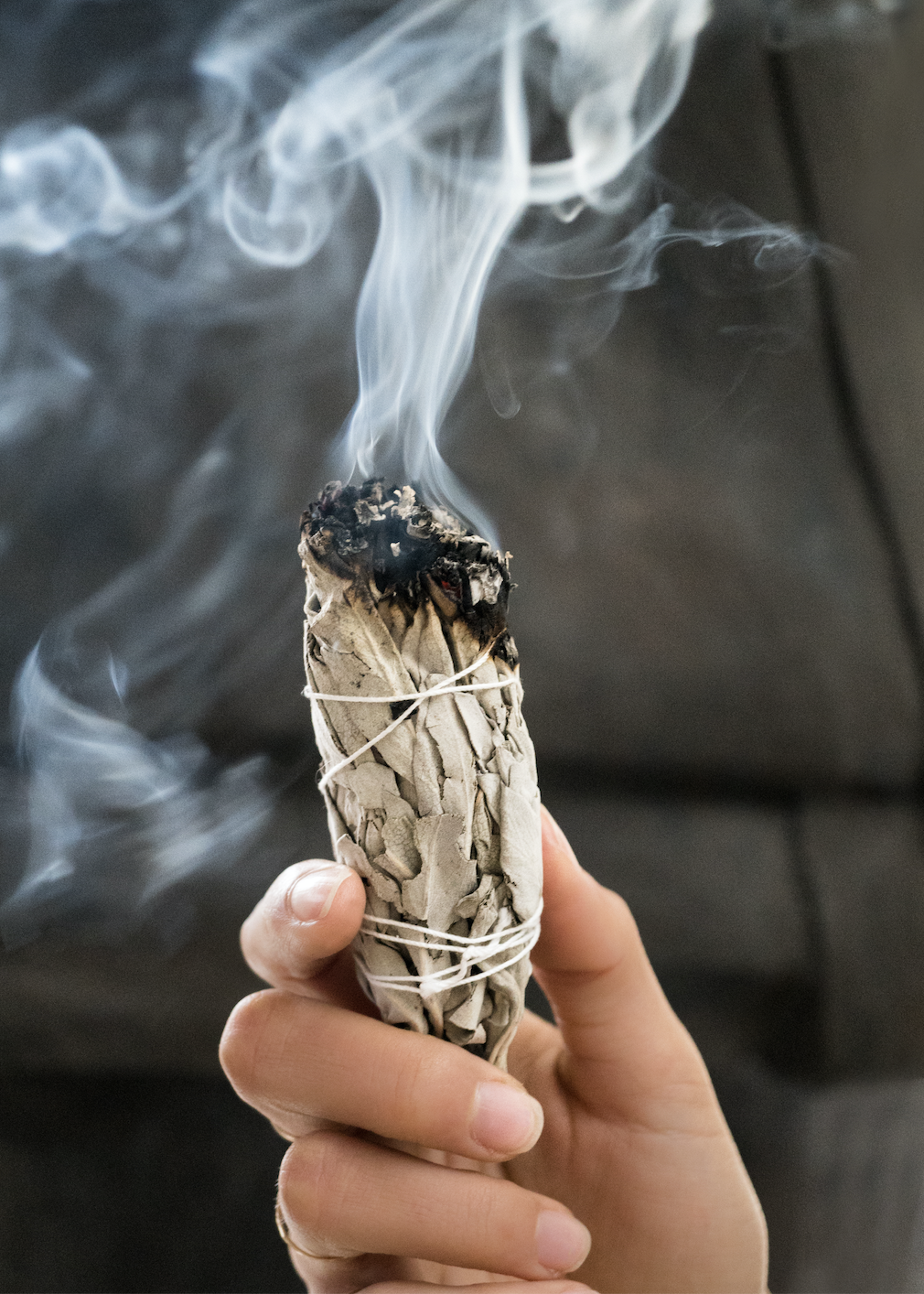 Sage can be a powerful cleansing agent for any home. 
Anything else you recommend people try, if they want to add feng shui to their home? 
Bring the power of sound into your space—play high-vibrational music. Occasionally go through your space and ring a bell or singing bowl three-times in the corner of every room to break up any stagnant or stuck energy. Also remember to cleanse your space often with sage. Bring healing crystals into your space to remind you of what you want to bring into your life. Seeing the crystal and connecting with it in your space every day will help you reach your goals faster.
Read more about Energy Muse at their website or follow them on Instagram @energymuse.
Read Our Other Editor's Notes Here:
4 Strategies to Clue Into Your Subconscious
How to Find and Keep Good Vibes Wherever You Are
Tomorrow's Solar Eclipse is Everything. Here's Why 
Why Book a Plane Ticket is the Worst Advice Ever 
The Best Self Help Books of 2017