You Are About to Become the CEO of Your Universe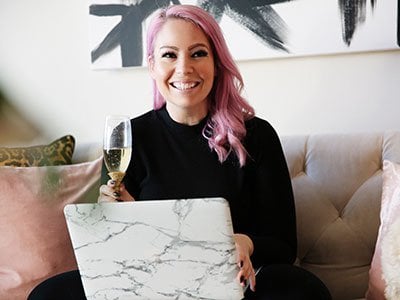 If I were to line up ten women in a room and ask them to all define success, I can bet my Chanel jumbo caviar leather double-flap bag that they'd each have a completely different definition. To one, success might be climbing the corporate ladder and claiming her spot as the CEO of a Fortune 500 company. To another, success would mean building her own business and traveling the world while running her empire. And to a third, success could be achieved by being present to nurture her family and take care of her home.
Many of us go through life chasing other people's definitions of success. We earn that degree, purchase that home, or marry that partner because we feel we should. We are desperately checking boxes and fulfilling our parents' dreams for us. We end up going through the motions—and then putting it all on Instagram—only to find that we are still unhappy.
A few years ago, I found myself in a similar position. Earning promotion after promotion at MTV Networks, getting more and more work piled on my plate as the director of a digital advertising department, my life looked great on paper. I had a big office in Times Square at one of the top media corporations in the world. My six-figure salary and growing 401k made me look like a shining 30-year-old star. But deep down, I was miserable and unfulfilled. I longed for a creative career where I could make an impact on others' lives. Putting ads on the Internet was the complete opposite of who I was at the core. I knew I had more to offer, but I felt trapped. I couldn't imagine how I could possibly turn my dream of writing into a lucrative business that would make those around me proud. What would people think if I left that "amazing" job at MTV? They'd surely think I was crazy.
Me with a colleague in my MTV days. (This is the girl who inspired me to start drinking champagne, which ultimately inspired my blog!)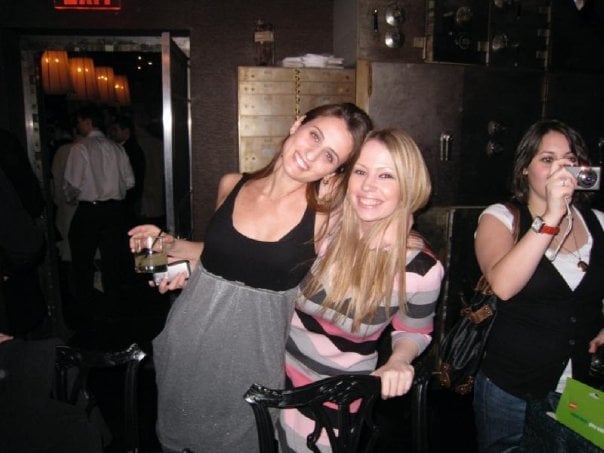 As the years went on, I followed my gut instinct and started paying more and more attention to my personal happiness. I became intimate with my intuition, and she was screaming at me to GET OUT. I knew things had to change, so I devised a plan. While at MTV, I became a certified master life coach by going to school at night, and in every spare minute of time, including before and after work and on weekends (and vacation days!), I wrote my first book. I made my hustle my escape plan. And eventually, I quit my job.
I encourage you to take some time this week to audit your life. Are you chasing someone else's plan for you? Or are you chasing your own happiness? If you find yourself in the former situation, I challenge you to answer the following questions this week. Create a quiet space, grab a journal, and get honest:
What does success mean to you?
Where did you learn this definition?
What truly makes you happy?
Does your definition of success align with your happiness?
If you were to fully live your life, what is the first thing you would do?
Write your own personal mantra about success.
Take your time with these questions, and remember, there are no wrong answers! Don't forget to find me here on Horoscope.com every Wednesday as we build on this. I'll also be sharing more success stories, tools, and mantras to inspire you to live your best life.
With love and stardust,