Why Your Life Needs a Crystal In It, Right Now
Win 2018 with your premium horoscope! 

Whether you use crystals as part of your everyday life, are just beginning to explore them, or are curious to know why people make such a big deal about sparkly rocks, you have to agree: Crystals are everywhere. Interest in crystals have surged, in part because of one thing: They work. 

Want to add one to your own life, but don't know where to start? Start at the crystal shop. Not knowing anything about crystals is the best place to begin looking for crystals. And while it can be helpful to know what properties certain crystals have—for example, citrine can help promote optimism, rose quartz can strengthen connection between others—just walking around a crystal shop and seeing what catches your eye, then reading about it's powers can be illuminating. Often, the crystal chooses you, and the one that seems a little sparklier, a little more visually interesting, a little bit harder to put down—is exactly the crystal you need. 

Crystals can help ground you, connect you, and give you a dose of confidence or ambition when you most need it. They work their magic in small, subtle ways, but trust us, they work. Here, Devi Brown, author of Crystal Bliss: Attract Love. Feed Your Spirit. Manifest Your Dreams shares what she knows about crystals—and why they're worth adding to your own life.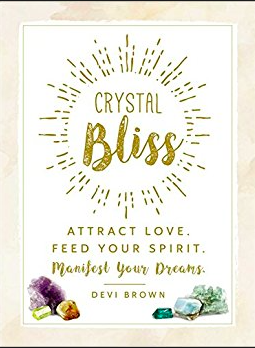 How did you get into crystals?
Ever since I was a kid I was drawn to crystals for their beauty but it wasn't until I started practicing meditation as an adult that I really got into them and began purposely using their energy. My first was a necklace made of Citrine gifted to me by a girlfriend. From the moment I put it on I felt an energetic shift which led to many years of studying them, using them and collecting them.
 
What's the best way for a crystal newbie to start creating her own crystal collection? 
First think of what energy you want to shift or amplify in your life. Then as you browse crystals pay attention to which ones catch your eye more than others. Pick them up and feel them in your hands. Go with the ones that you feel a connection to and then look into their attributes. Some great starter crystals you can use to begin a collection are Clear Quartz, Amethyst, Black Tourmaline and Aventurine.
 
Any tips for gifting a crystal?
When looking for a gift for someone else, use the same steps as above but imagine the kind of energy you'd like to gift to the person you are shopping for. What do you want to help them experience or manifest? Let your thoughts and desires for them guide you in your crystal selection.
 
Can crystals ever do anything negative, in your experience?
From what I know there are no "bad" crystals and it is not possible for them to be harmful to you. I always recommend that people cleanse and recharge their crystals often to be sure non are holding onto any negative energy it may have come in contact with.
 
What are some great crystals to work with now, in Scorpio season?
The sign of Scorpio has some very powerful stones that can resonate with their energy. Crystals like Black Onyx (grounding), Citrine (energizing), Malachite (leadership & loyalty), Topaz (calming and soothing).

Want more magic, inspiration and horoscopes? Follow us on Instagram @horoscopedotcom!

Make 2018 your best year ever with your exclusive premium horoscope. 



Want to Tap Into the Power of Crystals? Here's Where to Start: 
The Most Powerful Crystals for Your Zodiac Sign
These 5 Crystals Will Get You Through Fall 
How Sleeping on a Bed of Crystals Changed Me, Hopefully Forever
How Every Sign Can Feel Better, Right Now (Crystals Optional) 
How to Clear Your Negative Energy With a Crystal