Want to Turn Your Lover On? We've Got the Best Aphrodisiac for Every Zodiac Sign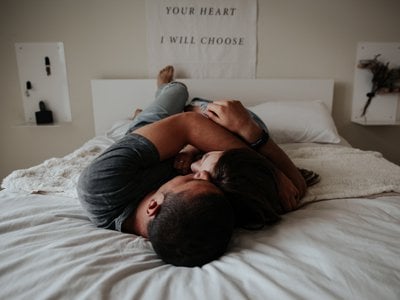 Click for a complimentary psychic reading.
Since the beginning of time, men and women have sought aphrodisiacs—food, drinks, herbs, scents, and other agents thought to increase sexual desire. And there are many powerful ones out there. So how do you know which will seduce the person you want to get with? Luckily, their sun sign can provide some hints! For some signs, it takes roses and champagne. For others, it's all about the smell of leather…. Check out what really, really turns on every sign, below.

The Best Aphrodisiac for an Aries
Aries are all about appearances, and the color red drives them out of this world. Athletic Aries also love seeing skin. If you're meeting an Aries lover, don't bother taking a shower post-gym, the scent of sweat turns them on like nothing else. If you want to try something more subtle, or you're not quite ready to get that real with your partner, run your fingers through their hair. Aries rules the head, and the feeling of your hands on their scalp will drive them wild.
The Best Aphrodisiac for a Taurus
Who says the smell of a new car isn't a turn on? Not Taurus, who loves the scent of leather in all forms. They also love the look of it, and won't be able to pull their eyes off your leather accessories. And Taurus is incredibly aural, so make sure to have music playing in the background. Think slow and steady, just like the lovemaking you're going to have….
The Best Aphrodisiac for a Gemini
Gemini may seem complicated, but when it comes to their aphrodisiacs, the simpler, the better. Vanilla drives them wild, as does any simple, clean scent—even dryer sheets will do the trick. Gemini also loves the simultaneous stimulation of body and mind: Knee caresses during a movie, a hand massage while walking and talking, or a little footsie under the dinner table will drive them wild, like, woah.
The Best Aphrodisiac for a Cancer
Cancer's spirit season is summer, which is why they're so turned on by the scents of the season: Think cucumber, melon, flowers. A Cancer adores the low key look of wet, tousled, beachy hair; and bare feet really get them going (as long as those toes are clean and manicured!). Cancer also can't get enough of the color violet, which drives them wild. Also, caressing their chest (if they are a guy) or lightly brushing your fingers against their decollatage (if they are a girl) will bring them to the next level.
The Best Aphrodisiac for a Leo
Lions are all about luxury. Champagne, silk, lace…. They can be a little clichéd when it comes to romance, and nothing turns them on more than their partner working hard for their pleasure. But it's not as if Leo is selfish: While they love seeing their partner all dressed up, they also take pleasure in making you feel admired—slowly taking off every inch of your clothing, and giving you a slow, sensuous night of lovemaking. Leo also loves back massages, especially when your fingers lightly linger on their spine. Finally, pay attention to scents: Leo can't get enough of a woodsy fragrance.
The Best Aphrodisiac for a Virgo
Virgo loves foreplay, and is turned on by teasing texts and suggestive looks. A Virgo is drawn to clean scents and crisp champagne. They love an uncluttered space and feel most sensual when the lights are low and there's nothing to focus on except you. They'd much prefer a well thought out meal at your house than a night out on the town. And a sweet treat—especially their favorite chocolate—will absolutely turn them on.
The Best Aphrodisiac for a Libra
Libra loves compliments, and big, old school, over the top romance. They want to dress up, be picked up, and be ushered into a low-lit restaurant. Libra is also incredibly visual, and loves when their partner has dressed up just for them. Once you get home, it's okay to get a little wild: A little bit of butt slapping (consensual!) can let Libra unleash their wild side.
The Best Aphrodisiac for a Scorpio
Scorpios are intense, so let go of subtlety and go big. Red is a Scorpio power color, and they'll love seeing you wear it, too. When you're out together, PDA can be incredibly hot. In general, Scorpio loves a touch of naughty on their dates—letting them feel like they're getting away with something will turn them on like nothing else.
The Best Aphrodisiac for a Sagittarius
Adventurous Archers feel one with the outdoors; they love feeling the elements on their skin, hair, and face. If you can, dine al fresco. Or just take a long walk after dinner—even better if it's raining or windy. The elements bring out Sag's wild side, and they'll love nothing more than warming up in the shower with you when you get home. Laughter also turns them on. An improv show or romantic comedy will get them feeling just the right kind of playful.
The Best Aphrodisiac for a Capricorn
Caps may act buttoned-up in public, but as anyone in love with a Cap knows, it's partially an act. That's why Caps are so turned on by teasing and anticipation. Suggestive texts and hints about what might happen between the sheets later will get them hot, hot, hot. Oh, and make those sheets blue. It's one of Capricorn's favorite colors. Finally, Capricorns are another sign who can't resist the sight and smell of leather; add some to any outfit to ratchet up their anticipation.
The Best Aphrodisiac for an Aquarius
Aquarians love adventure, and doing anything out of the ordinary, like scheduling a first date at a trapeze school, will intrigue and turn them on. To keep them interested, be interesting. They don't want the same old "where did you grow up" conversation on a first date; they want to talk about what animal they'd be, where they'd like to travel, and how they'd spend a million bucks. In a relationship with an Aquarius? Initiate a sexy game of truth or dare and you will find there's not much they won't do.
The Best Aphrodisiac for a Pisces
Set the mood by wearing indigo, a color known to drive fish wild. Bring it to the next level by wearing a fruity scent. Lychee and fig scents are great; Pisces are turned on by most anything with a touch of the exotic. Finally, for Pisces, it's all about the feet. A perfect pedicure or sky-high stilletos are everything—wear them and subtly engage in a game of footsie to drive them wild.
Want more spirituality, mysticism, and advice for bringing your spirit to the next level? Follow us on Instagram.
Shereen Campbell is an astrologer, ecommerce manager, and the founder of My Little Magic Shop. She loves sailing, southern Italian food, and all things magical.

Want to use the stars to bring your sex life to the next level? Try these articles:
The Best Sex Position For Your Zodiac Sign
Why (and How) Crystals Can Bring Your Sex Life to the Next Level
How to Seduce Anyone with Help From Their Zodiac Sign
What Color is Your Sexual Aura? Find Out, And Have the Best Sex of Your Life