How Do You Pronoun Tarot?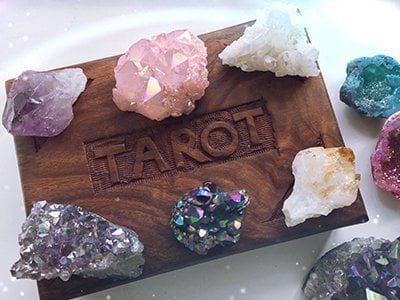 The word, "tarot," is often a confusing one to say. Here's how to say it correctly as well as some key information about what tarot is.
Tarot Pronunciation
If you've never heard the word "tarot" pronounced before, it can be a little intimating to say aloud. In fact, some people say it wrong because they are sure which part of the world to pronounce which can lead to even more confusion. Don't worry, we're here to help. 
The correct way to pronounce tarot is: teh·row. You do not pronounce the second "t" in "tarot".  Tarot rhymes with pharaoh which can help you say it. Another way is by saying this way: tear (like you tear a piece of paper) and row (like you're rowing a boat). Don't be afraid to practice saying the word a few times so it can roll off your tongue with ease. 
What Is Tarot?
Now that we know how to say it, what is tarot anyway? Tarot is a deck of 78 cards that are used for fortune-telling. Tarot comes from the divination practice known as cartomancy, but while you can read fortunes using any type of card deck, tarot is a little different. A tarot deck is made up of 78 cards, divided into two sections: the major arcana and the minor arcana. While each deck may look different based on its artwork, they all have the same major players: from the Fool to the World and four suits. 
Tarot decks are often for divination. By shuffling the cards and laying them in a row or "spread," you can see your past, present, and future. They can also be used for relationship readings, career readings, or just to help you navigate this journey called life.  You can do a one-card reading, or you can create the most complex spread to get the full scope of your question. It's up to you! 
People also do tarot as a tool for self-reflection. Picking a tarot card out of the deck can help you reflect on your feelings and use the certain card as a metaphor for your situation. Tarot encourages you to listen to your intuition and think introspectively about your situation and emotions to get in touch with a deeper issue. Tarot can help you look at a problem from a different point of view.
FAQs
Is Tarot capitalized?
It depends! If you're talking about tarot such as tarot cards, then it would be lower case. However, if you're talking about the divination practice of "The Tarot", you would capitalize it. However, most of the time, it's a matter of preference.
Like how you can spell magic "m-a-g-i-c" or "m-a-g-i-c-k", if you're using tarot for divination purposes, use the big T. 
Related Articles:
Ophiuchus Pronunciation: How to Say 'Ophiuchus'