Is Thursday REALLY the Worst Day of the Year, According to Astrology?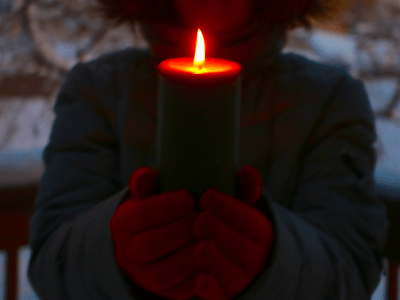 Some astrologers are predicting Thursday, December 21—the same day as the winter solstice—to be the worst day of the year, astrologically speaking. Why? Blame taskmaster Saturn. Saturn doesn't take anyone's sh*t, and Saturn's recent move into Capricorn, coupled with the sun's move from adventurous Sagittarius into complicated Capricorn, can create a day full of hurdles, tests—and, if you plan it right, triumphs. Added to all that astrological energy is the solstice itself—the shortest day of the year in the Northern Hemisphere, when shadows reign and the northern part of the world is plunged into a melancholy twilight.
Want 2018 to be the best year ever? Start prepping now with your 2018 horoscope!
Sound depressing and scary? It doesn't have to be. But it is smart to have your wits around you as you prepare your solstice strategy. No matter how bad a day December 21 is, and how astrologically challenging the solstice may be, these tips will help you come out on top.
What Not to Do This Winter Solstice
Today is not the day to hope for the best. Today is a day to go slow, be diligent, and please, do not depend on electronics! Back that sh*t up and write things down. Here, what else to do to avoid the worst the day has to offer. 
Don't Take Shortcuts
This comes to both travel and life. Trust that if you think you know a better route than your GPS it'll take you 10 times as long. And trust if you submit a report at work without triple-checking your punctuation, grammar, and spelling, you'll get called out by a higher up. Taskmaster Saturn doesn't believe in shortcuts, and the planet may teach you a hard-won lesson—especially on Thursday, December 21.
Triple Check Your Work
Capricorn is a sign of exactitude, data, and science. Fudging numbers doesn't work for Capricorn. This is the type of day you may find your bank card accidentally overdrawn. Stay on top of your financial transactions or stick to cash. It may also be a good time to ensure you have a lock on all your financial data and info. This could be a time of year when your data is especially vulnerable to being hacked. 
Get to the Airport Early AF
Did we mention, besides all this astrological drama, Mercury is still in retrograde? This is the time when major travel issues happen. You go to the wrong airport. You forget your passport. You forgot to buy a ticket. Get to the airport early and triple check your rezzie. 
What to Do This Winter Solstice
You don't need to hide under the covers! You can handle the day with the right strategy, and Saturn may even reward you for your diligence. Here's how to stay on the good side of the cosmos, and emerge on top on Thursday, December 21.
Honor Your Shadow Side
The shortest day of the year is a great time to commune with the messy, complicated, deep, passionate, angry part of yourself you might have kept private from others. Light candles, do yoga, chant, and allow that side out. Say hello. Get to know it. Journal or cry or scream in the car, but give that side of yourself a voice to communicate. 
Work Hard 
Saturn honors hard work, and will reward those who burn the midnight oil. Thursday may be a day your boss asks you to stay late, or you have to miss a fun holiday party to get some last minute work done. The more you're able to lean in and do it without anger or resentment, the better.
Learn a Lesson
Lose a ton of work because your laptop crashed before you backed up info? Taskmaster Saturn has a lesson in there for you. While Saturn's lessons may not be pleasant, that's kinda the point. Don't make the same mistakes again. Chalk everything up to experience, and remember, tomorrow is another day!
Want 2018 to be the best year ever? Start prepping now with your 2018 horoscope!
Want more spirituality, mysticism, and advice for bringing your life to the next level? Follow us on Instagram.
Sail through the holidays despite Mercury retrograde with these tips:
How to Stop Mercury Retrograde from Ruining Your Holidays
Your Favorite Holiday Traditions Based on Sign
A No Cost Gift Strategy for Every Sign in Your Life
How to Survive the Holidays Based on Zodiac Sign