How to Program, Activate, and Set Intentions With Crystals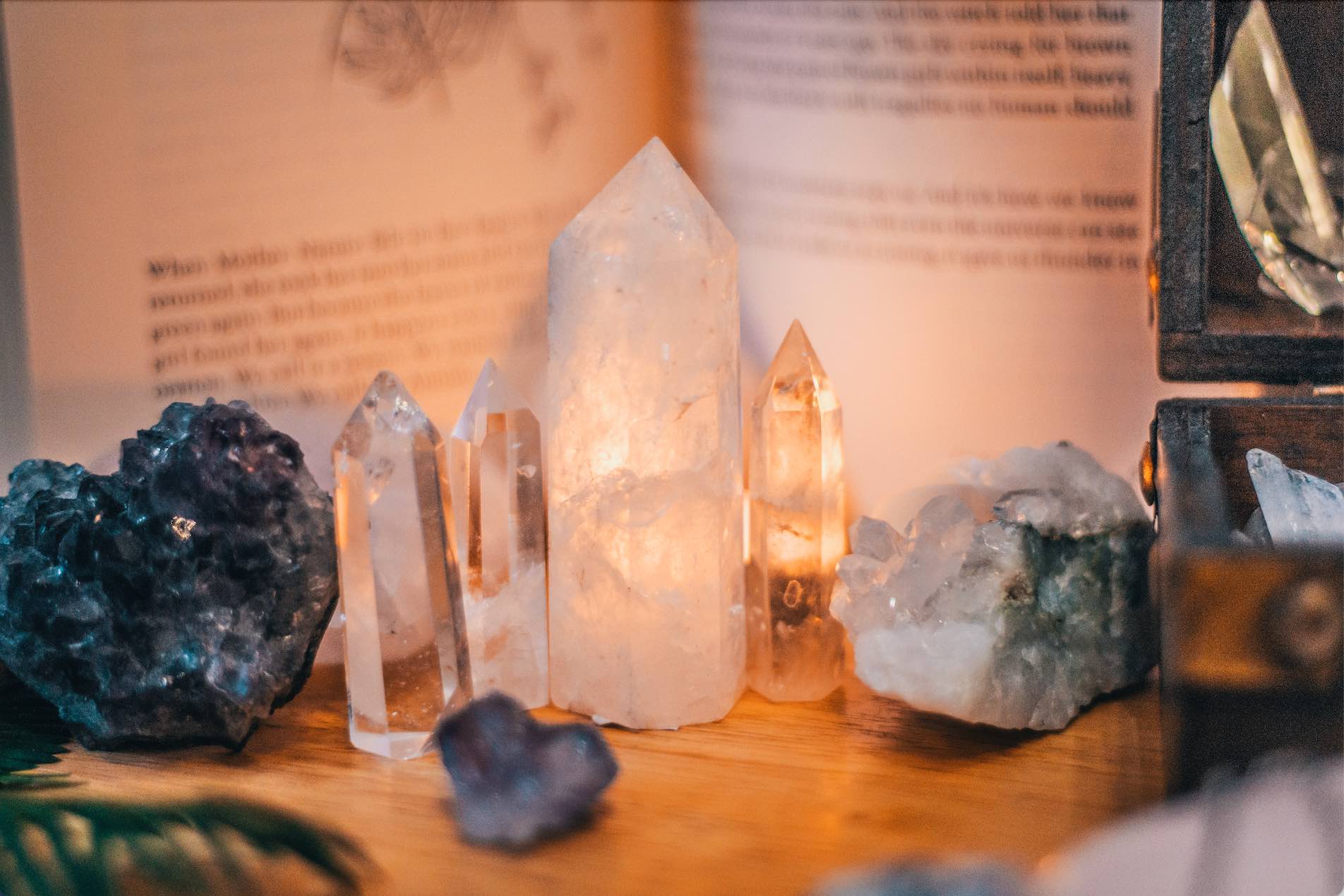 Set your intention, program your crystal, and watch manifestations appear! Here's a how-to—with crystal intention examples and the best crystals to use.
We all have dreams—finding true love, becoming your own boss, starting a family, etc. But did you know that crystals can help you achieve your dream even faster? Programming a crystal to work for you is an easy way to increase your manifestation powers. 
According to Kim Woods, astrologer and business coach, crystals can be influential tools for success. "Crystals hold your intentions and energy even when you're not paying attention," she explains. "Imagine having stalwart soldiers clearing your path, satisfying your desires and energizing your prosperity signature!"
Intention-Setting With Crystals
One question you might have is: How does this work? How can inanimate objects become such powerful beacons of manifestation?
Woods explains that it's not just the crystal that makes your dreams come true. Your personal power plus the ancient energy of the crystal work together in order to increase your abilities.
How to Set Intentions With Crystals
According to Woods, there is a special five-part process when identifying your specific intention and putting these intentions into crystals. 
1. Find Your Intention + Select Your Crystal
This sounds easy, but it's important to find a precise and coherent way to think about your intention. Once you have it, write it down on a piece of paper that you can continually look back on. Then, select your crystal.
2. Clear Your Crystal
In order to clear or cleanse your crystal, you'll want to use a cleansing property such as water or salt. Woods explains that "placing them in water overnight" is a great way to get the job done.
3. Meditate on Your Intention
Gather your crystals and written intentions. Take a few moments to sit quietly with your desires. Hold your crystal in one hand and your written intentions in the other. Think, feel, and assume those intentions. As you meditate with these desires, bring your two hands together to form a cup. "Mindfully infuse your intentions into your hands," says Woods.
Once you feel the intention has sunk in, make sure to thank the crystal for working with you.
4. Crystal + Intention Placement
After integrating your intention into your crystal, find a special place to display your crystal: mantle, desk, bedside table—wherever you prefer! However, it should be placed somewhere you will notice it. It might also be helpful to place it in a thematic spot. For example, if you're hoping to find more productivity at work, placing crystals on your desk would be prudent. 
5. Refine + Refuel
After a while, the intention may become more vague in your mind. When this happens, Woods advises moving the crystal to a new place in the home—as a reminder of your intention.
She also suggests returning back to Step 3. If you'd like to begin a new intention, go back to Step 1.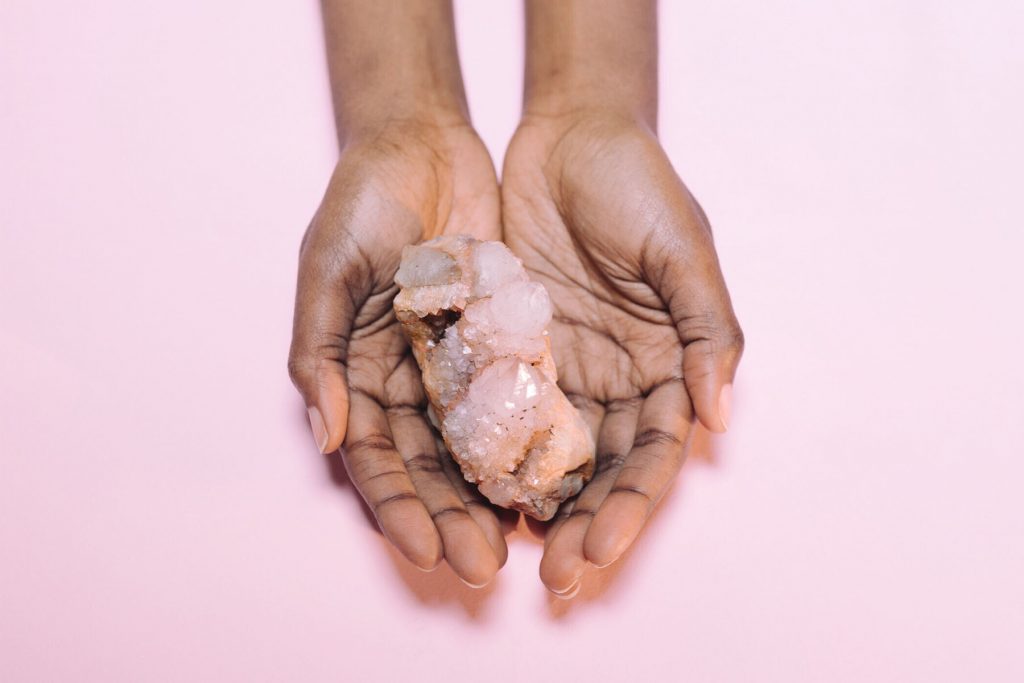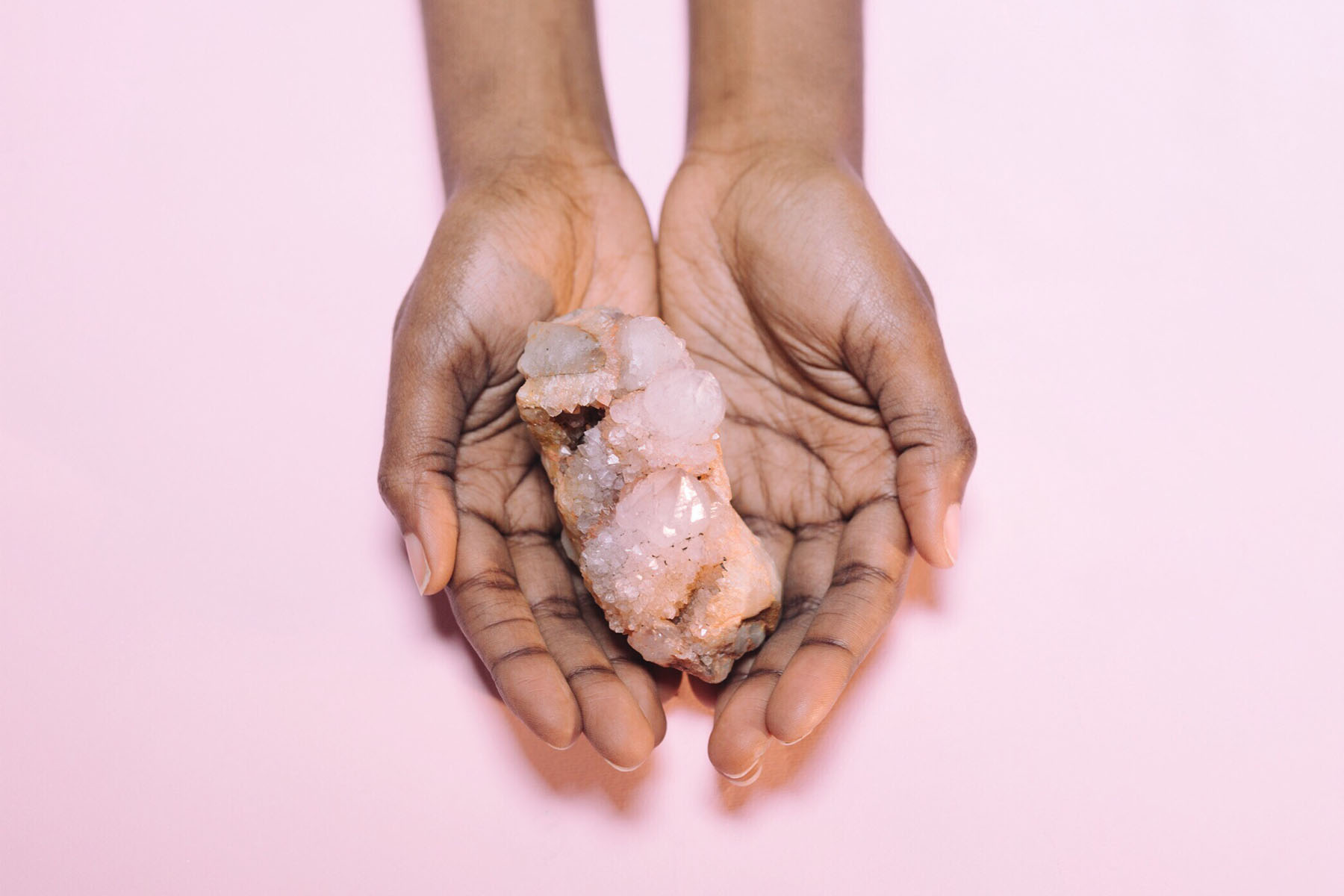 Crystal Intention Examples
Love
Kunzite brings unconditional love and peace. Woods says "it's a protective stone helping you with meditative states and accessing lost trust and innocence."
Another great option is rose quartz. "This stone promotes tender and sweet energies with you to dissolve any inhibition to loving yourself," says Woods. "It opens your heart chakra to help you connect to others in loving ways."
Clarity
Lapis lazuli brings the mind and heart together—especially in front of a crowd—according to Woods. "It's a peaceful stone that highlights the power of the spoken word."
Creativity
When you're feeling like you're in a rut, carnelian helps promote self-worth and vitality. According to Woods, it also "stimulates memory, concentration, and analytical abilities" and "helps guide you to your most creative self."
Intuition Development
Amethyst or labradorite are great crystals to use when connecting to your third eye. Woods says that amethyst "nourishes your connection to the spiritual realm," while labradorite "balances and protects the aura."
Sleep
Woods advises howlite for sleep. It helps sooth the mind and enables the body to relax into a meditative or sleep state.
FAQs
What do you say when setting intentions with crystals?
It's best to speak about your intentions as if you already have them. So, if your intention is to find more self-love, with your crystal in hand you might say something along these lines, "I love myself as I do a best friend."
What are the best crystals for setting intentions?
While you can set intentions using any crystal of your choosing, Woods advises keeping clear quartz (amplification) and midnight moonstone (new beginnings) handy.
How can you tell if a crystal is real?
There are a few fakes out there (which do nothing for your manifestation!). The best way to know that you've got a real-deal crystal is to buy them from a reliable source such as your local bookstore.
Related Articles:
Best Crystals for Manifestation
Feature image courtesy of Pexels