6 Style Tips for a #HellaWitchy Wardrobe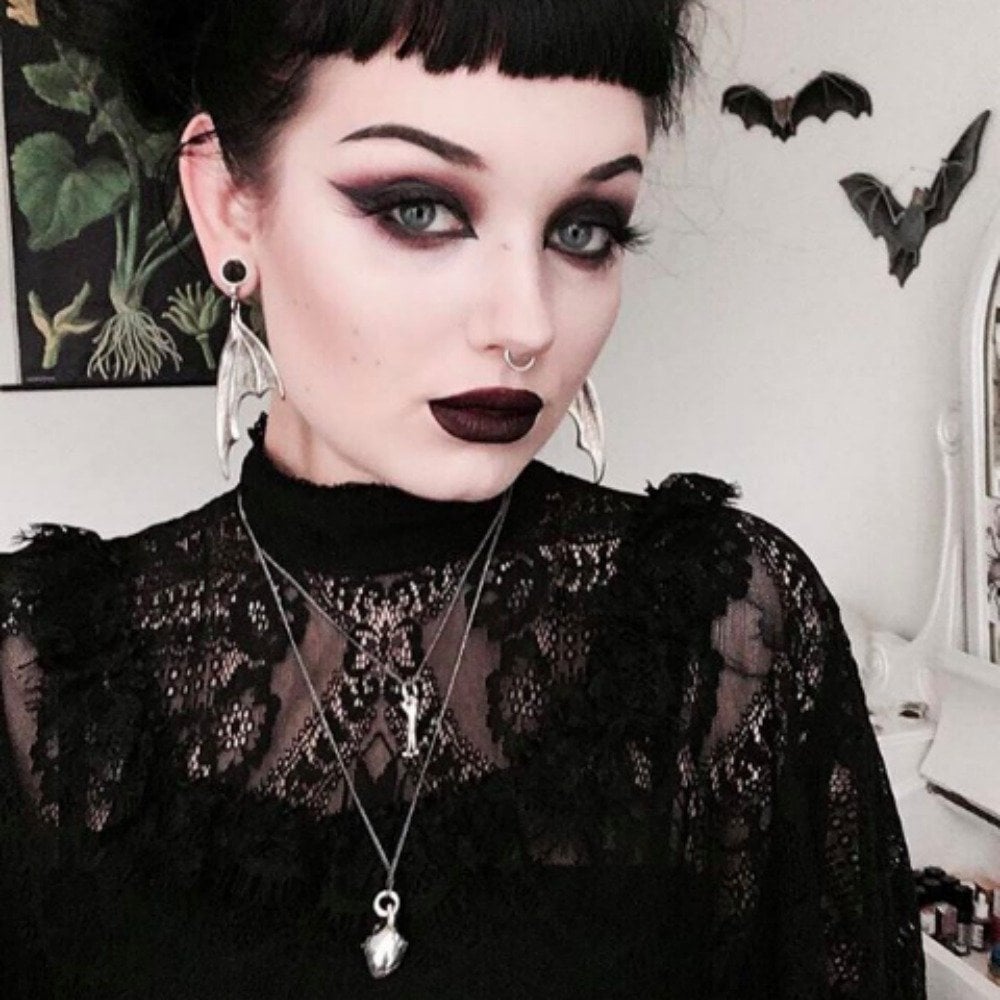 When we think of "witches" some might think of childhood Halloween costumes with pointy hats and broomsticks, or Hogwarts uniforms: nothing we would wear in everyday life. But that's as old as Salem.
What's up with your moods? Discover your true emotional nature…
Today, witchcraft is not just a craft, but a fashion movement. Millions of millennials are getting into the witchy aesthetic, which is similar to goth but with a more stylistic, earthy vibe. If you are just stepping into the bewitching style, you might feel a tad intimidated, but this guide will help you create a spellbinding wardrobe that will take you from mundane to magical.
#1 Paint It Black
https://www.instagram.com/p/BkQeQZTlRmu/?taken-by=noctis.moth
Black is a staple to a witch's closet, the quote "I'll stop wearing black when they make a darker color" is an understatement. Black is powerful, intimidating and allows you to blend in or stand out from the crowd—physical options that all witches love to have at their fingertips. It also goes with legit everything, making it the most versatile color in your closet.
Read this now: 20 Life Hacks for a Modern Boss Witch
Now, if you don't want to wear all black every day, pair it with other magical colors like blood red, dark blues, purples and silver; basically any color that makes you think of the night sky. Kaitlyn Renee at @noctis.moth nails this look. She is wearing an strong and dramatic black leather jacket, black accessories but gets all the attention with her dark-colored plaid skirt. The look is both tough and flirty.
#2 Play With Fabrics
https://www.instagram.com/p/BiPjHhmA16X/?taken-by=moonchildhel
If you do head for the all-black look, don't forget to change up the fabric and texture. Classic witchy fabrics include faux leather, lace and velvet. Some fun combinations include a black velvet dress with leather boots or a lace bralette under silky sheer blouse.
Read this now: Need Luck? Use Witch Craft
@moonchildhel plays with texture and fabrics in her outfits by mixing a faux fur coat with a black sparkly dress and leather lace-up boots. The effect? Totally enchanting. Magic is all about experimenting, so play with the fabrics and looks that feel good to you.
#3 Find Your Talisman
https://www.instagram.com/p/BifPJcBBUfX/?taken-by=theblackmetalbarbie
A talisman is an object that brings out magical benefits like luck or protection to the wearer. A talisman is wickedly important for creating the witch look and can be anything from crystal jewelry and witchy symbols to Zodiac signs or favorite animal (real or mythical). Not only can it be a cool statement piece, but it's a physical object you can wear to give you confidence and security. Just by touching it, it reminds you that you are a boss witch.
Zoie Campbell @theblackmetalbarbie plays a lot with necklaces and different jewelry, especially crosses like the one pictured above. All symbols have meaning, so do your research. For example, if you want to attract good luck, where a jade necklace.
#4 Chokers
https://www.instagram.com/p/BkfoKc9lINA/?taken-by=vanillasyndrome
After the French Revolution, it's reported that high society women would wear thin red ribbons around their neck, crossing over into an "X" on their back as a nod to those who had died at the guillotine—proof that chokers have always been an edgy statement. Thankfully the choker has become popular again but this time, with a gothic twist.
Read this now: 5 Magical Ways to Get Your Sexy Back
Blogger @vanillasyndrone is the choker queen and maintains the edgy look by layering chokers with necklaces, mixing spikes and gems. Of course you can go go the minimalist route with just a simple lace or a thin leather one.
#5 Makeup
https://www.instagram.com/p/BigcSIKn4NL/?taken-by=thekatvond
In Medieval times, religious groups condemn makeup for "challenging God and his workmanship." Since then, makeup has had a bad rap for "tricking men" about the wearer's appearance.
Forget the patriarchy! Makeup is about transforming your appearance into anything you want it to be. Go bold with dark red lipstick, smoky eyes, bold nail polish colors, and eyeliner wings sharp enough to slay anyone within striking distance. Makeup is supposed to be fun and empowering, like witchcraft, so experiment with different looks that make you feel powerful. And if you need makeup inspiration, check out the goth queen of makeup: Kat Von D.
#6 Find Your Level of Witchy
https://www.instagram.com/p/BlQ18Ral8H0/?taken-by=dreronayne
While you may love aspects of of the witchy aesthetic, you might not be into all of it, and that's okay. You don't have to dress like a coven queen every day of your life to still feel magical. Find your level of comfortable when creating a witchy wardrobe. If you wanna go all out, go all out. If you want to infuse different styles together (like vintage witch), that's cool too. Even just using a subtle touch of magic in your daily style like a crystal necklace, or trying an all-black outfit is great. Just as long as you feel powerful and downright enchanting, then you're creating the most magical closet.
The Ultimate Witchy Wardrobe Shopping List:
• Black dress (look for a dress with a Peter Pan collar, flowy maxi dresses, or velvet dresses)
• Black cardigan
• Black faux leather skirt
• Combat boots
• Bold lipstick (blood red, deep purple, black)
• Black eyeliner
• Crystal pendulum necklace
• Black velvet choker
• Spiky high heels
• Crop tops
• Faux leather jacket
• Lace bralette
• Floppy black sunhat
• Demin jacket with witchy patches and pins
• Stacked rings
—By Ellen Ricks
Ellen Ricks is a writer and fashion blogger who loves leopard print. Follow her on Instagram.  
Photo by @calluslestrangers