A Hair Shaman's Tips for Lovely & Lustrous Locks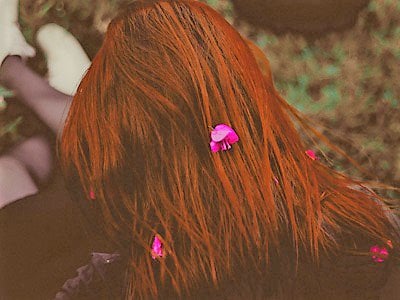 Planning my recent trip to L.A., I knew I wanted to fit in a visit with Andi Scarbrough, (aka @crown_works on Instagram)—a "hair shaman" all my friends have been seeing. My hair has always been flimsy, and decades of bleaching and blowing it out have really taken their toll. Not to mention the additional "stress damage" inflicted on my poor locks of late.

Yes, this is apparently a thing, as I learned on the London leg of my book tour. When I stopped by a local salon for a bangs trim, I found myself lamenting to the stylist that my hair was feeling weaker than ever, with large sections where it just seemed to have stopped growing. "Have you been extra stressed lately?" he asked. Uh … just a little. For the past two years, I've been writing and promoting a book, while simultaneously running my online magazine, The Numinous, and launching an online spiritual mentoring program as well as a "sober curious" event series. All while grappling with relentless multiple "opportunities" to overcome my fear of public speaking. Apparently, when things get hairy (pun intended), the scalp is often the first place to show it.

Deep conditioning treatments and split-end serums are one thing, but this felt like a job for spirit. I mean, why go the trad route when you can get witchy with it?! And so, cut to a cloudy Sunday morning at the Frame salon in Santa Monica (L.A.'s "June gloom" is also a thing), where I'm settling into Andi's chair, ready for her to work her magic.

We begin with me choosing a crystal and a card to help guide the session, and continue with a special conditioning treatment using root-stimulating essential oils of rosemary and cedar. Andi uses reiki and sound-tuning forks to stimulate my heart and crown chakras, while also delivering psychic messages about my current state of mind. Dusting the ends with her scissors to close the treatment, I'm handed the offcuts in a little envelope to be burned ceremonially at a time of my choosing.

It's too soon to tell if the treatment will have any impact on growth, but my hair has been feeling noticeably softer, shinier and more lustrous since the treatment. I'm planning to burn the offcuts to complete the process on the night of the Cancer Full Moon.


Do you have thinning or less-than-lustrous hair? Try the hair shaman's volumizing secrets:

The days leading up to (and including) the full moon are the best days for a haircut, as hair grows strongest and thickest during this period of the lunar cycle. Cutting on the full moon itself can be an intentional way to release stress, past trauma, or negative energy.

If you cut your hair during any time of transition and/or gratitude, keep the offcuts to make a ceremonial offering marking the occasion. These can be burned, buried, let fly on the wind, or washed away by a river or the ocean.

Use the condition of your hair to divine your current state of mind and to practice self-love. "A woman's opinion of herself shows up in how she cares for her hair," says Andi Scarbrough.

The way you wear your hair can be used to protect and activate the crown chakra (what connects us to our higher self/spirit/universal truth/God/source etc.). For maximum impact—and a connection to that power—pile it on top of your head.

Use a crystal comb—as in a comb made of actual quartz crystal! "Using a crystal comb transforms a regular at-home deep conditioning treatment to beauty ritual—helping to clear your crown and re-energize both your intention and your hair!" says Andi.


For more of Ruby Warrington's tips on how to live a stylishly spiritual life, try these Style articles:
How To Attract Love and Abundance With A Good Luck Talisman
Your Zodiac Sign Can Help You Love Your Body. Here's How
Here's The Best Perfume For Your Zodiac Sign. You're Welcome.
What's Your Secret Power Color? Your Body Knows.