August 2022 - Pack your bags because you're going on an adventure this month! You have a hunger to explore, learn and make plenty of memories. That's because your August will be influenced by the number seven, the number of traveling.

In numerology, seven is considered to be a wanderer, always going to new places and soaking in all the knowledge possible. This won't be a regular vacation for you. You'll be expanding your mind and learning as much as you can.

This is an ideal month to book a trip to somewhere you've never been before. Whether you take a solo backpacking trip, go on a wellness retreat, explore a new city or study abroad, the world is full of new opportunities to expand your mind. If you're unable to physically travel right now, you can always find adventure in your hometown or through the magic of books. Just keep seeking knowledge.
Find out if your love life is about to heat up
More Horoscopes for Aquarius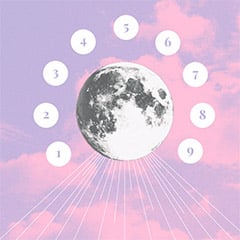 2022 Numerology Forecast