Love Compatibility
Find out if your partnership will go all the way. Some Sun Signs naturally work well together, but others need to compromise to make it work!
Virgo
Sagittarius
6/10
Virgo and Sagittarius are vastly different on paper, but as a real-life couple, they can complement each other well if they both commit to making the relationship work. They often live in hugely different worlds. But when they get together, however, their differences tend to make the other a better person than when they're apart. While this can be a long-lasting union, they also work well together as short-term partners.

With a Virgo-Sagittarius love match, Virgo tends to be practical while Sagittarius gives in to their whims. Virgo is analytical, while Sagittarius is philosophical. Virgo is punctual, while Sagittarius lets their excitement level dictate their ability to show up on time. So, can this couple make it work with all their differences? Yes, they can.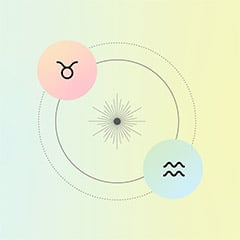 Love CompatibilityZodiac love compatibility is complex...
Find out whether you and your partner are a perfect match!

Virgo is ruled by fast-moving, analytical Mercury, so they're always alert and paying attention to detail. Their thoughts change quickly, looking for the reality and bottom line of any given situation. Sagittarius is ruled by Jupiter, the planet of luck, so they have a much more easy-go-lucky outlook on things. Things seem to go their way quite often—without a lot of effort on their part. All this is because they look at life with a broad perspective, not dwelling on the little details. Virgo can help them zero in on what's important. In turn, Sagittarius can help Virgo widen their perspective and look up from the minutia of whatever they've been focusing on in order to see the big picture.

As an earth sign, Virgo is grounded in the reality of life. Common sense is their ruler. They observe, analyze and make decisions carefully using the extensive data they collect. As a fire sign, Sagittarius is much more spontaneous, and makes a lot of decisions on the fly. They have a need for movement and excitement, often forgetting to consider the consequences of their actions. While they are seemingly quite different in these areas, their accepting natures can bring them together despite their differences.

Virgo and Sagittarius are both mutable signs, which means they adjust to change fairly well. This allows them to work well as a team, and they can multitask with ease. When each of them is willing to take on a separate task to get the overall job done, they work seamlessly and effortlessly. Both mutable signs require a certain amount of freedom and understanding and can stabilize the relationship on a basic level.

Romantically, Vigo will need to ease into this relationship. Sagittarius is almost always ready to go, but Virgo is a lot more cautious. Sagittarius is willing to explore and experiment from the get-go, while it might take Virgo some time to trust their partner enough to totally let go of their inhibitions. When the Sagittarius lover earns their Virgo partner's trust, however, the sky's the limit on how far they can take their sexual journey.
What does today's card pull mean for you? Get a personalized interpretation. Click here to get your first reading for just $1.99.