Your Weekend Love Horoscope for June 16–18, 2017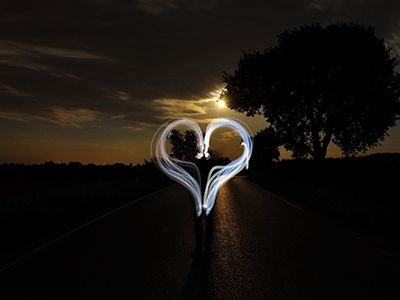 With the solstice just around the corner and the romantic moon cruising alongside dream-laden Neptune, your every encounter has the surreal feel of a midsummer night's dream. The cupcakes smell sweeter, the stars twinkle brighter, and you're definitely feeling extra in love—or in like! Enjoy every single second (and make sure to Instagram for posterity), but don't get too swept up—a romantic fantasy could come crashing down in the days ahead.
Aries Weekend Love Horoscope
Friday feels extra wistful when you stumble across an old text from an ex. Focus on what you have now—chances are, it's pretty damn good. Single? On Saturday, put on something sexily impractical and stroll around town with a good friend—someone will definitely be watching. And it's only summer once: Single or coupled, go somewhere new and curious Sunday night; wherever it is, this place will bring you quite the rush.
Taurus Weekend Love Horoscope
On Friday, treat yourself! Whether it's a massage, a reflexology session, or a hot yoga class, your body needs it. Especially since the stars predict lots of running around on Saturday. Coupled? If you're feeling neglected by your partner, let them know—no passive-aggressive avoidance. Single? Wander into a new café or store and start up a conversation. Don't leave without exchanging numbers; boldness rules the week.
Gemini Weekend Love Horoscope
Sick of hearing everyone else's opinions about your relationship? Head to a movie or concert so you can socialize minus the small talk. Saturday is all about competition: If you're in a relationship, take a run together, race through your weekend chore lists, or find out who can last longest in bed. Single? On Sunday, hang out with a younger coworker—their circle of friends may include an awesome plus-one for you.
Cancer Weekend Love Horoscope
Usually stoic, Crabs are ultra-emotional on Friday night. Don't hide it. If you're single, your vulnerability may attract someone looking for a real connection. On Saturday, spend the day with friends and make a point to keep relationship talk off the table—overanalyzing only complicates things this week. On Sunday, hit a concert with the person you think would love it most. Whatever song is playing near night's end may hold a message that you both need.


Leo Weekend Love Horoscope
As a loyalty-loving Lion, you know hugs mean nothing unless they're backed by actions. Which is why you're not having it when your partner is all over you, especially if they've made a major mistake. Instead of harboring resentment, talk things out—it's worth it. Single? Look through your Facebook invites—that friend of a friend's birthday party is exactly where you need to be, and stay until you've introduced yourself to at least five people. It's all about putting yourself out there on your terms.


Virgo Weekend Love Horoscope
Lesson of the week: You can't run from your problems. Even if you stay in on Friday night, an unexpected (but not entirely unwelcome) someone may come to your door. Invite him or her in, but make sure you talk through the communication issue that's been bothering you. On Saturday, there is strength in numbers—friends of friends play up both of your best qualities. Single? Spend a few solo hours journaling in a kitschy café on Sunday—you'll get swept up in an intriguing flirt fest with zero work on your end.
Libra Weekend Love Horoscope
Friday is about 100 percent honesty: Before you say anything to a first date, make sure you stand behind it. They'll appreciate it so much more than that fake "your job sounds fascinating!" line that's so easy to pull. Attached? The stars say you and your partner are having communication issues right now. Your significant other is definitely rubbing you the wrong way, but don't complain or argue, take a deep breath and shut up. What you hear when you're actually listening will enlighten you.
Scorpio Weekend Love Horoscope
You're feeling extra-emotional, Scorpio. Instead of making an appearance at an event you feel eh about, stay in with a date or partner. Even if you've just started seeing someone, the conversation will get intense, fast. Continue the low-key hangouts throughout the weekend. Solo? You won't be for long. Enjoy the freedom you have now, perhaps by booking that kooky retreat you've been fantasizing about.  
 
Sagittarius Weekend Love Horoscope
In an effort to impress (or keep?) you, your partner is being a little much—rehashing some long-past basketball victory or a recent slam-dunk at work. Try to dial back the eye-rolling, though; this is coming from a good place, so let it go. Head out Saturday night and enjoy a witty flirt session. Attached? Let your partner spoil you; indulge in his or her giving side by asking for a long backrub. It'll make you feel super close in what looks to be a challenging week ahead.
Capricorn Weekend Love Horoscope 
Stop doing the same-old and get out of your comfort zone on Friday. Try a toy in bed or ask your partner to indulge you in a fantasy you've had for ages. Single? Consider finding a new passion in your life: Sign up for art lessons or something that taps into your latent creativity. Continue to connect to yourself on Sunday—the more you love yourself, the more you'll attract the love you want.
Aquarius Weekend Love Horoscope 
Have you been having a little too much fun these past few weeks? The stars say to pull back—take a hike, a long nap, or finally take on a major home project. Getting back into a routine, even if it feels boring, is exactly what you need to level your mood—and your love life. Even with these good habits, though, you're feeling extra on-edge. Resist exploding, because the fight isn't about the other person, it's all about you. Seeing Wonder Woman again will be a way more effective release.
Pisces  Weekend Love Horoscope 
Always romantic, this weekend is all about facing reality and realizing your partner is pretty damn awesome even if they don't remember to move their clothes from the washer to the dryer. This weekend is all about image, so think about the look you want to rock. Surrender to the lure of your favorite clothing shop, and choose the sexiest, tightest outfit to try on—your partner will love it, and it'll be your date night go-to all summer long. Your strong will is on full display this weekend; bring it into the bedroom for an experience you won't soon forget.
Want more spirituality, mysticism, and advice for bringing your spirit to the next level of awesome? Follow us on Instagram.
Is this the love of your life? The Zodiac Love Tarot knows.