Want a New Look for The New Year? Let Your Intuition Guide You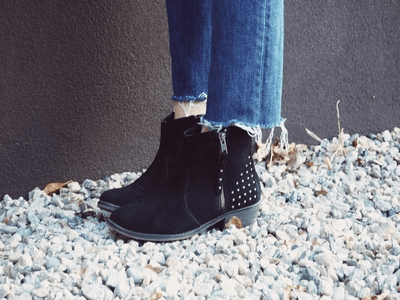 I unwrapped the silver platform Steve Madden Mary Janes with more Christmas awe and wonder than, as a 16 year old, I was comfortable showing. I couldn't help it; these shoes resonated with my very soul.  I was a teenager in the 90's, oblivious to the conception of the internet and the way it would change everything.  My personal style was born under the influence of Cher from Clueless, Casey from Mad Love, and the original 90210 characters.  Now adrift in our everyday  ocean of social media marketing, we are likely to double tap an outfit we wish we owned and immediately repost a quote about following our inner voice. Our culture constantly tells us what we want and, conveniently, how to get it. In this Influencer/Follower driven landscape how do we recover our own intuitive style and, more importantly, why should we? The morning ritual of dressing our bodies is a non-verbal act of self expression–a daily opportunity to be the artist of our own life.
As the owner of an ethically sourced clothing store, a mom, and a tarotist, I'm trained to listen to my gut. I truly believe that no act is too trivial to call upon the guidance of the universe. No one can deny that choosing the right outfit sets the tone for one's day, so every morning I stand in my closet, close my eyes, and listen. Soon, colors, textures, and moods begin to emerge in my mind's eye.  On a larger scale, how does this instinctive practice lend itself to building an entire wardrobe? To me, these are the important questions to ask yourself:
Want 2018 to be the best year ever? Start prepping now with your 2018 horoscope!
What feels right?
The simple act of  inner listening  is everything! Make a habit of feeling out your instincts. Picture yourself in your usual situations. How do you want to feel teaching that class, giving that presentation, sitting at that desk, pushing a cart through Target? How would you feel, act, and respond if you chose a particular color or fabric? Pay close attention to any  inner shifts as you experiment with different looks.
What elements are you drawn to? As a Cancer (water sign) I steer clear of anything structured. Anything. My wardrobe is mostly navy, white, black, grey and denim, reminiscent of the Oregon coast where I spent many summers growing up. I want my life to be fluid, to depict flow. This is how I'm comfortable and feel my most authentic. What elements resonate with you? Are you all fire and energy, earthy and grounded, airy and full of light? We are all a little bit of each of these, so don't limit yourself.
What are your values?
As a reformed, ethical fashion advocate I spend much of my day educating consumers on the ugliness of fast fashion. Make informed buying choices and know that your shopping directly impacts people and the planet. Do you want to wear organic and sustainable fabrics? Do you want to support independent designers? Do you want to extend the life of clothing by buying second hand? Do you want to invest in Fair Trade goods? Conscious consumers are a vital component in the reshaping of the fashion industry.
What inspires you?
Not to be completely overlooked in the development of your intuitive style is the matter of inspiration. Make that vision board. Pin that look. Share that post, not forgetting that inspire also means to breathe in. Take in these myriad creative concepts and make them pieces of yourself.
Fashion has long been dismissed as a superficial business, but today there is a growing focus on the intersecting point between style and spirituality. Tattoo artists are devoting themselves to shamanism and creating tarot-inspired images. Stylists are delving into metaphysics in order to clear the negative energy in clients' closets. Likewise, curating a wardrobe based on intuition is an exercise in self discovery, an unveiling of your essential self, a daily divination practice–no crystal gazing required. — by Jamie Richardson
Jamie Richardson is a tarot reader, mom, and online boutique owner in Denver, CO, specializing in ethical fashion, vintage goods, and tarot decks and readings. Find her @EmberandAura. 
Want 2018 to be the best year ever? Start prepping now with your 2018 horoscope!
Here's How to Add Magic to Your Everyday Look: 
The Hottest Clothes and Makeup for Your Zodiac Sign, and Where to Get Them
Searching for the Ultimate Good Luck Crystal? Numerology Holds the Key
The Sexiest Jewelry for Every Zodiac Sign
A Crystal a Day Brings Good Vibes to Stay