The Success Trick You're Not Doing, But You Should Be!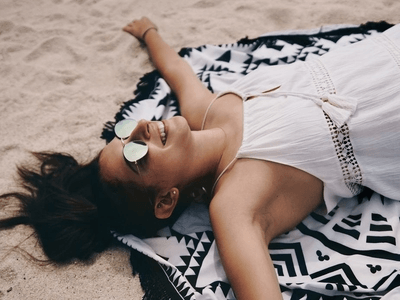 Want the kind of work life that makes you excited to wake up in the morning? Do you want the kind of life where your mind is constantly buzzing with ideas, connections, and creativity; the type of life where you feel an electric pull toward success? Us too! That's where Cortney McDermott comes in. A brilliant career strategist, coach, visionary, and author of the book Change Starts Within You: Unlock the Confidence to Lead With Intuition, Cortney can teach you to tap into your intuition and deep "knowing" to craft a full, successful, lucrative life you love. Welcome to her Intuitive Success column, running once a month! — Horoscope.com editors 
There's nothing wrong with aiming for a specific material outcome or goal in life, only it is unlikely to satisfy you long-term unless it also reflects a desire that's linked to a deeper internal awareness. Because the answer is rarely in the achievement itself. It is in the progressive embodiment of how your soul–or that deeper awareness–feels called to be and feel now.
Gaining an initial understanding of that inner call is the aim of this month's release. How can you understand what the soul desires, how it's calling to be expressed through and as you?
Here are a couple of ways to get started:
The first involves uncovering what feels good in your physical—emotional body when you do it.
For me it's learning. I have an intrinsic love of learning; it is how I could spend all day, every day. That's my juice. What's yours? For some people it's fixing things, using their hands to repurpose or invent/reinvent. For others it's organizing spaces or taking care of young children.
So, simply ask yourself: "What activities or practices do I enjoy most at this point in my life?"
It's simple. But there's magic in simplicity. We tend to overcomplicate a lot. When instead you find what feels good and consistently follow that wherever it leads you, you are cultivating what philosopher Joseph Campbell called "blisscipline".
This kind of knowing and attention to what feels right, coupled with action in the direction of that knowing, is what can keep you going even in the darkest hours.
A second way to get to the heart of what's waiting at your "next destination" is something called the heroes exercise. I first ran across this in Ayse Birsel's work. It is shortened and adapted here to make it easy for you to do it right now.
Note: Please take a moment to follow the steps one at a time without skipping or looking ahead.
Step 1: Close your eyes and picture one of your heroes. This can be a well-known person or one of your friends, family members, colleagues, or acquaintances. What characteristics, ideals, and qualities does this person have that you admire? What makes them your hero?
Step 2: Open your eyes and take a moment to jot down your hero's name and how you see that person—the values he or she possesses, as well as any other discoveries you had while your eyes were closed.
COMPLETE STEPS 1 AND 2 BEFORE MOVING ON TO THE FINAL STEP . . .
Step 3: Now cross out that person's name and write your own. That's you. The compelling attributes you assigned to that person represent your most deeply held values.
You couldn't see them in another if you didn't possess them yourself. You may not believe this at first. These values may be latent in you. But keep reading this series, because we're going to pull them out.
Now that you've completed those first two exercises and have greater clarity about the activities you enjoy most and your inherent values, you can begin crafting your next life pictures. 
Suppose, for instance, that you listed 'writing' as something you love, or the 'hero' you identified with was a writer.  Here's what you can do with that enhanced self-awareness now:
1) Take a moment of stillness to imagine (image-in) what expressing yourself through writing could look and feel like for you. Do you see a blog? A book? Contributions to your favorite publications?
2) What could these discoveries look like as an actual picture? Do you want to draw it? Write it out? Find an image in a favorite magazine that represents this next phase of your life?
If you've been following along with this series, you now have your starting point and your next destination, both represented in picture format.
Bridging the gap between the two will be the focus of next month's Intuitive Success post. So stay tuned and get busy with your new life pics in the meantime! — by Cortney McDermott 

Cortney McDermott is an award-winning writer, TEDx speaker, and strategist to Fortune 500 executives, entrepreneurial leaders, and think tanks around the world. Her work has been featured in multiple major media including: SUCCESS, HuffPost, and MindBodyGreen. Cortney's debut book, Change Starts Within You: Unlock the Confidence to Lead With Intuition, was selected for Inc.com's "26 Favorite Books of High Achievers" and has been described as "''Eat, Pray, Love'' meets 'The 4-hour Workweek'. Before turning entrepreneur, Cortney served as an executive at Vanity Fair Corporation, vice president at Sustainability Partners, professor of graduate studies for Big Ten US universities, and global associate for the renowned beCause Consortium. (She has also moonlighted as a deli waitress, secretary, and everything in between, as a way to put herself through school and life.) Cortney is a graduate of the London School of Economics and a certified cultural mediator in multiple languages. She lives with her family between the United States and Italy.
Want 2018 to be the best year ever? Start prepping now with your 2018 horoscope!
Have a Magical Week With This Article: 
Using My Intuition Was the Best (and Hardest) Thing to Happen to My Love Life