The Lovers Tarot Card in a Future Position: What to Know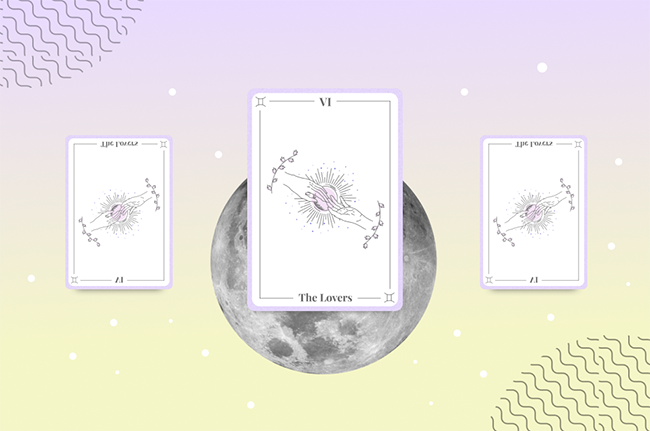 Even if you don't know much about Tarot, you're bound to recognize The Lovers card. This is one most people are excited to see in a Tarot reading, with thoughts of love, passion, and new beginnings in the romance world. But what happens if you see the card in a future position? Is it a good thing? What happens if it's reversed?
To answer your questions, we chatted with Xavier Villanova, Tarot reader for Tarot By Maisy.
The Lovers Meaning
First and foremost, The Lovers Major Arcana card can point to all things romantic. Of course, it can indicate romantic partnerships in a Tarot reading, but it can also represent the "kind" of love you're receiving from your partner. Since this card is associated with Gemini, there is a childish feeling to this kind of love. There is playfulness, newness, and a less serious attitude.
But according to Villanova, romance isn't the only thing The Lovers accounts for. It has more to do with alliances than anything else—business partnerships, marriage, friendships. "It speaks of choices and being accountable [for] all of your actions that involve and directly impact your partnerships or dualistic relations."
Finally, The Lovers can also represent the middle ground between masculine and feminine. If you notice in the original Rider-Waite Tarot deck, The Lovers are represented by a man and a woman about to join hands. So, this card asks, in what way are my masculine and feminine sides working together? In what ways are they driving each other apart? This, says Villanova, is what prompts us to find an aligned, centered position in life.
In a Future Position
Upright
In an upright position, The Lovers implies the impending importance of creating an alliance. "You'll soon have to decide if you want to join forces for good with someone […] or back off," says Villanova.
In general, it shows the need for equilibrium between partners. You are supported by partnership, you need partnership. And if you don't need the partnership, then the connection may sink you both unless you leave. It shows a step up in the relationship ahead.
Because this card indicates the masculine and feminine, it can represent a time of peace and balance within one's self. The Lovers is a partnership card… but who said it can't represent the partnership you have with yourself. So, an upright Lovers card can suggest an abundance of self-love and happiness.
Reversed
"This is all about accountability," says Villanova.
When The Lovers is reversed, it means your life has come to a breaking point—during which you will be forced to make a radical decision between coming together… or letting go. In general, this is usually about making amends or breaking away from a partnership. For this reason, The Lovers appears a lot of the time during periods of separation, break ups, or divorce.
You may be surprised to hear that The Lovers isn't just symbolic of fun and passion; it's also about toxicity. So, in a reversed position it can suggest that a relationship has become toxic and needs to end. And perhaps it even does end! According to Villanova, "The Lovers reversed in the future comes to announce that, having followed temptation, you are about to face the consequences."
Ultimately, The Lovers reversed is like a Gemini who feels lost. There is a lack of optimism, abundance, and health that needs to be addressed before things can start looking up again. In the sense of the future, it tells you that something needs to change, because you're driving yourself toward a period where you'll be forced to let something go. This may sound bleak, but Villanova says it best, "Good thing is, there's still an option."
FAQs
What Tarot card is number 6 in the Major Arcana?
This is The Lovers card. It sits right between The Hierophant (5) and The Chariot (7).
Is The Lovers card "yes" or "no"?
Honestly, it really just depends on the position of the Tarot card. If it's in an upright position, it can very well urge you to keep trekking forward. If it's in a reversed position, it suggests that you may need to re-evaluate the relationship you're inquiring about.
Related Articles:
Can You Buy Your Own Tarot Deck?