How to Read Tarot Cards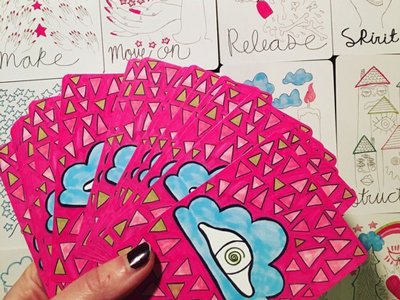 Of all the tools in my metaphorical toolbox, tarot is one of my favorites. It's beautiful, portable, and oh so accurate. When you read tarot cards without illusion, they can show you what is really going on in your life.
A lot of people have concerns about free will and the tarot, or whether it's somehow "bad" to access the information that tarot cards seem to hold. Here's my take on that: No matter what comes up in the cards, or even in the stars, we still have the power to do whatever we please. Think about astrology, for example. You may be a Cancer, and your favorite thing to do might be spend time in the house, being a domestic goddess. But even though you know this, you can still make the effort to go out, be social, and broaden your horizons. Tarot is like that. A sad card might come up, but what you do next is what will determine your future. Tarot doesn't show us every possible result of every single scenario—it shows us what will happen if we stay on this same track. And we can change that track at any time!

The other wonderful thing about the tarot is that even when a warning comes up, the next right action is implied within the imagery. For example, the Five of Cups is typically a card of loss and disappointment. In the image, we see a hooded figure looking into the distance—where there is a bridge and a castle—with five cups behind him. Three of the cups have been overturned, their contents spilled…. But two of the cups are still upright and full to the brim. So this card can indicate that even though things are hard emotionally, we're focusing on scarcity, instead of abundance. The card encourages us to abandon self-pity in order to move forward (and cross the bridge, which will lead us to the castle, aka security!). Pretty cool, huh?

A Beginner's Guide to Tarot:

Step 1: Choose your deck
This can be a wonderful—although somewhat agonizing—experience. There are so many decks, and so little time! You can't go wrong by starting with the traditional Rider-Waite, which most decks use as an inspirational jumping off point. But if you'd like to experiment with form, try Oliver Hibert's deck, The Wild Unknown (so popular they even sell it at Urban Outfitters), or The Fountain Tarot. It's important that you connect with the art, so take your time in choosing the right deck for you. I have about ten decks at home but literally the only one I read with is my Oliver Hibert deck. It speaks to me in a way that no others do.
And if you're wringing your hands over the fact that #TarotSoWhite, check out the Numinous deck on Kickstarter, which is inclusive and features queer, non-binary, and disabled people! Yay!

Step 2: Clean your deck
Once your deck arrives in your hot little hands, it's time to make it your own. You can cleanse it by passing the cards through incense smoke, by placing them in a windowsill during a full moon, or by letting them sit in a bowl with some salt for a day or two.

Once you've done this, get cozy with them! Flip through them and familiarize yourself with the artwork. Sleep with them under your pillow. Carry them in your handbag. Let them pick up your energy so that when you go to use them, they feel like an extension of your hands.

Step 3: Care for your deck
Thankfully, tarot cards are easy to look after —unlike, say, a fiddle leaf fig tree! While you can, of course, keep them in the box they came in, they may get worn out quickly. That's why it's generally recommended that you keep them in a pouch or wrapped in a piece of fabric. I use a navy blue velvet drawstring bag covered in white embroidered moons and stars. Want to use a psychedelic scarf from the 1960's? No one will judge you for that!
Stay tuned for next week, where I'll share everything you need to know about reading tarot cards! In the meantime, here are some of my fave decks, again!

The Fountain Tarot
The Wild Unknown
The Rider Tarot Deck
The Linestrider Tarot Deck


For more of Gala Darling's magically uplifting advice, try these Spirit articles:
5 Relationship Rituals for a Deeper Spiritual Connection With Your Partner
With These Daily Rituals, You'll Be Invincible
Use Your Sign to Change Your Mood in a Second
How to Overcome Fear, Based on Your Zodiac Sign