February 2021 Full Moon in Virgo Horoscopes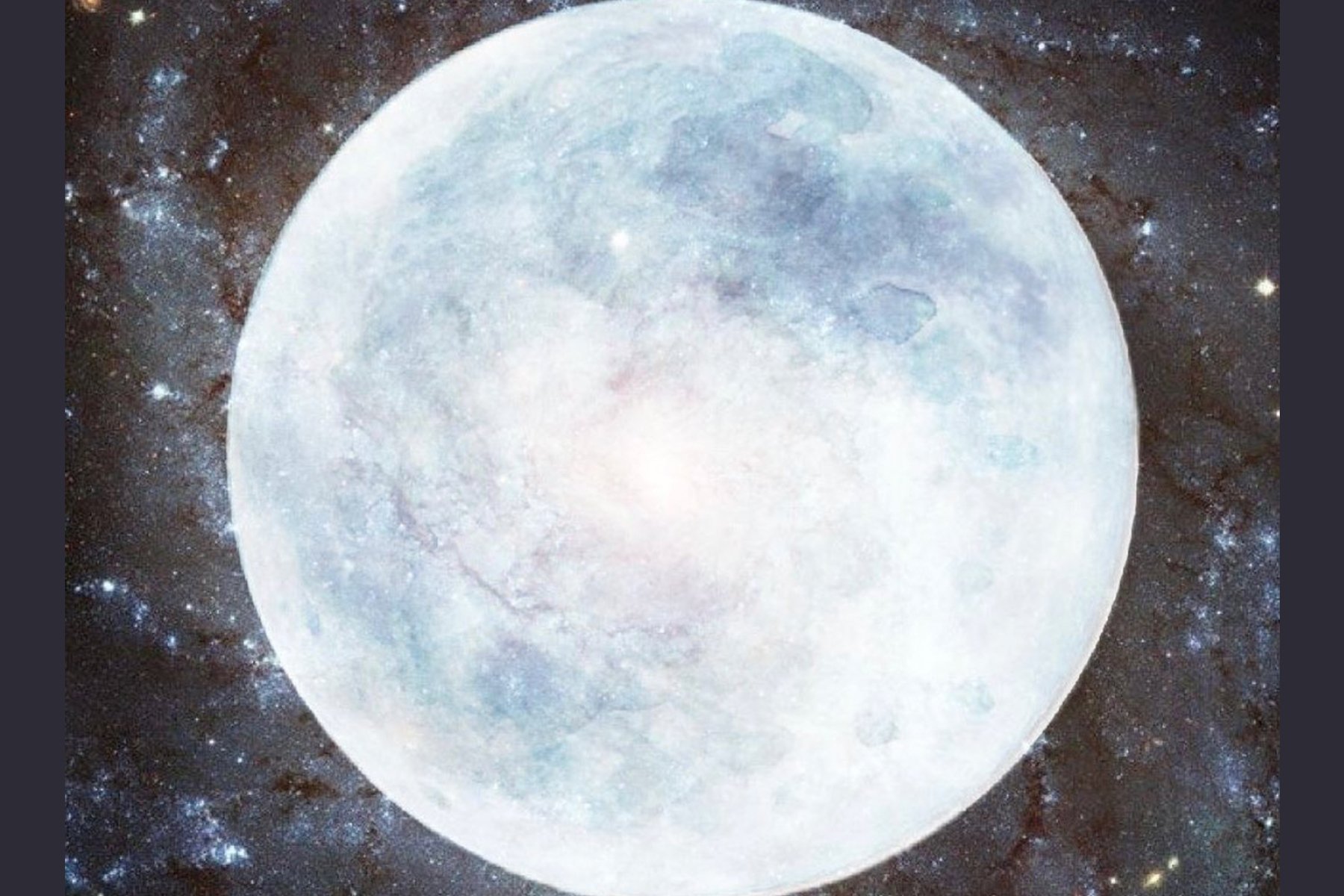 The February full moon in Virgo is lighting up the midnight skies on Saturday, February 27, 2021 at 12:17am PT, and it'll help us cleanse away all the unnecessary clutter that's standing between us and our dreams. As the last full moon of the astrological year, it's a chance to toss our toxic old habits out the window so we can focus our starry eyes on something brighter.
We're in the midst of dreamy Pisces season, which puts our heads in the clouds and our hearts in a fantasy. But this full moon in earthy Virgo has the power to make the ethereal tangible—to turn our fairy tales into facts. It'll help us move the castles we built in the sky onto solid ground—if we're willing to put in the necessary work, focus, and attention to detail that such a task requires, of course. We can use this lunation's service-oriented Virgo energy to usher our dreams through the veil and into the real world.
There's also a zingy trine between the full moon and surprise-filled planet Uranus (planet of change) that's giving this lunation an exciting and unexpected twist. Original plans could quickly change or new opportunities could materialize before our eyes—but the mutable energy of the Pisces sun and Virgo moon will allow us to incorporate the sudden shifts without skipping a beat.
With the full moon shining its light through sharp and meticulous Virgo, we'll be able to spot energetic dust bunnies from a mile away. Up against the purifying power of this lunar moment, though, they won't stand a chance.
How the Full Moon in Virgo Will Affect Your Zodiac Sign
Courtesy of @holistic_astrology
Aries
Your routine is asking for an upgrade, Aries, and this full moon offers you exactly the kind of detail-oriented focus that you need. Your day-to-day schedule should be conducive to your overall wellness, so use this motivational boost to kick your unhealthy habits to the curb and prioritize taking care of yourself. That way, you'll have more time and energy to work on the exciting stuff.
Taurus
You know very well that a little structure can benefit even the most joyful and passionate parts of your life, Taurus—but don't forget to leave some wiggle room in your plans to account for the magic of synchronicity, too. This full moon asks you to trust the compass of your heart, even when it starts to pull you in a direction that you didn't foresee. You can still stick to a loose plan while following your excitement into unknown terrain.
Gemini
You're growing some big dreams, Gemini. Clear some space in your personal garden to allow those buds more room to blossom by starting at home. Literally,clean up your living space. Purge the junk from your closets, sweep out the dust and debris, and make sure you're surrounded by things that make you feel like you. You'll feel lighter, freer, and able to nurture your goals post-clean-up.
Cancer 
Your words have power under this full moon, Cancer—so while Mercury retrograde may be over, it's still important to choose them carefully and be discerning about what you share with others. This is a good time to comb through your recent contacts and clear away any conversations, connections, or calendar events that don't align with your higher vibe. Communicate your truth with those who offer you genuine honesty in return.
Leo 
Money is on your mind under this lunation, Leo, and you're ready to make a potentially big (but calculated) move with your assets. Thanks to Uranus in your career sector, harmonizing with the moon, be on the lookout for an unexpected raise or sudden opportunity in your professional life that could boost your bank account. There are lots of opportunities to grow your worth now—just make sure to read the fine print.
Virgo
This is an exciting lunation for you, Virgo, and not just because it marks the annual full moon in your sign. You're likely to feel a sudden burst of insight and open-mindedness that inspires you to embrace an even deeper sense of personal authenticity. You've been getting more comfortable with who you are, what you know, and the ways you can grow—so, don't be afraid to take what you've got and put it out there for the world to see.
Libra 
Full moons can be exhausting sometimes—and you'll definitely be feeling the lunar fatigue if you don't make room in your schedule for some quiet reflection time, Libra. Take all the organization and focus that you usually save for your work life and apply it to your spiritual self-care regime now. By prioritizing rest and introspection, you'll be able to connect more deeply with the dreams you're working toward in the first place.
Scorpio
You're no stranger to making thought out power moves from behind-the-scenes, Scorpio. But this full moon asks you to bring your people skills to center stage. Whether it's by taking charge on a collaborative project at work, organizing a charity event in your community, or simply bringing your crew of friends together for a full moon Zoom call, you have a chance now to make a positive difference for the collective.
Sagittarius
It's a sparkly and take-charge lunar moment for you, Sagittarius, as this full moon is glowing in your house of career and public image. All eyes are on you now, so be sure you dot your Is, cross your Ts. Bring your A-game as you show off your professional prowess. It's a wonderful time to unveil the results of a long-term project—and to keep your eyes peeled for an unexpected new one that might just fall into your lap.
Capricorn
Goal-oriented as you are, dear Capricorn, it's easy to get caught up in the details of your plans as you continue forward, step-by-step. But if you don't look out past the horizon every once in a while, to make sure you're headed in the right direction, you could just as easily lose your way. This lunation offers you a fresh perspective on your current endeavors, so don't be afraid to alter your plans if your heart feels called to a new destination.
Aquarius
This full moon is lighting up your house of intimacy and transformation, Aquarius. And while having the lunar spotlight on the most vulnerable pieces of your soul may feel uncomfortable, it's also necessary to see the cobwebs (and skeletons) that have been collecting there. Use this meticulous energy to purge away any regret, debt, or energetic baggage that's accumulated in your spirit.
Pisces
There's nothing you love more than swimming freely in a romantic haze. But this lunation asks you to plant your feet firmly on solid ground when it comes to love. It's good to be flexible, but right now, it's also necessary to take a close and intentional look at what's working (or not working) within your relationships. Ensure that your needs are being met and look out for any underlying issues that you may have overlooked in the past.
Lead photo courtesy of @holistic_astrology