5 Crystals That Can Help Manifest a Better Year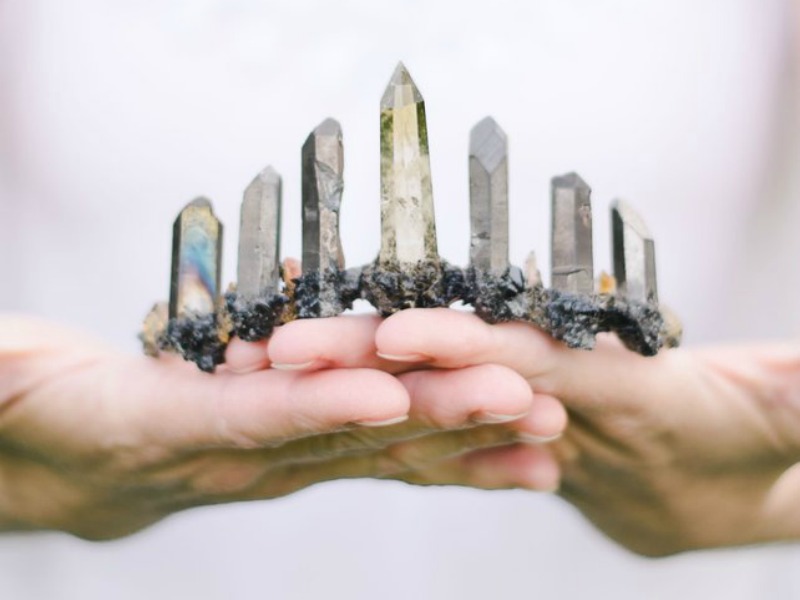 As we approach the New Year, it's the perfect time to prepare ourselves to begin again. Think about the goals you've achieved this year and those you want to achieve in 2019. Write it all down and let the manifestation begin.
What exciting new developments will unfold over the next 12 months?
Crystals are a great way to enhance your manifestation technique so you can reach your goals, fulfill your resolutions and ultimately achieve your dreams. Here are five crystals that will help you reach some of the most common goals we typically set for ourselves in the New Year.
To Attract Abundance—Use Citrine
If your goals are financially-based, you need more citrine in your life. This crystal is also known as the "merchant's stone," or a "money stone" and will help you attract abundance. Consider wearing this Citrine Crown when you work, negotiate business deals or even at networking events (people will defiantly approach you to ask about your beautiful accessory). For something more subtle, you can also keep a citrine point on your desk. Prepare for all the opportunities about to come your way.
To buy: The Fawn and the Sparrow via Etsy; $113
To Clear Your Energy—Try Selenite
If you want to have more positive energy in the new year, clear away the negativity with a selenite wand. Selenite can cleanse your own energy, someone else's or the energy within a physical space. You can also use this crystal to enhance your smudging practice with palo santo or sage. Just add a wand and you're good to go.
Read this now: So Why Are Crystals So Powerful, Anyway?
To Attract Love Into Your Life—You Need Rose Quartz
If you want 2019 to be the year you find love, then you'll need to get some rose quartz. Connected to your heart chakra, this crystal can help take care of a range of love needs including attracting a new partner, fostering current romantic relationships or deepen a longstanding connection. Leave a rose quartz stone in your bedroom to enhance the romantic vibes.
Read this now: Why Rose Quartz Is the Key To Living Your Best Life
Rose quartz can also help you foster self-love. You can incorporate this crystal into your self-care routine by using the Odacite Rose Quartz Gua Sha facial massager tool. While your skin will be more radiant, you will also reap the benefits of taking time to connect to yourself and the powers of this crystal.
If You Want To Live Your Best Life—Carry Black Tourmaline
Black Tourmaline is a super crystal. This stone holds an electrical charge so it releases negative ions and infrared radiation, which can benefit your health. It's also a good idea to keep a stone like this near your computer and other electronic devices.
Black Tourmaline can also deflect the negative energy of other people, like that co-worker who makes you cringe. Try wearing a black tourmaline bracelet so it is on you at all times. The stone will protect you by keeping you calm and taming anxiety. Associated with the root chakra, it grounds you and brings you back to a higher vibe.
To buy: LoveThirteen; $280
If You Have Fitness Resolutions—Try Carnelian
The New Year is always the time when people start new fitness routines, diets and attempt to make major lifestyle changes. Carnelian can help jumpstart your motivation. You should keep a carnelian stone in your pocket or even in your sports bra when you workout, if that is comfortable. When you set your intentions the right way, the energy of this stone will help you find the power within yourself to get moving. —Amanda Lauren
For more spirituality, mysticism, and advice for bringing your spirit to the next level, Follow us on Instagram.