5 Crystals to Help You Win at Work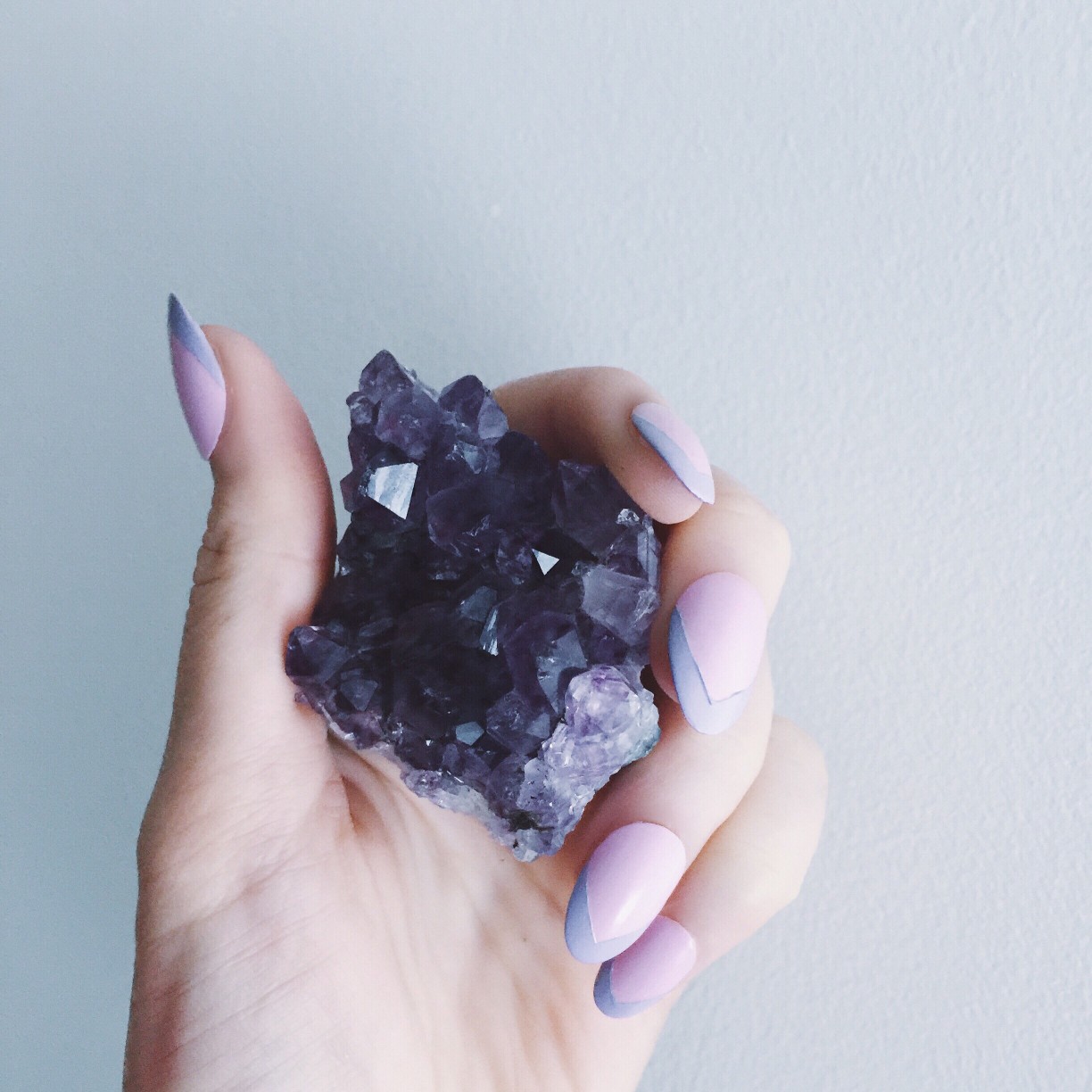 A few months ago, I found myself completely overwhelmed with a writing project I'd agreed to take on. Following through would mean accomplishing a huge personal goal, but when I sat down in front of my computer, I couldn't focus, and I was riddled with anxiety and self-doubt. I was looking for a way to recenter my energy and get the creative juices flowing—and I knew my usual strategy (guzzling half a pot of dark roast and hoping for the best) wasn't going to work this time.
Enter: crystal medicine
I've used crystals to help me get over a breakup and for insomnia, but I've never incorporated them into my creative process. But, "there are so many stones that you can use for work space," says Courtney Taylor, a psychic clairvoyant and energy healer who frequently prescribes crystals to her clients.
After speaking with Taylor, I was prescribed two different crystals. I started wearing them daily. While I didn't notice a dramatic change initially, feeling them against my skin was a reminder to focus my energy on the task at hand. A week into wearing the stones, I started to notice a shift in my energy and more opportunities flowing my way.
Read This Now: The Most Powerful Crystals for Your Zodiac Sign
As Taylor explains, within the crystal universe there are "manifestation stones" that will help you get what you want. So, whether you're hoping to make a move up the corporate ladder, tap into your inner confidence or simply manifest more abundance in your life, here are a few crystals to try.
Citrine
"This is always the first stone I give people when they're wanting to change jobs, get a promotion or get more money," says Taylor. In my case, wearing citrine has helped me shift my energy around money from a place of lack to a more positive space. Taylor says this is common. "It is a growth stone. It's a manifestation stone. It's an abundance stone. It's really good to help purify and center you. It also helps identify which areas you need to work on. It will get there. It carries through."
Facing difficult job challenges? Let the Tarot help…
Aventurine
Known for its gorgeous green hue, aventurine is another manifestation stone. If your current work situation is getting you down or you find negative self-talk is hurting your confidence, wearing some aventurine can help. As Taylor explains, "aventurine works more on the emotional side and keeps us in a place where we're optimistic. It's a healing stone and very gentle. It also creates balance." Because aventurine is connected to the solar plexus, it can also help boost our confidence and self-esteem.
Taylor says that it's especially great for work because, "it also helps keep us in a positive energy space while trusting what's going to come." So, if you're angling for a promotion or your next big gig, "it's a stone that keeps you out of your negative thought patterns."
Taylor says it also pairs really well with citrine, "because you're manifesting but you're also being realistic."
Pyrite
Also known as "fool's gold," this ultra sparkly stone is perfect for those times when you want to keep your mind clear and your eyes on the prize. "This is really good at giving you clarity, optimism. It has a very bright energy and is very flashy so it gives you the feeling of 'I can do anything, I can take on anything,'" says Taylor. However, because Pyrite tends to come in a larger cluster, "this is one that I don't recommend you wear but instead keep in the house."
See the wisest next steps you should take on your career path…
Jade
Looking to get that raise or double your business profits? Jade is your lucky charm. Taylor says, "this one is all about money." While jade will definitely help you manifest more money in your life, it's connected to your heart chakra which means it will also help keep you, "from holding yourself back and delaying living up to your full potential," she says. A gentle, pick me up stone; jade will remind you good things are coming into your life.
Iolite
Want to kickstart the creative process? Just add Iolite. This stone is connected to the seven laws of attraction and really powerful when it comes to tapping into your imagination and bringing visions to life. "It helps get you into a very visionary state. I love this one for people who are in the arts and media—anyone who is in a creative space, Iolite helps bring you to that creative space," says Taylor.
Read This Next: How Crystals Can Bring Your Sex Life to the Next Level
Iolite is also connected to your third eye. Because of this, it's a helpful crystal for the manifestation process because it allows you to take ideas and project them forward. It's a good stone to use when you're building your own intuition. As Taylor explains, this is the perfect stone to use when you want to send a message to the universe that, "I want things and I'm going to get them."
As Taylor reminds us, "many of these stones are manifestation stones for the career space. They will help you set your desires, manifest money and project forward to get there." However, because crystals are a form of energy medicine, people react differently to every stone. "I like giving different ones because our body gets used to wearing certain stones and the energy needs to be changed up every now and then," says Taylor. Start by experimenting with one or two stones and go from there.
Simone Paget is a freelance writer based on the West Coast of Canada. She's a nationally syndicated sex and relationship columnist for the Toronto Sun and the author of the blog SkinnyDip.ca. Her work has appeared in/on publications such as the Washington Post, Elle Canada, Food Network, Reader's Digest Best Health and The Toronto Star. 
Photo: @robyn514 via Twenty20