Couples Halloween Costume Ideas for Every Element Pairing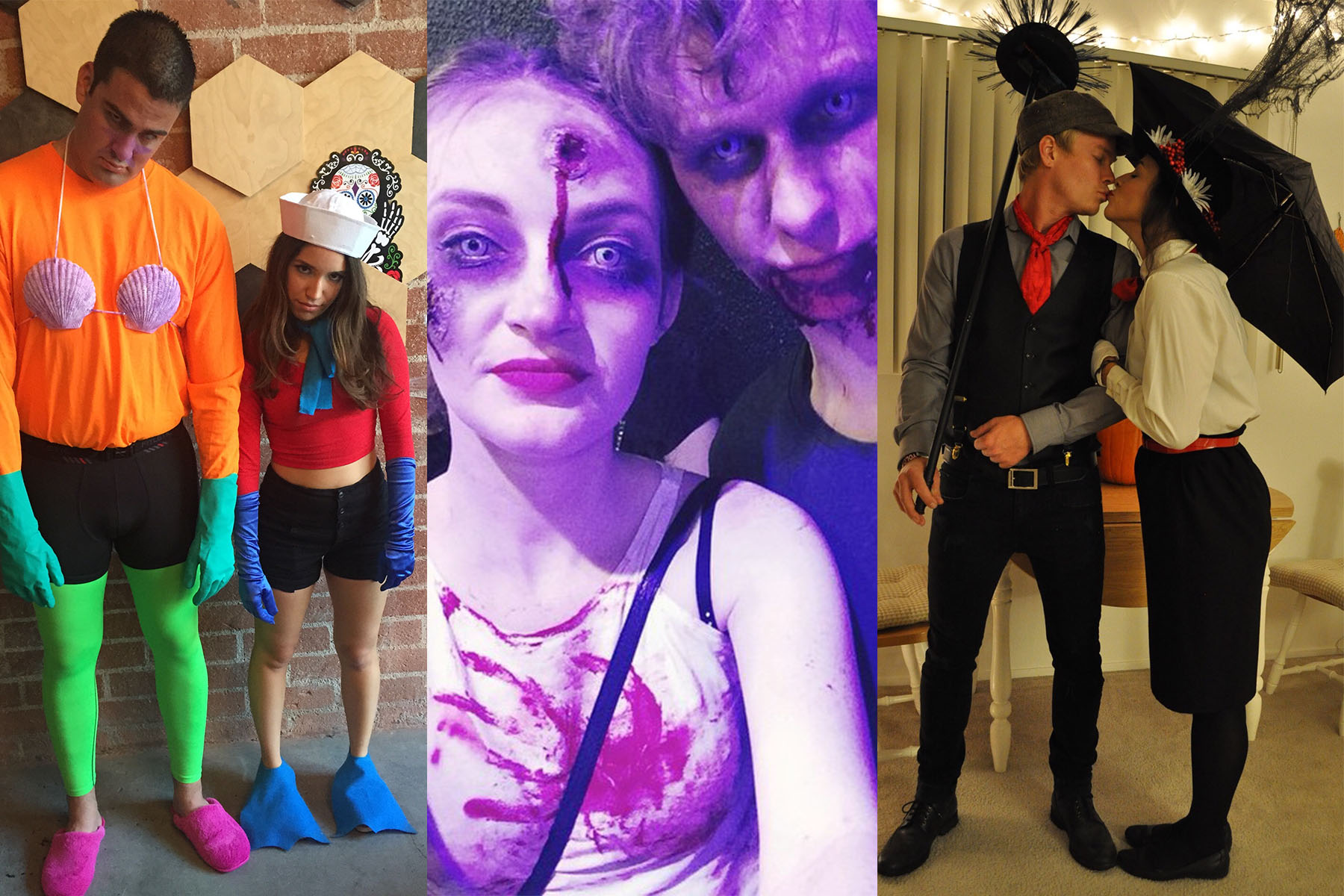 Happy Halloween, spooks! October is a rather spooky time of year, but there's nothing more frightening than figuring out what Halloween costume you're going to wear to a party—especially if you're trying to think of a clever couples costume for you and your main squeeze. Are you two always on the same page or is your romance more of opposites attract? Luckily, no matter what kind of couple you are, we have the perfect costumes for you, based on you and your partner's elemental sign.
Read Me: Are Our Elements Compatible?
For a quick refresher, here are the elements that correspond to each sign:
Earth: Taurus, Virgo, Capricorn
Fire: Aries, Leo, Sagittarius
Water: Cancer, Scorpio, Pisces
Fire + Fire Couples Costumes
https://www.instagram.com/p/Bx51wbmFGem/
Aladdin and Jasmine 
Aladdin and Jasmine Costumes, $140
Like Aladdin and Jasmine, you and your partner love deep and love hard. You are both passionate, driven, and will do anything to get what you want, whether it's being free or becoming a prince. Power couple vibes!
The Joker and Harley Quinn
Joker and Harley Quinn Costumes, $110.78
When you are your partner get together, you aim to misbehave—in the best possible way. Have fun causing trouble around Gotham City as Harley and her Mr. J.
Wine & Cheese Pairing
Wine & Cheese Costumes, $47.50
Just like wine and cheese, two fire signs together is the perfect pair! Just try to overindulge with each other.
Fire + Earth Couples Costumes
https://www.instagram.com/p/B2aJHLBjogT/
Stranger Things Scoops Ahoy Robin & Steve
Stranger Things Scoops Ahoy Robin and Steve
Steve Costume, $54.90
Robin Costume, $54.90
While the two of you might have different methods for going through life, you both have a lot of gain from your relationship, helping each other build and grow. Plus, you both look so cute in your matching uniforms.
John Snow & Daenerys
John Snow Costume, $79.99
Daenerys Costume, $139
Yes, we were all hoping that earthy Jon would end up with our fire-breathing mother of dragons, but you can act out your own happy ending and pretend the last season never happened.
Eliza & Alexander Hamilton
Alexander Hamilton Costume, $38.38 
Eliza Costume, $25 
Spend this Halloween dressed as history's favorite fire/earth sign pairing. And it will be cheaper than buying tickets to see the Broadway hit. You're sure to be satisfied.
Fire + Air Couples Costumes
https://www.instagram.com/p/BpMxxP_BAza/
Glinda & Elphaba
Glinda & Elphaba Costumes, $160
Let's be honest, you two probably didn't get along when you first meet (in fact you probably loathed each other). But opposites do attract and as fire sign Elphaba and airy Glinda can be friends, you and your partner can defy gravity with your love (and cool costume).
Mushu & Mulan
Mulan Costume, $64.90
Mushu Costume, $49.90
The two of you may have had some friction when you met but like Mushu and Mulan, when the two of you work together you can achieve amazing things and bring honor to us all.
Buddy the Elf & Jovi
Buddy and Jovi Costumes, $81.65
Christmas might not be for another few months, but the two of you are ready to celebrate. While you may not have got each other at the start of your relationship—you balance each other perfectly just like the fun, bubbly Buddy the elf, and the logical Jovi.
Fire + Water Couples Costumes
https://www.instagram.com/p/B2afPNbAQhM/
Gryffindor & Slytherin Students
Gryffindor Student Costume, $109.99 
Slytherin Student Costume, $39.90
You two are VERY different, which makes your romance all the more sweeter. Your temperaments may be very different, but when you get together, you make magic!
Kylo Ren & Rey
Kylo Ren Costume, 59.99
Rey Costume, $32 
No one knows opposites attract better than you too, which is why you're drawn to each, just like the special connect between Kylo Ren and Rey. We won't know if this couple actually gets together until December, because you can act it out now.
Hamburger & French Fries
Hamburger Costume, $30 
French Fries Costume, $34.66
Make a reference to the popular Taylor Swift music video "You Need To Calm Down" this Halloween by dressing up in the Hamburger and Fries costume similar to the ones that Katy Perry (Scorpio) and Taylor Swift (Sagittarius) wore to end their feud, and support each other.
Earth + Earth Couples Costumes
https://www.instagram.com/p/9we79Cq5DF/
Woody & Bo Peep
Woody & Bo Peep Costume, $105
Dress up as your favorite childhood couple who reunited on the big screen this summer. Like Woody and Bo, you are both solid, caring and know how to use each other strengths.
Avocado Halves
Avocado Halves Costume, $54.14
When two earth signs get together, it's like they complete each other—like two halves of an avocado.
Werewolves
Werewolf #1 Costume, $32.49
Werewolf #2 Costume, $49.99
You both are so much alike that, of course, that you would change into the same furry monster. Have fun howling at the mood together.
Earth + Air Couples Costumes
https://www.instagram.com/p/Ba0AKsejXAx/
BoJack Horseman & Mr. Peanut Butter
Bojack Horseman Costume, $69.99
Mr. Peanutbutter Costume, $16.97
Mr. Peanutbutter and BoJack Horseman at the same Halloween party? Is this a cross over episode? Use this joke at your Halloween party as you and your partner show that opposites really do attract!
Bob & Linda Belcher
Bob & Linda Belcher Costumes, $50
Bob and Linda are actually a great example of how great an earth/air sign relationship can be. Practical and down to earth Bob grounds airy Linda and Linda encourages Bob to dream and think differently. Order up!
Buzz & Woody
Buzz Costume, $49.99 
Woody Costume, $32.99
You got a friend in me! Like Buzz and Woody, you didn't get along at first with Woody's practical nature and Buzz's completely different approach to life. But as a team, you can do amazing things.
Earth + Water Couples Costumes
https://www.instagram.com/p/BvUteoan4q_/
Mermaid & Sailor
Mermaid Costume, $69.99
Sailor Women's Costume, $39.99
Sailor Men's Costume, $49.99
You two may come from different worlds and have different views on life like the mermaid and the sailor, you are instantly drawn to each other, and complementeach other very well.
Bob Ross & Happy Tree Painting
Bob Ross and Happy Tree Painting Costumes, $43.51
Water sign Bob Ross loved to painting nature scene like a happy little tree. Water signs encourage earth sign creativity and earth signs encourages water sign drive to do things.
Peanut Butter & Jelly
Peanut Butter or Jelly Costume, $39.99
Much like the pairing of peanut butter and jelly, an earth sign and a water sign complementeach other very well, even if they are very different!
Air + Air Couples Costumes
https://www.instagram.com/p/B2okgKWIMPI/
Mary Poppins & Bert
Mary Poppins Costume, $31.69
Bert Costume, $21.66
Much like Mary Poppins and Bert, you and your partner are creative free spirits who don't follow conventual rules (like gravity) and enjoy doing things your own magical way.
Poe Dameron & Finn
Poe Dameron Costume, $169
Finn Costume, $19.99
When Poe and Finn first met there was an instant connection—when two air signs meet there is already a strong bond as they are both easy to talk to and exchange ideas forever.
Tacky Tourists
Tacky Tourists, $23.36
Air signs love to have fun, which why tacky tourist is the perfect costume for you two. Air signs hate anything tacky so this joke on themselves as well. Plus air signs love getting into character and roleplaying, so have fun!
Air + Water Couples Costumes
https://www.instagram.com/p/B2R62JShycy/
Gomez & Morticia Addams
Gomez Addams Costume, $36.99
Morticia Addams Costume, $49.99
We all know that Gomez and Morticia Addams are #relationships goals and when friendly, outgoing Gomez meets the mysterious and sensual Morticia, sparks fly, just like air and water matches when they are both in the right alignment.
Beetlejuice & Lydia Deetz
Beetlejuice Costume, $40.99
Lydia Deetz Costume, $45.90 
What happens when an outgoing spirit means a moody human—fun-filled chaos. And if you lose track of your partner during the night, just say their name three times!
Lilo & Stitch
Lilo Costume, $29.90
Stitch Costume, $49.90
Okay, we know that some of your friends don't "get" your relationship, that your too different, but like Lilo and Stitch, who are the perfect balance for each other—just like you and your partner.
Water + Water Couples Costumes
https://www.instagram.com/p/BpcML7RFzhl/
Betty Cooper & Jughead Jones
Betty Cooper Costume, $29.99
These water signs make our hearts melt on Riverdale and it's not hard to see why. When two water signs get together, it's a deep and powerful emotional connect that not even the crazy world of Riverdale can break up.
Mermaid Man & Barnacle Boy
Mermaid Man and Barnacle Boy Costume, $70
Going as Batman and Robin again? So last year! Do the dynamic duo with an underwater twist with our childhood favorite, Mermaid Man & Barnacle Boy.
Soap & Loofah
Soap and Loofah Costumes, $54.99
Do we really need to explain the water pun here?
Happy Halloween!
Lead photo courtesy of Twenty20