A Crystal a Day Brings Good Vibes To Stay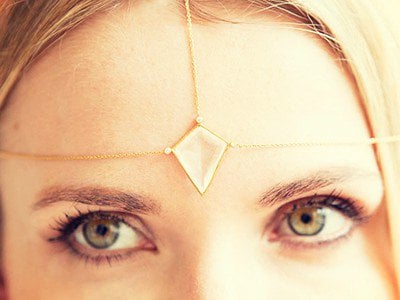 My phone feels like a sixth limb, so you'd think I'd embrace wearable tech, right? Wrong. In fact, the very idea makes me feel on the cusp of a mild anxiety attack.

But while the idea of attaching a piece of technology to my person makes me cringe, I'm in love with "wearable healing," aka crystals. I never leave the house without tiny rubies (how could I?) my vintage diamond engagement ring, and an opal piece created by Communion By Joy, one of my favorite designers.

You see, while the quartz crystals in computers (you know, the ones that make up the silicon) help you tap into data—how many calories you burned, hours you slept, steps you took—the crystals that make up a gorgeous amethyst pendant help you tap into your inner knowing. The opal I cherish? It's supposed to inspire love, hope, innocence, and happiness. How could I possibly leave home without it?

And while I admit the crystal jewelry scene can get a little crunchy, there are some amazing designers who make creations as chic as they are soul-enriching. Here, some of my favorites that deliver gorgeous fashion right along with heady vibes.

¨C59C¨C8CDescribing her pieces as "sacred art for the modern mystic," L.A.-based Joy Smith is inspired by the mysteries of life "beyond the veil." My personal favorites are her raw gemstone rings. Also clutch: Her pieces are ethically sourced and made from recycled gold.¨C9C
To-die-for rings by Communion By Joy




Pound Jewelry

So many women in my Numinous crew are proud owners of the signature pendulum crystal pendant from Pound, which doubles as a divination tool. Also amazing: their cluster crystal pendants. These have so much energy that they can be used to cleanse other stones simply by leaving a stone that needs clearing on the cluster overnight.

Gorgeous Pound pendants



Jill Urwin

With a background in fashion buying, Urwin, who co-founded London's high-vibe boutique and event space She's Lost Control is all about merging the edgy, the modern, and the mystical. Her favorite stone to work with is the Herkimer Diamond—known for its unrivaled natural symmetry.

A Jill Urwin crystal pendant


Rock n Raw

While the UK brand is known for its striking and delicate "Ultimate Guardian" pendant, I personally adore the signature crystal-set head-chain (pictured at top, perfect for Burning Man!). Delicate and super high end, the pink tourmaline "Gentle Courage" pendant is pretty close to the top of my wish list!

The Rock n Raw "Floating Guardian" pendant



Alexandra Derby

Featuring different stones for each moon phase, Derby's unique collections are a beautiful—and powerful—way to connect to the different phases of the moon cycle. She also has a pendant set with each birthstone to correspond to each sign of the zodiac.

An Alexandra Derby black moon earring



Melinda Lee Holm
I adore Melinda's "Prescription Adornments"—in which she creates a custom piece based on a tarot reading! The two-part process is divided into "Gathering Wisdom" and "Choosing Aesthetics," making each piece a personalized talisman to tap into your inner powers.

A Melinda Lee Holm necklace




Want more spirituality, mysticism, and advice for bringing your spirit to the next level of awesome? Follow us on Instagram.