Love Compatibility
Find out if your partnership will go all the way. Some Sun Signs naturally work well together, but others need to compromise to make it work!
Virgo
Taurus
9/10
At first glance, Taurus and Virgo may seem a little boring. This isn't a whirlwind romance filled with passionate declarations of love or desperate longing. This isn't a Romeo and Juliet type of love, as both signs are too sensible to indulge in such foolishness. Being two earth signs, they are both quiet and emotionally reserved. Outsiders may wonder if they are romantic partners or business partners. However, while a Taurus and Virgo pairing is subtle, they are both patient, reliable, and deeply loyal—everything that makes a relationship healthy and enduring. 

Taurus and Virgo have an "old married couple" vibe about them right from the start. As grounded, thrifty homebodies, they are usually on the same page about in most matters and can even finish each other's sentences. This is the type of couple who would rather stay home and do puzzles or take a cooking class together than go out. They also share the same values and can work well as a team with Taurus' tenacity, Virgo's sharp mind, and a shared love of wealth and security. This couple often mixes business with pleasure and can create not only a happy relationship but also a business empire.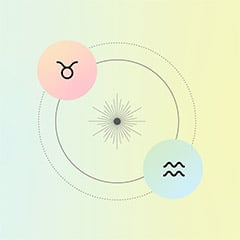 Love CompatibilityZodiac love compatibility is complex...
Find out whether you and your partner are a perfect match!

Like most aspects of a Taurus/Virgo relationship, sex is not going to spontaneous and overly kinky—but it doesn't make lovemaking boring. Instead, it is a quiet, sensual experience. Virgo is typically reserved in the bedroom, not because they are prude, but because they are so shy. Taurus' sensuality in the bedroom can light a spark in Virgo. Taurus usually moves at a slow pace, so they won't frighten Virgo by rushing them into bed. Meanwhile, detail-oriented Virgo will be an attentive lover, which pleases Taurus. Overall, this couple can have a very healthy sex life. 

Probably one of the biggest problems that this couple will face is that they both have pretty serious control issues, given that they are earth signs. If they want different things, they will fight to the bitter end to get their way—each too stubborn to compromise. Taurus and Virgo might try to control the other and that will not go well. Virgo can get pretty critical and Taurus cannot stand nit-picking. Again, Taurus and Virgo are pretty stubborn so even if the relationship was going back, it's unlikely that they would break up (because, security). If they are married, they would rather stay in an unhappy marriage than be alone.  

It's important that Taurus and Virgo stay on the same page about their expectations in order for each to be healthy and happy. They need to always talk out their issues instead of hoping that one will suddenly become a mind reader. They aren't a "feelings" kind of couple, but they still need to talk if something is bothering them. Otherwise, it may come up during the next fight. Finally, a Taurus and Virgo relationship should always think of themselves as a team because that's where they are most successful. If one starts thinking in I instead of we, it's all over. 
Need some life advice? Speak to a Spiritual Advisor now. Your first 3 minutes are FREE.