Love Compatibility
Find out if your partnership will go all the way. Some Sun Signs naturally work well together, but others need to compromise to make it work!
Virgo
Capricorn
9/10
Virgo and Capricorn form an earthy, solid bond. While there might not be initial fireworks, this can be a respected, rational, and long-term union. Both are dedicated to making things work, and will work steadily toward building a successful long-term, committed relationship. Both enjoy safety and security that a long-term and loyal relationship brings. Problems can arise when either one becomes closed off, as neither is particularly good at getting the other to open up. Being more understanding and empathetic to what the other might be going through is a good goal for this pair. 

As two earth signs, there is a good amount of logic and common sense at work in this relationship. They won't make any hasty decisions, and both are smart when it comes to finances, children, and home matters. They won't let their emotions get the best of them, but their sensibility can also be a negative factor. They will have to work hard to find and maintain the passion in their relationship—as well as learn to laugh at their mistakes and not take things too seriously.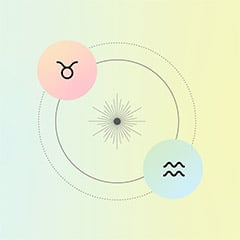 Love CompatibilityZodiac love compatibility is complex...
Find out whether you and your partner are a perfect match!

Virgo is ruled by perceptive Mercury, which means they're always on their toes. Capricorn is ruled by hardworking Saturn, so they aren't afraid to get their hands dirty and really dig in when it comes to getting things done. They are both highly discriminating, although Capricorn's goal is more to obtain things for status, and Virgo simply wants the satisfaction of feeling good about a job well done. Virgo is very health-conscious and can influence Capricorn to pay more attention to how their workaholic ways might be affecting them. Capricorn responds well to leaning new ways to be effective and organized, and in turn, can teach Virgo to lighten up on their downtime. (Not everyone knows that Capricorn has a wicked sense of humor—especially when it comes to sarcasm.)  

Virgo is a mutable sign, so they don't have trouble adapting to any given situation. As a cardinal sign, Capricorn likes to be the leader, so they work well in any leader-follower situation. Virgo is happy to take a backseat when Capricorn is in the mood to dictate the rules and can be an excellent support system when Capricorn needs someone to fill that role. Capricorn loves to initiate new things, but when the shine wears off of new projects, Virgo is there to pick up the pieces and finish what Capricorn never did.   

Romantically, this relationship isn't full of sparks, but their total dedication to each other can spill happily into the bedroom. It takes time for both partners to trust the other, but once that happens, sex becomes extremely fulfilling. Things will most likely heat up mentally before they do physically. Capricorn will want to take the lead most of the time and will want to be the best experience their partner has ever had. Virgo appreciates Capricorn's efforts more than most and will strive to be more inventive to help them take things to new heights.
Speak to a live horoscope expert. Find clarity, connection, and a path forward. Click here and get your first reading for just $1.99!