Love Compatibility
Find out if your partnership will go all the way. Some Sun Signs naturally work well together, but others need to compromise to make it work!
Virgo
Aquarius
6/10
When a Virgo and Aquarius get together, it's hit or miss. Love or hate. On again, off again. As a pair, these two can't quite get their act together and long-term love will be difficult (but not impossible) to maintain. They can either bring out the best in each other… or the worst. But either way, it won't be a wishy-washy affair. They'll either cling together or repel off of each other from the get-go!

Being one of the most humanitarian signs, Aquarians are passionate about helping other people. Virgo is also interested in being of help to others, but their motivation is usually vastly different. Aquarius wants to change the world on a large scale, and Virgo is happy helping family, friends, and neighbors one small task at a time. While helping others is definitely something they can bond over, it probably won't tie them together for life.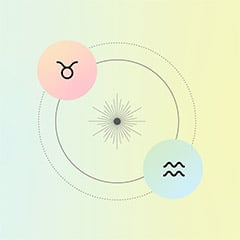 Love CompatibilityZodiac love compatibility is complex...
Find out whether you and your partner are a perfect match!

Virgo is ruled by Mercury, the fast-thinking planet, and is very logical. Aquarius is co-ruled by immovable Saturn and eccentric Uranus and has a logical side as well. Together, they are a good team and are excellent problem-solvers. But Aquarius is much more likely to think outside the box. Frustration can arise when the Aquarius partner wants to expand Virgo's horizons, but Virgo resists because they are perfectly fine doing things the way they've always done them. 

Oddly enough, Virgo is a mutable sign and Aquarius is fixed—so you might think it would be the opposite when it comes to their ability to change things up. Mutable signs tend to adapt to change and are more flexible than fixed signs, who are stabilizers. The key here, however, is that Virgo is a mutable earth sign, whereas Aquarius is fixed air. When combined with their elemental assignments, it's clear how and why Virgo is more strait-laced, and Aquarius is more free flowing. As an earth sign, Virgo defers to their stable nature and expresses themselves in a much more logical, methodical way. And conversely, Aquarius, as an air sign, is given a lot more flexibility and freedom to express themselves—which all contributes to their up and down couple-dom. 

Romantically, neither sign is overtly passionate. Romance in the classic sense is usually lost on both Virgo and Aquarius. But that doesn't mean sex can't be good. Aquarius is a much more open-minded and uninhibited lover and can teach Virgo to open up more and explore/experiment with new positions and techniques. In turn, Virgo offers loyalty and honesty, although Aquarius doesn't usually require that of their lovers. 

Once a bond is established, Virgo is much more likely to want the relationship to be exclusive, while Aquarians don't often go the traditional route. Aquarius might be willing to explore open relationships, polyamory, or other alternative romantic lifestyles that Virgo wants no part in.
What do the Tarot cards say about your life? Find out now. Get a FREE Tarot reading.