Love Compatibility
Find out if your partnership will go all the way. Some Sun Signs naturally work well together, but others need to compromise to make it work!
Scorpio
Scorpio
8/10
When two Scorpios get together, fireworks fly. These are two intensely passionate and mysterious people, and when their relationship is good, it's very, very good. But, when it's bad, watch out! These two partners have a lot in common and can bring out the best in each other. There can also be destructive tendencies that will need to be closely monitored and sometimes addressed. The relationship can quickly become an obsession for both parties, with overwhelming jealousy and passion that can manifest negatively if left unchecked.

Scorpios empathetic, intuitive natures allow them to connect on a deep emotional level. They are often physically attracted to each other instantly. While both parties have their reserved sides, when passion takes over it's almost uncontrollable. While trust and loyalty are the basis for any relationship with a Scorpio, these two are oftentimes tempted to jump into a physical relationship quickly. There is a sense that the other Scorpio immediately just "gets" them. Scorpio's' fast and intense chemistry is a huge turn-on for both parties.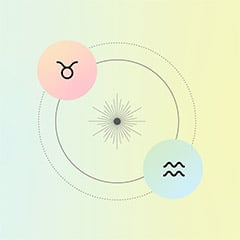 Love CompatibilityZodiac love compatibility is complex...
Find out whether you and your partner are a perfect match!

Scorpios are co-ruled by Mars and Pluto. Powerful Mars is aggressive and passionate, providing Scorpios with a lot of their fire and intensity. Pluto, on the other hand, feeds on power and transformation. This can speak to the resilience Scorpios possess with the ability to bounce back from almost anything. When two Scorpios combine the energy of these intense planets, they are a virtually unstoppable force. Everything seems "more" when these two team up, which can include both passion and pain.

Scorpios are intensely emotional water signs, and they don't do anything halfway. They are emotionally invested in their romantic relationships from the very beginning and expect the same from their partners. Trust is extremely important element of all Scorpio relationships. Once it's lost, it's close to impossible for their partner to regain it. This is something a Scorpio-Scorpio pair understand on a mutual level. They will work hard to make sure this is a respectable, honest, and trustworthy union. If trust is broken between these two (and their secretive natures may contribute to this), watch out. It will not be pretty.

Scorpio is a fixed sign, and while they might entertain the idea of taking risks, they are always calculated. This zodiac sign isn't big on abrupt changes or surprises—they prefer to weigh everything out and make sure they know the pros and cons of every situation before making a commitment. Scorpio couples love to spend time researching and investigating things together so they can make an informed, mutually acceptable decision.

Romantically, these two are attracted to each other from the beginning. This hot and spicy mix of chemistry is impossible for both parties to resist. It's likely they will both experience lust at first sight, for perhaps the first time in their life. Once they get to know each other and are bonded emotionally, the passion is even more intense. This could lead to the best sex of their lives, no question, once this couple is able to establish trust and a satisfying emotional bond. As long as they can avoid letting petty jealousy and suspicion get in their way, this can be a long-lasting, extremely satisfying union.
Speak to a live horoscope expert. Find clarity, connection, and a path forward. Click here and get your first reading for just $1.99!