Love Compatibility
Find out if your partnership will go all the way. Some Sun Signs naturally work well together, but others need to compromise to make it work!
Scorpio
Capricorn
7/10
When a Scorpio and Capricorn get together, there is a strong bond. Both people in this relationship like to get what they want, yet they both value the other as an extremely powerful teammate. Working together to conquer the world is on this couples' to-do list, and they very rarely set a goal that they don't meet.

It might take some time for these two to warm up to each other, as neither one is quick to jump into anything emotional. Scorpio is extremely cautious and wary, and Capricorn is practical and grounded. It takes a lot to impress both of these signs. They aren't easily swept off their feet. Once they do get to know each other, however, and a mutual trust/respect if formed, they share a profound connection that's hard for anyone to come between. They are both extremely faithful signs, adding to their attraction to one another.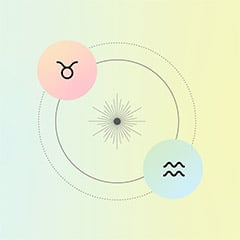 Love CompatibilityZodiac love compatibility is complex...
Find out whether you and your partner are a perfect match!

Scorpio is co-ruled by the planets powerful Mars and transformational Pluto, which gives them a mix of intensity, passion, sexuality, and regeneration. Capricorn is ruled by hardworking Saturn, so they are extremely ambitious, responsible, detail-oriented, and intense in their own way. When these three planets combine, their energy is dynamic for both personal and professional relationships.  

Scorpio is a water sign, ruled by their intense emotions. Capricorn is an earth sign, prone to listening to logic and common sense. Although they have hugely different approaches to life and love, they are able to combine their differences in a way that complement each other. Capricorn offers much needed stability to Scorpio's deep emotional intensity, and Scorpio offers an exciting energy that Capricorn finds hard to resist.

Scorpio is a fixed sign, preferring to ride with the status quo rather than make a lot of last-minute changes (especially for plans they've put a lot of thought into). As a cardinal sign, Capricorn is a natural-born leader and doesn't like to follow the crowd. Scorpio is happy to support the Sea-Goat's big ideas and is an excellent at behind-the-scenes execution. They are more than content to watch their Capricorn partner get the glory while they stand quietly by their side (or out of the picture altogether). In turn, Capricorn pays close attention to Scorpio and incorporates a lot of their ideas into their own master plans (with permission, of course). Capricorns usually respect and admire their Scorpio's brain power and are more than happy to give them credit where credit's due. 

Romantically, Capricorn will be intrigued by Scorpio's seductive and sexy nature. Scorpio picks up on this and might like to tease their Capricorn partners, wanting to entice them with the anticipation of things to come. Both partners have a need for faithfulness and security, and once they trust one another, they express their love freely. When Scorpio's imagination meets up with Capricorn's stamina, these lovers are exceptionally good at pleasing one another. 
What does today's card pull mean for you? Get a personalized interpretation. Click here to get your first reading for just $1.99.