Love Compatibility
Find out if your partnership will go all the way. Some Sun Signs naturally work well together, but others need to compromise to make it work!
Pisces
Virgo
8/10
When Virgo and Pisces pair up, it can be heavenly. Because they sit on opposite sides of the Zodiac wheel form each other, this can be an extremely beneficial relationship—or a polarizing one. Virgo sees things in black and white, while Pisces sees them in vivid color. Virgo faces the reality of a situation while Pisces lives in their own little dream world. Virgos are hard workers and stick to rules and routine, while Pisces doesn't see anything wrong with taking time off and going off road. Luckily, both Virgo and Pisces have quiet natures and avoid controversy at all costs, which could help them maintain a long-term relationship.

When things are working between these two, they bring out the best in each other. As two mutable signs, they are both generally very accepting of each other and of life in general and will find little to argue about. Virgo is based in reality while Pisces lives in a dream world, so Virgo can help Pisces face facts when necessary. In return, Pisces can help Virgo use their imagination and take their dreams to new heights. Virgo's steadiness is a nice landing place for Pisces when they get disillusioned with the world, and Virgo can go to Pisces for a more idealized, optimistic outlook when they're feeling down.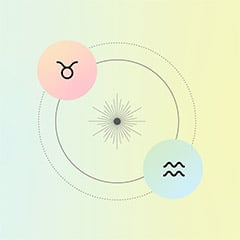 Love CompatibilityZodiac love compatibility is complex...
Find out whether you and your partner are a perfect match!

Virgo is ruled by the planet Mercury, which represents logical thinking and communication issues. Pisces is co-ruled by joyful Jupiter and Neptune, the ruler of dreams and "what if." When Mercury, Jupiter, and Neptune join together, it can be a beautiful union. Communication and creativity combine to make a stable and trusting relationship. Loyalty and trust are two important factors to both parties, so their spiritual connection is unbreakable when they come together in a committed partnership. Pisces might not always appreciate Virgo's inability to sugarcoat things, but in the long run, Virgo can help Pisces face reality when it's truly necessary.

Virgo is an earth sign, and Pisces is water. At first glance, you might think that together they form a muddy, difficult existence, but that's only when things go very, very wrong. Generally, these two elements are very compatible, and can connect on a very real level. It's only when Virgo is extremely logical and uncaring (or particularly critical) that they can lose Pisces' affections. Pisces is deeply emotional, and if Virgo hurts them on a soul-crushing level, it won't be forgotten.

Romantically, this can be a good match. Pisces brings out Virgo's creative side and helps them indulge in their wildest fantasies. Pisces helps bring out a very romantic setting for Virgo to get lost in (think: dinner, lighting, music, and more). In turn, Virgos will need to learn not to be critical of Pisces while in the bedroom—because once they're criticized, it will be tough for Pisces to open up and lose their inhibitions with Virgo again.
Speak to a live horoscope expert. Find clarity, connection, and a path forward. Click here and get your first reading for just $1.99!