Love Compatibility
Find out if your partnership will go all the way. Some Sun Signs naturally work well together, but others need to compromise to make it work!
Leo
Virgo
6/10
As a fixed fire sign, Leo may not initially see any common ground with Virgo's mutable earth energy. Leo may consider Virgo a bit uptight and like a stick-in-the-mud. "Where's the fun and spontaneity?" they might wonder. In turn, Virgo could easily see Leo's brash demeanor as too ostentatious and their dogged fixations as tyrannical. "How much attention does one person actually need?" Virgo may muse. (Leo's answer of "endless" may be a shock to Virgo, so Virgo would do best to keep that question rhetorical!)

The saving grace of this non-traditional astrological coupling is that Virgo rejoices in seeing the details that others often overlook. With enough exposure to each other—as this relationship will likely take some time to develop into something other than a friendship—Virgo will begin not only to understand where Leo is coming from, but to value it and admire it. They will see what they initially perceived as vanity, as something that is far more heart-centered and heartfelt.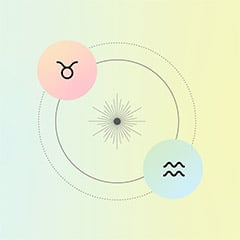 Love CompatibilityZodiac love compatibility is complex...
Find out whether you and your partner are a perfect match!

All Leos want in this world is to gain validation for who they are and what they give. Leos view being the center of attention as a service. They perform for others, that brings joy, generosity, and entertainment that lighten the mood. It can mean that their big-heartedness is often misinterpreted as a big ego by others who are not paying as close attention to Leo's true motives. And naturally, Leos usually presume that everyone's eyes are on them, which they may be disheartened to learn this is not always the case for the other sun signs. But for Virgo, that actually is true. Virgo, even initially, will find Leo fascinating, as their solar energies are so disparate. And this is where Virgo's signature, keen analytical mind will be the blessing Leo didn't know they needed. 

Virgo, a sign that lives to be of service and also values the approval of others, will see a side of Leo that is often overlooked and underreported. They will synthesize all the information they have been processing about Leo's various performances, ranging from dramatic displays, elaborate stories and generous warmth, and come to the conclusion that Leo is not so much self-centered as using their self as art. Leo views their art as service. Once Virgos understand this, they will show their appreciation for their Leo partners' different approach to providing for others with humble loyalty and acknowledgement. This pairing will be able to find the common bond they didn't originally know they had. For Virgos, finding commonality is what strengthens their bonds with others. And Leo will shower Virgo with more gratitude than either believed possible. 

Together, Leo and Virgo can be quite formidable business partners. Their combined energy delivers the ability to bring creative sparks and organizational follow-through to a joint endeavor. While a romantic relationship may require more work on both of their parts, Leo and Virgo can easily find themselves as committed business partners and best friends. One will be the showman and the other maintaining the books, which ultimately plays to both of their strengths. They may be an odd couple to those that don't know, but to Leo and Virgo, these two know how special the other actually is.
Speak to a live horoscope expert. Find clarity, connection, and a path forward. Click here and get your first reading for just $1.99!